On the approach to the 19th National congress, security is tight and restrictions are being applied to all sorts of activities. Internet deliveries from outside of Beijing are stopped, flags are being put up along roads, drivers are being asked to write letters of safety guarantee (see below), Airbnb bookings are unavailable and of course, internet sites and common apps blocked. Most of it doesn't affect me directly, sometimes its amusing., at worst it's been an inconvenience 
Chinese Company e-mail to staff.
In order to create a safe, disciplined and clear transportation environment, ensure the absolute traffic safe during "The 19th National Congress of CPC", now the science and technology park is signing the traffic safety liability statement with all the companies. Please comply with the implementation [please find the attachment in Chinese]:
1. Strengthen the organization leadership. We will establish a traffic safety leadership working group in the company to promote traffic safety within the organization.
2. Educate employees about the traffic safety. Make posters & put them in the office, watch videos, distribute some traffic safety education materials, organize people to learn traffic safety laws and regulations.
3. Organize training program: Traffic safety training needs to be organized. Check all the cars / shuttle buses in the company. Educate people if they've ever broken the regulation within the year. All the drivers need to write a letter of safety guarantee.
4. Promote "Green Commuting": encourage our people to take public transportation to go to work. Avoid going to the places near the conference area / hotel area.
5. Strictly manage our company shuttle bus. Make sure all the drivers are qualified. Anything doesn't meet the requirements from laws and regulations has to stop! To make sure zero accident during that period of time.
6. If any of our employees seriously broke and traffic laws and regulations in the past 12 months, the company will give them more education and supervision, we may ask them not to drive during these days.
Censorship here isn't much of an issue.  Rubbishing the government in the bar isn't going to lead to you being taken away to a dingy interrogation cell. And unlike some other countries I've visited, you're not followed around by burley men in suits, have cameras inspected for taking pictures of railways stations, or officials. On the face of things you're largely allowed to do or say what you like. Criticism of the government is as popular a talking point in China as anywhere. In normal times you could imagine, as I'm frequently reminded, there are no rules in China.
On the surface it does feel this way. You can see examples of law breaking everywhere, fake designer goods, free downloads of blockbuster films, TV series' available with Chinese subtitles the day after being premiered in the west, internet sites full of pornography pop-ups, traffic driving in the wrong direction. It's not that there aren't laws against these things, it's just that breaking them is so normal that it's impossible to police. And that slightly lawless, anything is possible, can-do mentality it generates, is exciting.
China has 1.4 Billion people, nearly a third of the world's population. It is one of Chinas strengths, but it's also the government's biggest threat. The country has a recurring history of great and powerful dynasties that all ended in corruption and chaos. The Chinese government are well aware of this and while they have a massive amount of power and influence any serious uprising would be impossible to control. Prevention is where they put their effort, normally it's benign and fairly subtle. Its presence, outside of the CCTV cameras and residence visa checks that you'd expect, quite invisible. Now, that's changed.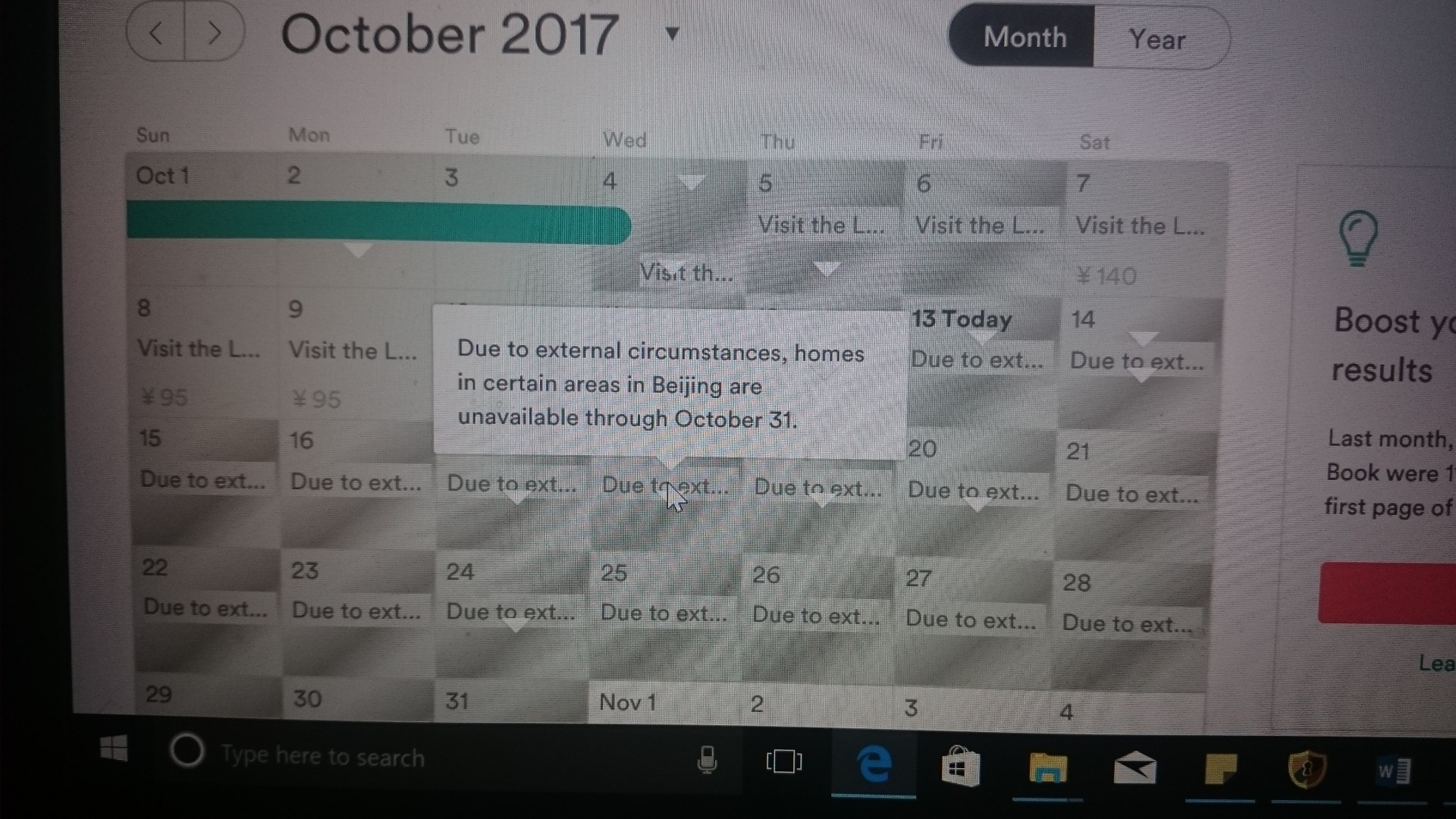 Airbnb unavailable
On a recent visit to Xinjiang, I was surprised at the amount of national flags flying. They were hanging from every shop front. It was as if they were reminding everyone, and adding to every photograph of the beautiful Arabic architecture and Muslim attired people, that this is China and not some foreign country. At every hotel, shopping or tourist area, market or shopping mall entrance, or road underpass were body scanners and bag x-ray machines. In the evenings, police vans paraded very slowly up and down the streets, their lights and sirens on. In Urumqi, every building and park played the same patriotic song on an endless loop. all day A taxi driver told me it would be played for a year. Propaganda posters of China and the inclusiveness of its minorities were everywhere. I heard about the restrictions on travel for the Uyghur people who live there and saw the racial profiling used in the street searches. I was warned by friends about what I should post on the Chinese chat site or discuss with people when I return. It was a different side of China, a sudden awareness of how pervasive the government is and how vindictive it can be.
It was while I was travelling there, that WhatsApp was suddenly blocked and my VPN also stopped working. When I returned to Beijing problems continued. It was a worrying time, my visa was due for renewal and wasn't sure if it was me they were targeting or a general policy. The apprehension it generates makes every glitch of the computer, every loss of phone signal a suspicion that you're being watched, monitored, and investigated.  The increase in restrictions, in the lead up to the party conference, seems excessive for one of the safest countries in the world, but more importantly they display and remind people of their power and control. It makes you super conscious of what you say and post, it forces you to think carefully, to moderate and hide your criticisms. Ultimately, it intimidates and supresses far more effectively than any internet or mobile restrictions could do.