You don't see many disabled people, or old people in the city. My guess is they stay at home looked after by their families. Having my 78 year old mother-in-law staying for 3 weeks was a great way to learn about the difficulties faced by those who are less mobile and like my mother-in- law reliant on using a wheelchair. It was a great opportunity for her too, who after all these years had never been on a train, not visited Tiananmen square and the monum
ents of the revolution birth precedes. 
The first thing noticed was the pavements. Some sloped at such a steep angle that a constant arm aching counter correction was needed to keep the chair from wandering into the road. Often the pavements were potholed, had raised or sunken drain covers, were obstructed by cars, trees, hawkers and abandoned ofo bikes. It was nearly always better to use the cycle lane, even though, these too were sometimes blocked. The speeding delivery bikes that raced towards us felt like a game of chicken, but at least we didn't have to scale the colossal curb edges.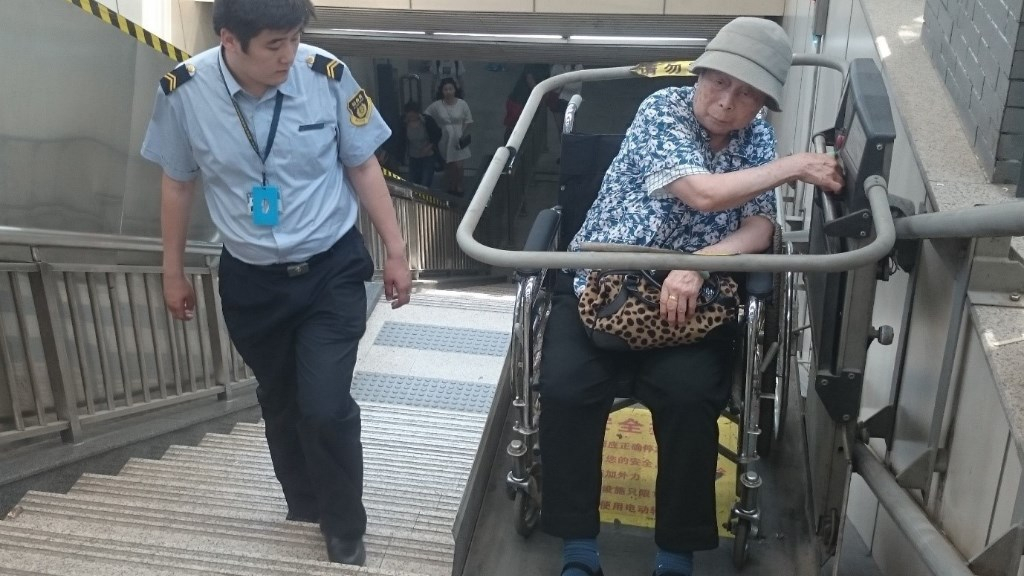 Taxis were awkward too. Although the chair folded in half, it was still large and heavy and didn't fit in many car boots – even those that weren't already half filled with gas cylinders, plastic buckets and boxes. Most drivers were happy to drive with it half hanging out, one driver even improvised a strap to stop the boot lid bouncing up and down. 
Getting a train and subway was a mixed experience. We'd been told every station had some wheelchair provision. The newer stations were great, with elevators to the platforms and ramps to and from the street, but the older stations only had stair lifts, or in one case, a terrifying caterpillar tracked contraption. All of these required at least one operator to be found, even some elevators needed to be unlocked before use. Not all the staff had the knowledge, or the correct key to operate the equipment. Perseverance, patience and a lot of time were essential as well as being able to communicate in Chinese.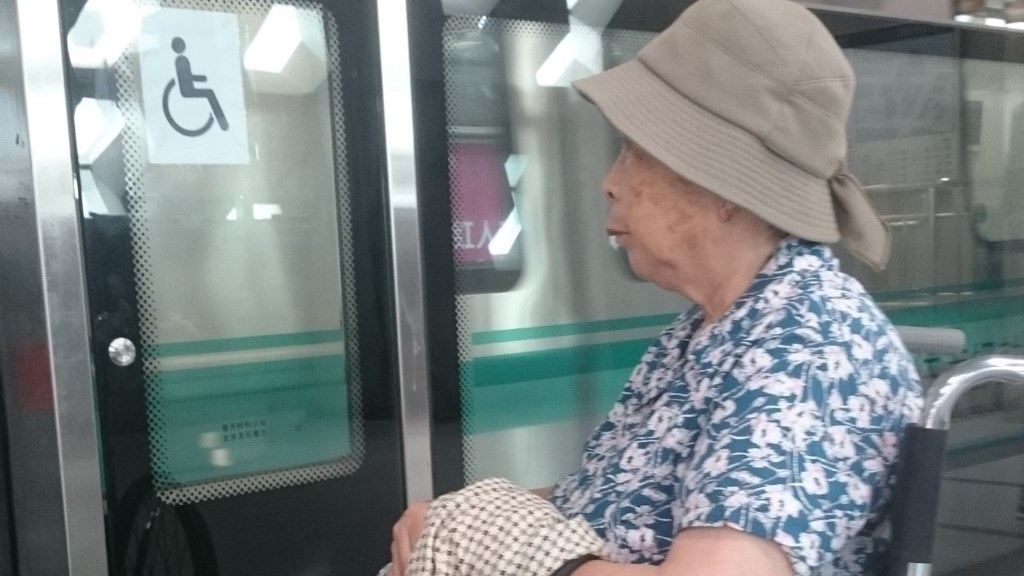 All the public places we visited had wheelchair access. Sometimes we were given priority, avoiding the queues and being lead through doors and along corridors of areas normally out of bounds to the general public. 
A regular problem was security. Fenced off exits and blocked underpasses undermined the building's well intentioned designs and often made directions for wheelchair users irrelevant. Scanners were frequently too narrow, or had pedestals for body searches in the way. At one station only the revolving pedestrian door was open and we had to wait while the main door's padlocks were removed.
Getting around by wheelchair was possible, but far from simple. The facilities and training are patchy and it was only the genuine care and warmth of staff that made travel on public transport possible. Of the two weekends spent travelling around we rarely met an employee that showed anything but kindness and a willingness to help. I suspect its their respect for the elderly that made the difference. There were two of us to push her around, search for hidden lifts, signs and the disabled carriages as well as locate the necessary staff to help. I've since seen people left in wheelchairs while carers go off searching for help. I can't imagine how hard it would be for a disabled person trying it alone.