Last Wednesday 6th was the coldest day this century, luckily I didn't need to go to out . Today is colder, the coldest day since 1966 and I have to go to work. 
Chinese people believe the most important part to keep warm are legs and feet. I was advised to wear long johns. Its sensible when my phone tells me its a parky -16 degC outside but the cycle ride to work is only 15 minutes and I don't like to sit in a warm office all day with them on. Legs can bear a bit of cold.
You need a weather app in Beijing to know how cold it is outside as there are no obvious signs. In the UK there would be iced up windows and sounds of cars being scraped, clouds of white smoke blowing from exhausts; maybe even trees coated in frost. Here it is so dry that the brilliant sun and cloudless sky that I see from the warm apartment's window looks the same as it does on a summers day.
I wear an undershirt, shirt, jumper and 2 coats, don ski gloves, wrap my face in a scarf and the top of my head in a hat. I try sunglasses to cover the watering eyes but these fog up from my hot breath coming out of the top of the scarf.
It is not comfortable. With all the layers I have the mobility of a man in an overinflated fat suit. I feel neither cold nor warm. My legs have that feeling they used to get playing mid-winter rugby at school. I expect that beneath my trousers they are blotchy red. There is a bit of head wind and I cycle into it, the skin of my face stinging, my eyes squinting and head down.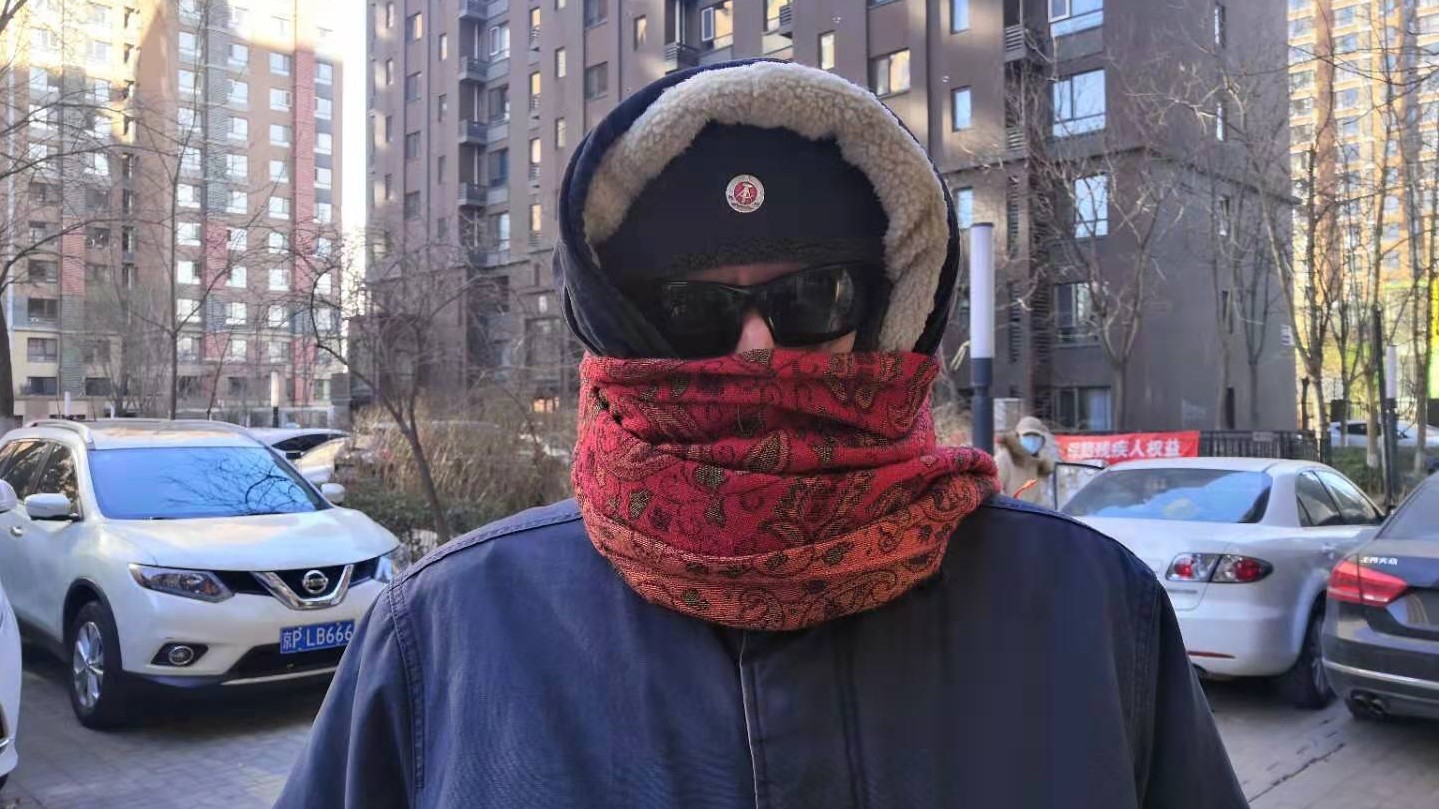 Not far from the company entrance, I run into a car – literally. I don't know if it pulled out from an entrance into the cycle lane in front of me, or was stopped waiting for a break in the traffic and I collide with it. I wasn't really looking ahead nor thinking of anything. It suddenly appears in my field of view and I crash into the front wing. I'm not going fast, but in that classic style of a near death experience those 2 seconds, between seeing the car and the moment of impact, expand into a period long enough to think I'm not going to be able to stop and too short to move my slow reacting hands to apply the brakes.
I'm not sure if I go over the handlebars. I land on the bonnet, roll  and fall to the ground in front of the car. The driver is clearly concerned and is out of his vehicle asking "OK? OK?" before I can get up. I rise slowly, I feel ok, no pain. My clothes are clean and unripped. The layers of padding have probably saved me from any harm. I see the wing of his car has a dent and there is a long white scratch down the bonnet. He says "OK?" again. I confirm that I am and pick up my bike. The brake levers are at odd angles on the handlebars but otherwise it looked alright.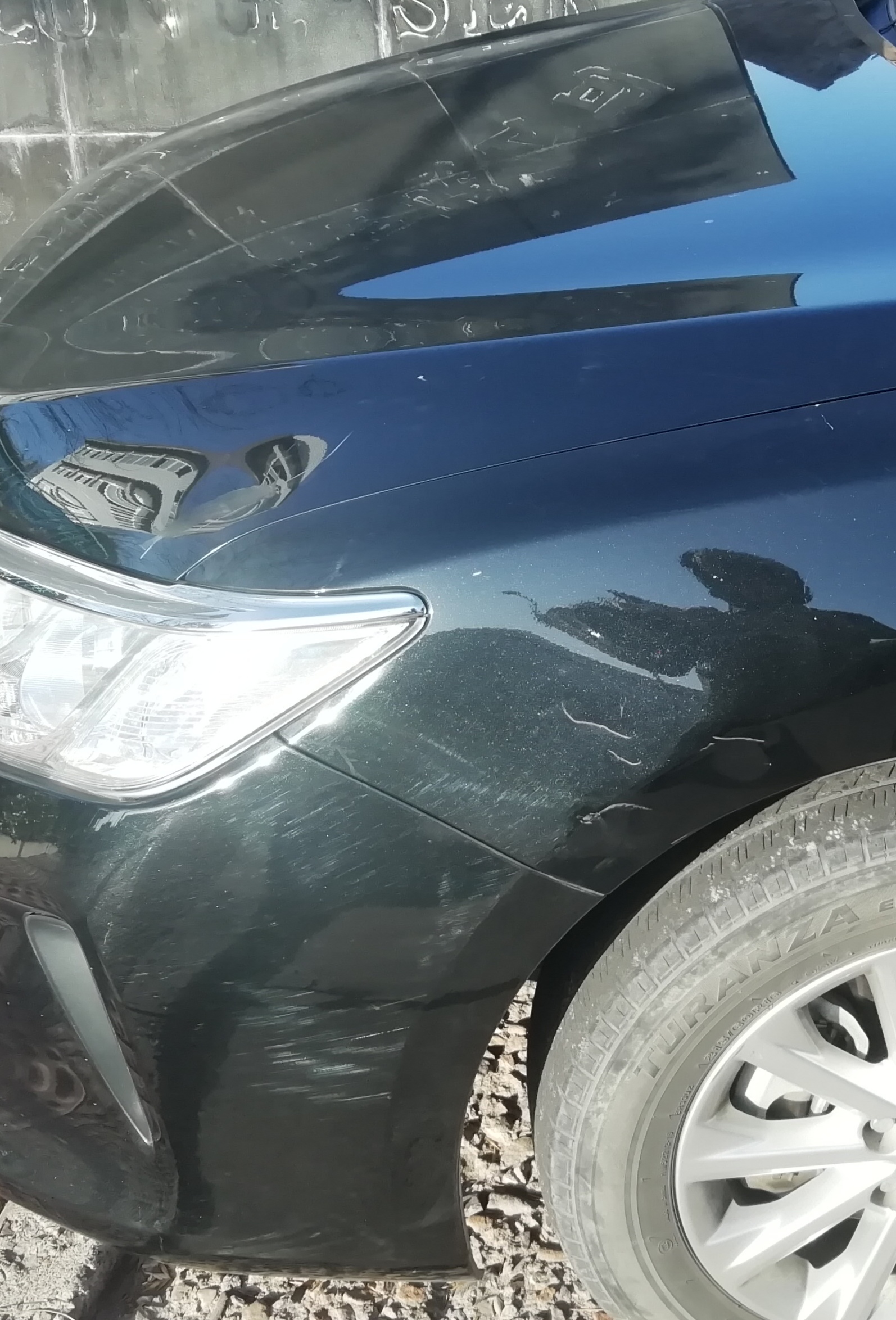 What next, I'm wondering? Should we swap addresses or phone numbers? We look at each other and I am very conscious I am a laowai.  I look at the car again, is he going to get angry at the damage I've caused? He doesn't look angry, perhaps still concerned or, like me, a bit confused. Should I offer him some money? We stand for a few seconds in silence, maybe he is also at a loss of what to do, knowing we can't communicate beyond the single word 'ok'.
"Go," he says suddenly sweeping an arm in the direction I was riding. I climb on the bike, relieved to be getting away from the scene. I cycle off slowly, my left pedal is bent inwards and clangs against the frame on each rotation, the handle bars and saddle are slightly skewed out of line. I push shakily forward on what's left of the journey to work. It was only later that I thought it would have been a reasonable excuse for a day off.
After a coffee in the office, I start to think about the brief experience and the strangeness of a road accident where there is no blame or accusations and for me, no clear idea of how it happened. I've commented on the chaos of Chinas road traffic before and the frequency of accidents observed. Road traffic accidents are the 8th largest cause of death in China and cyclist and e-scooters are particularly at risk in urban areas. It's probably inevitable that I would be involved in an accident at some point and should count myself lucky to be unhurt. I'm unsure of the laws of the road in China, I've been told there are no rules for cyclists, that responsibility lies with the car. That could be true, but you never know in China