On May 1 last year, Beijing began implementing the domestic waste sorting regulation that meant every Beijing resident must separate their household trash. In the first weeks, volunteers policed the new colour coded rubbish bins making sure we learned to put everything in the right container. After several years here dumping all our waste into one bag, the second nature behaviour adopted back home needed relearning. The kitchen now has a line of little bins to sort at source, it's not so convenient, it's a lot more effort and it's obvious that the classification of waste materials described as 'an essential part of the Chinese Government's fight against environmental degradation' is not a widespread habit with the Chinese. So is it worth the hassle?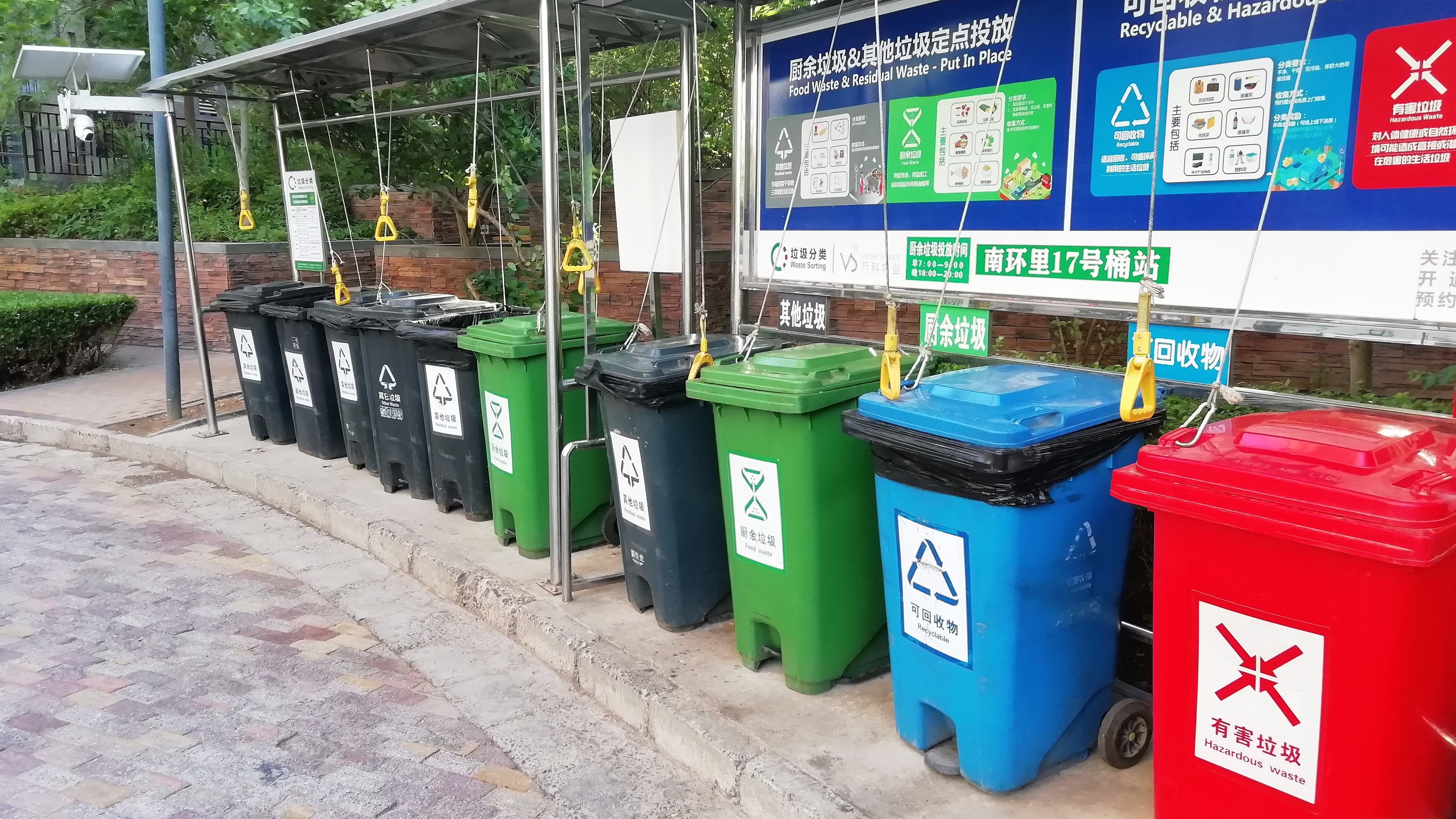 Most of the valuable recycling doesn't make it as far as the dustbin. There is a small army of people who will gladly take the paper and bottles to collect for themselves. Mrs Wang, a close neighbour, sends her grandson to kindergarten, cleans up the house and then goes outside to find used empty bottles and packaging thrown by out by the residents of the building. She prefers plastic bottles and small boxes and sometimes she will look in the trash cans along the roads outside the community. "I have plenty of spare time," she says. "I can earn some pocket money and keep fit. I used to weigh 70kg and now weigh 60kg because I walk so much every day." She stores her collection undercover with the bikes, outside the emergency exit, until she has enough to sell. "I earn about 300RMB a month she reveals proudly.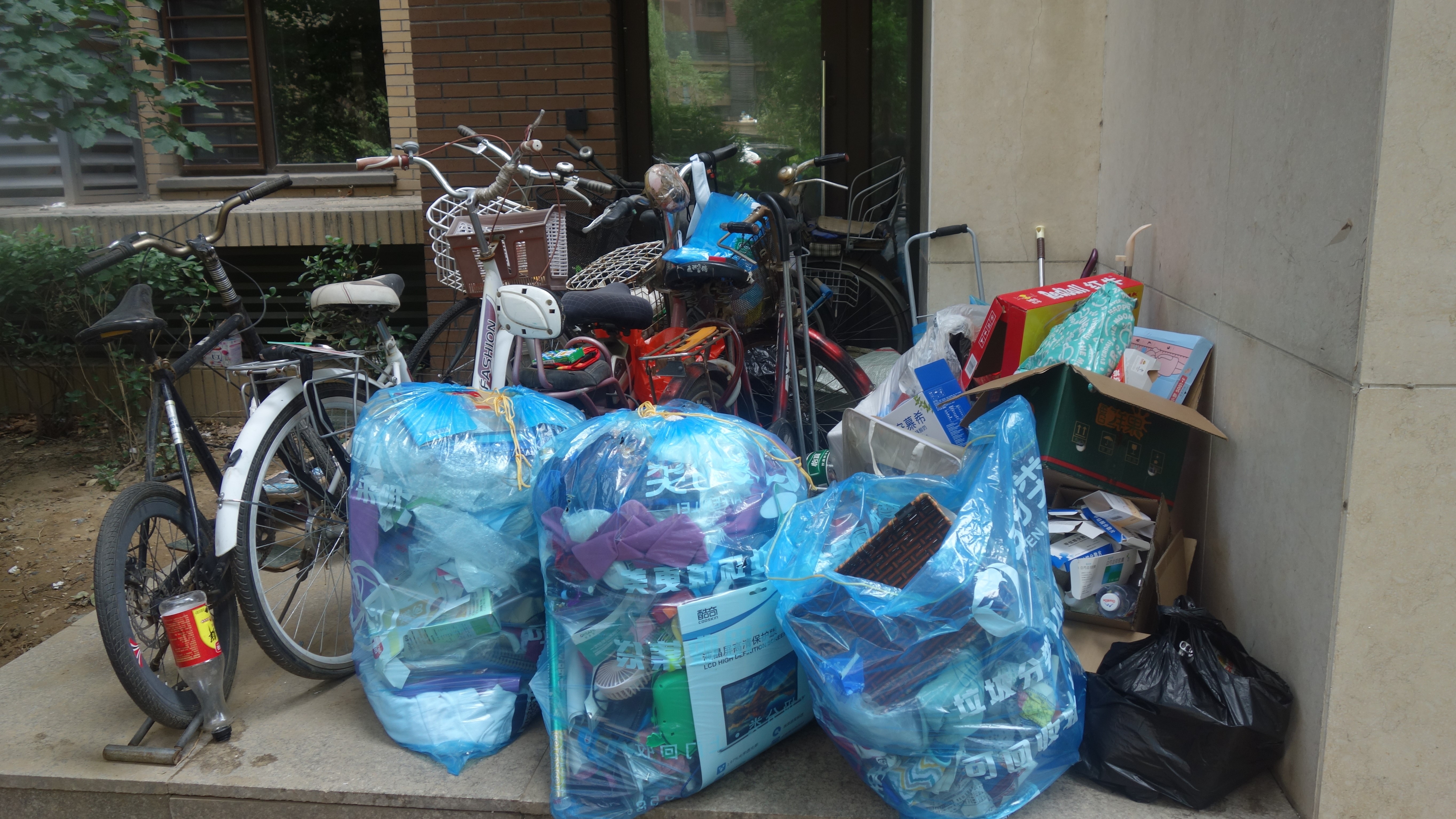 82-year-old Mr Lui is another resident of the same housing block, he is also is a rubbish picker. He hoards his stairwell outside his apartment. Despite the two old people collecting in the same area there is no competition between them, no fighting over the trash or pilfering of each other's stash, "I only collect in front of my own building" he says. "Whatever I find is enough.'
The official refuse collectors take the rubbish twice a day. Each area has about a dozen colour coded bins with clear signs about what should go in each. There is 1 for hazardous waste 2 for food waste and 1 recycle bin. The remainder are all residual waste. Volunteers no longer monitor what residents throw in each bin, the actual sorting is done by the pickers like Lui and Wang. They remove any recyclable items and waste workers, who patrol the area, filter out the food from the packets and plastic bags. "Residents don't put in the bins according to the instructions" one waste worker complains.  "It's as if they do not know Chinese characters." The dustbin areas have solar powered CCTV cameras that could check resident's behaviour but, the worker claims "they are only used to make sure we don't take the valuable items for ourselves."
The refuse collectors load the residual waste bins onto a truck and trundle off to the collection area a few hundred yards outside the gates. The bins are unloaded into the back of a standard dustbin waggon and sent off to land fill or incineration.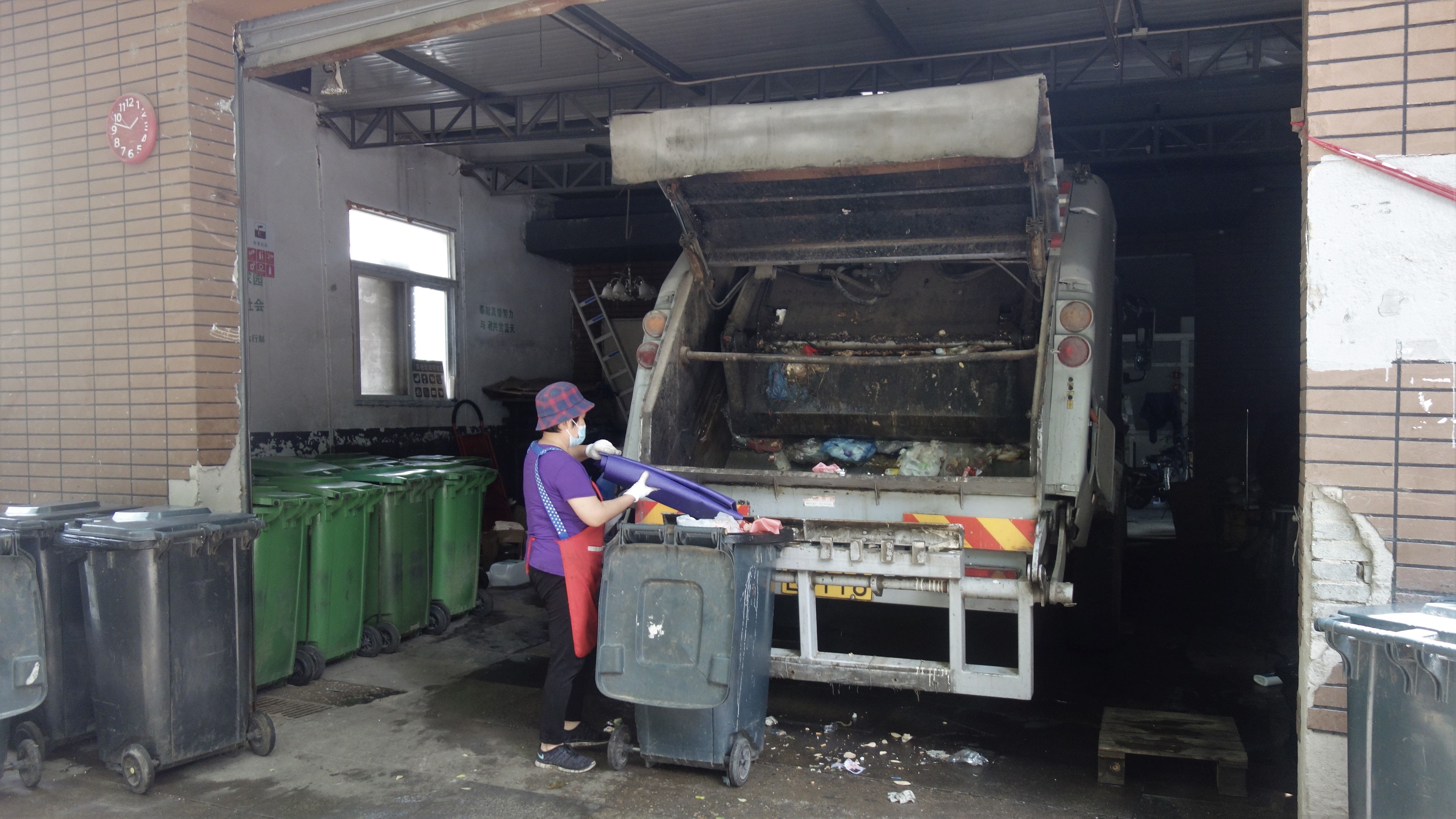 Ai Fen Li is a Beijing based private company and the largest official collector of recycling in this area. Their small, blue, electric vans beetle about the city collecting unwanted items from small businesses and pickers like Wang and Liu. Their vans unload into a large lorry which is parked conveniently between two large community entrances. They collect a wide range of goods including clothes and toys which they will re-sell in their online second-hand shop. If you have enough waste, you can arrange for it to be collected, or can take it yourself directly to the truck. Mrs Xue has taken her weeks' worth of packaging and empty bottles plus some unwanted paper from work. The driver weighs her bag, its 6.6 kgs and she receives 5.28 RM|B credit on her Ai Fen Lei app.  She can spend this in their online shop or in any local participating store in a circle of consumption. The owner of the local greengrocer says she joined the scheme hoping it encourages people to use her shop. "It's popular" she says, showing me an app with 9000RMB credited in the last 10 days.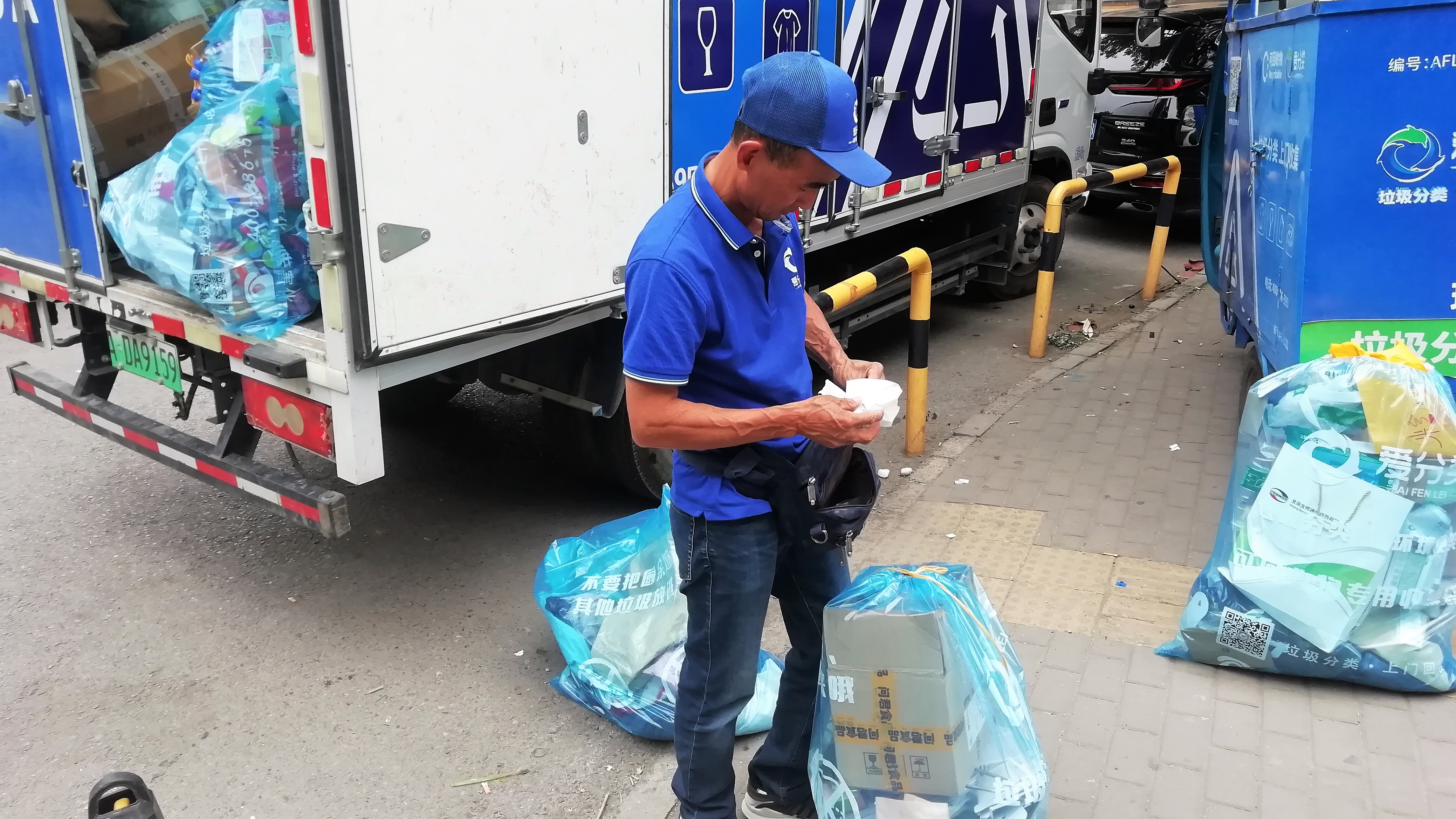 Both Wang and Lu prefer to sell their waste to the old three-wheel bike drivers because they pay a better rate than Ai fen lei, but they are more selective about what they will take. Three-wheel bikes, often with huge loads of flattened cardboard boxes, bags of bottles and piles of polystyrene, are a familiar site on the streets around town. There must be hundreds of these men and women trundling slowly around the various communities. We met Lao Wan on the South Loop road, he is delivering his days takings to a waste management centre on the edge of the city. Lao Wan's load has a large sack of bottles and a tower of flattened cartons. He tells us he pays 1.10 yuan per kg and will receive about 1.80 yuan per kilogram when he drops it off. He says he can collect 200 to 350 kgs a day. Unlike the pickers who are using their spare time to earn some pocket money this is a full-time job for Lao Wan. If he's lucky he might earn 300RMB in a day.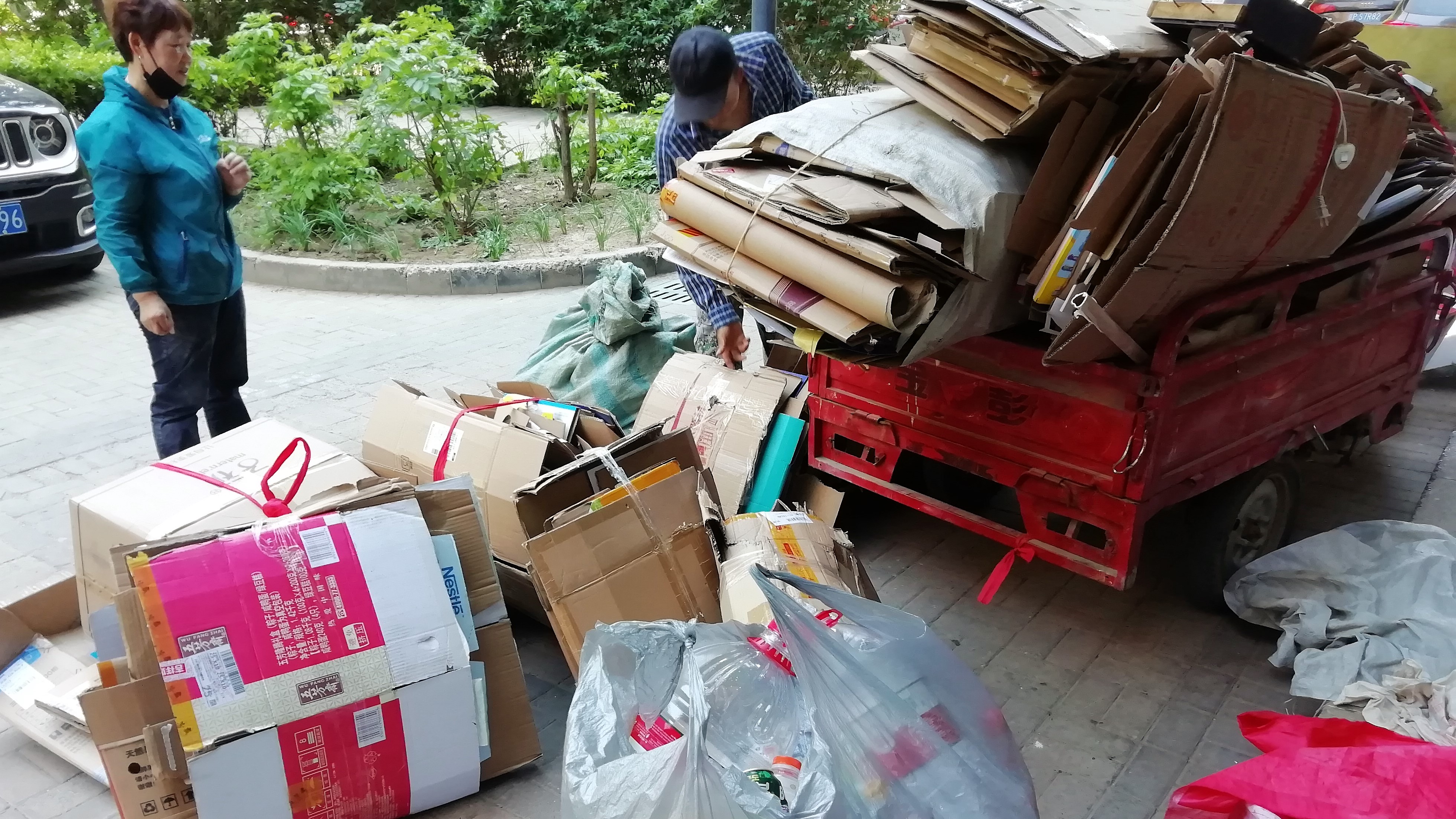 Unlike the pickers, who are using their spare time to earn some pocket money, or the workers of Ai Fen Lai who are salaried, Lao Wan works all day every day, only earning from whatever he delivers. If he's lucky he might earn 200RMB in a day.
Wherever your dump your recycling, chances are it will end up at one of the main sorting places on the edge of Changping. If you go out past the gymnasium and under the motorway you will see a constant stream of vehicles like Lao Wan's, laden with rubbish, making their slow way to the many private businesses in that area that accept it.
At one centre we meet the manager who has been running a paper recycling center for 20 years. He lives with his family in a portacabin at the side of his yard. The carboard delivered by Lao Wan is weighed and thrown onto a heap made of similar sized collections. The yard is open to the elements and the site manager must continuously watch for wind, rain and fire, as well as weigh the scrap that steadily arrives. He explains that the cartons are loaded onto a lorry using a digger and taken to the paper mills in Shandong or Hebei province. On a typical day, he claims he will send around 7 tons of card and paper, the price he receives varies depending on the market; it is currently around 2.6RMB per kg.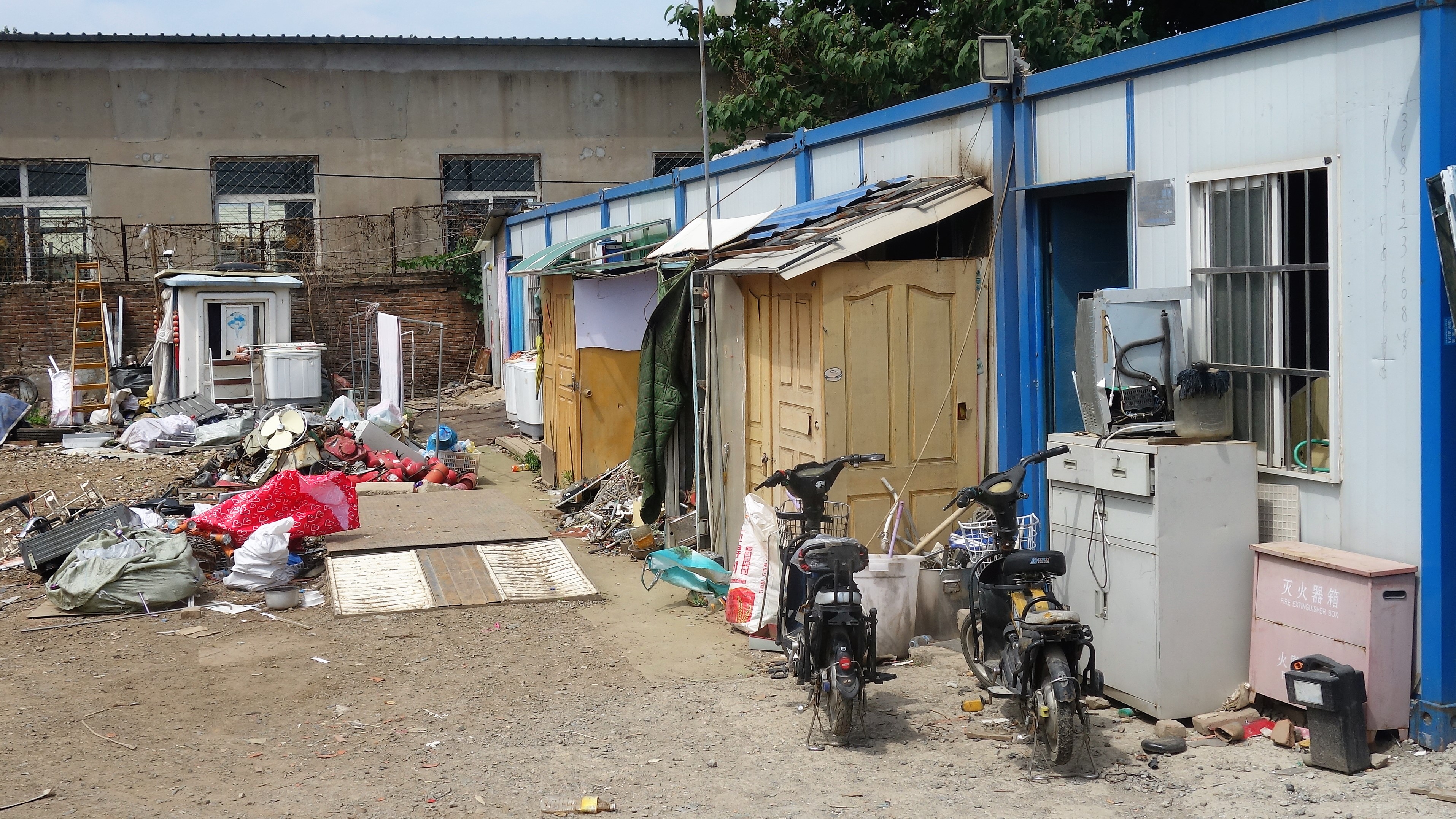 We follow another bike, this time loaded with polystyrene. It wobbles into a huge waste management centre that sits behind the yard we had just visited. The area is divided into several corals down one side containing plastics, metal or electrical cabling. At the entrance to each is a weighing machine and the owner waiting for the next delivery, On the opposite side is an enormous warehouse that belongs to Ai Fen Lai. A gang of people are sorting through large sacks of plastic bottles. Bales of paper and compressed plastic wait nearby, ready to be taken away.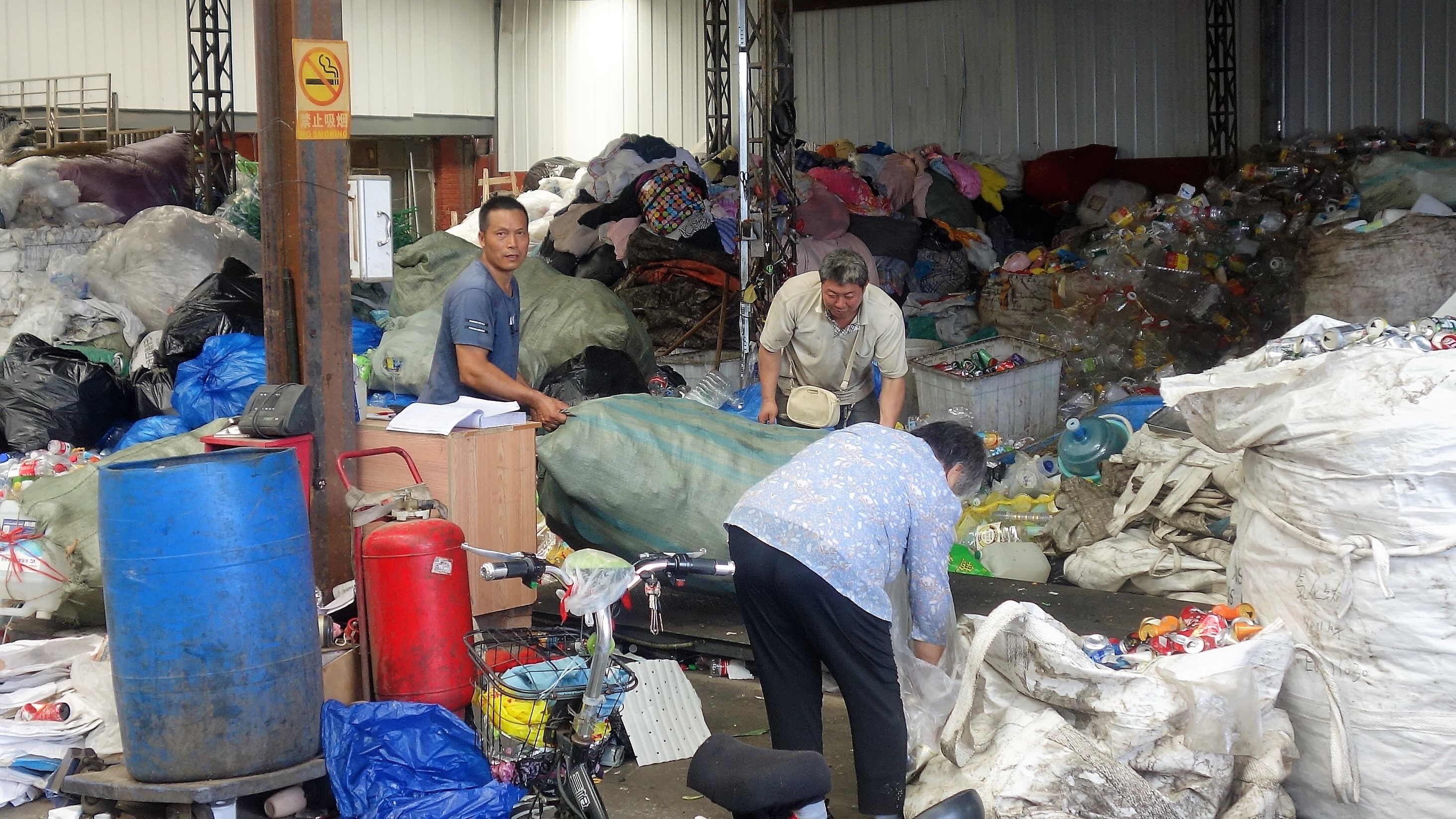 Many of those we met didn't want their pictures taken, they see their job as being low quality and are embarrassed. Lao Wan said "the work is not honourable." It is dirty and hard work and weather dependant, but its important. Seeing the huge quantity of waste involved and the number of people it supports is surprising. Collectively, they save an unbelievable amount of material from landfill. Yet not a single person in the recycling chain mentioned the environment. For some it's a means to live, for others the motivation is the little money it provides. They deserve every penny the effort we make is nothing in comparison.