Although the weather is bitterly cold there is little wind and the bright sun unfiltered in a cloudless blue sky makes for a good walking day. Today I want to hike up the low steep mountains that seem to ring Changping. On one side they seem very close, rising immediately at the end of the long shopping street and behind the bus terminal.
I get a taxi to the end of the shopping mall. The department stores suddenly end and the road narrows and bends past a school and police station before burrowing under the railway line. On the other side I turn off the road onto a track.
The path immediately starts to rise through a thin wood. Its scattered with interesting graves, some have flowers draped over them and others are strewn with empty plates and bottles of Baijiu. Above 1 grave hangs a black arm band.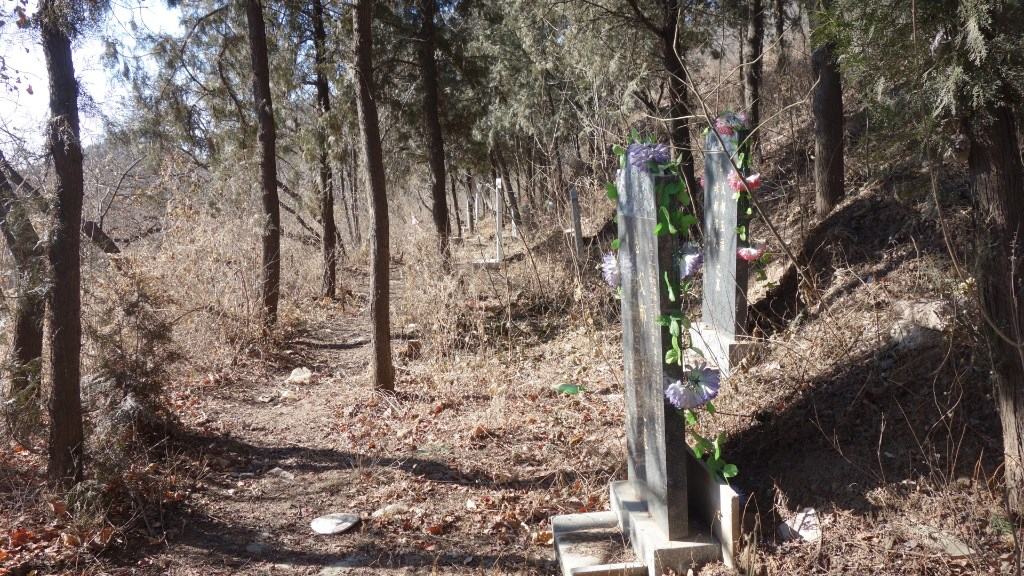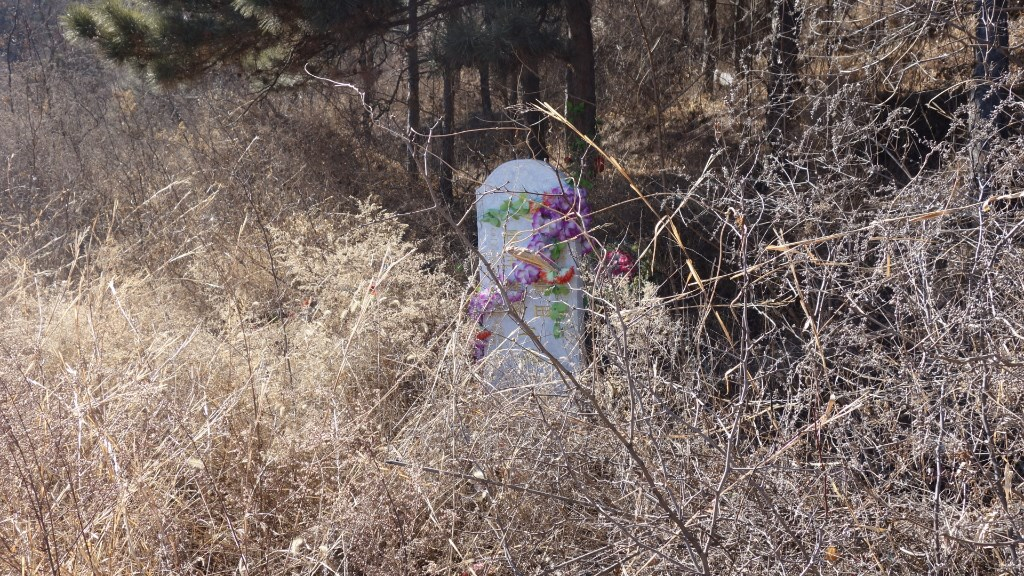 The path is well marked and an easy climb and within minutes I've already reached a low crest. I can see out over an ugly and lower density part of Changping which stretches towards the Ming tombs and the distant Yan mountains. Purple in the faint haze. Behind is Changping's centre.
I take the path left which climbs higher to an electricity pylon and then onward to another crest topped with a pagoda. I can see there are two lower peeks further on before the path falls back down into Changping – Not much of a hike in that direction.

From here though, you can see that in the opposite way, the low peaks form a long narrow ridge that continues towards Manshan and into the Yan mountains.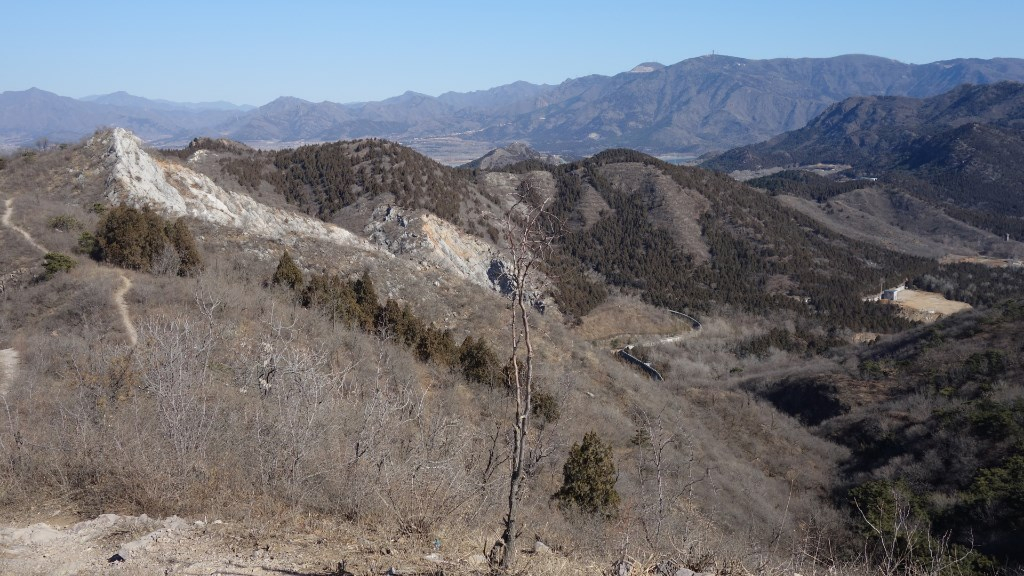 I return and follow the path. The ground is very dry and the trees and shrubs look dead like tinder. The route is easily marked and not difficult. After a short distance there are some pointless lamposts strung out along the route- not one is fitted with a bulb.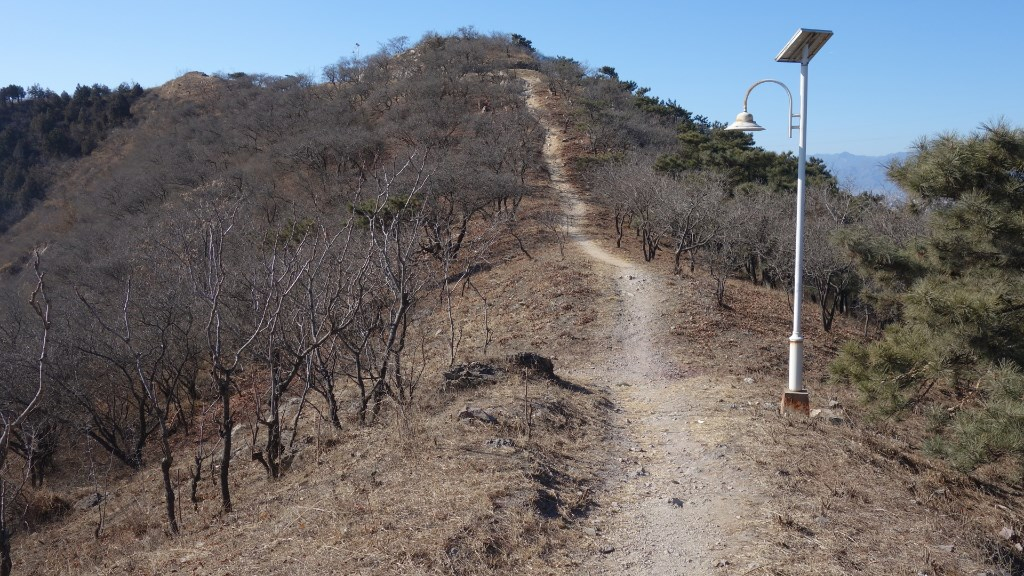 I keep to the top of the ridge and it rises and falls until it reaches what looks like the highest peak. I don't know how high, certainly less than 1000 feet  At the top there is some ugly fencing made from rusting scaffold. Some parts have been clad in a cream cement sculptured to resemble wood. It's rough, crumbly and mostly broken. There are some other wire structures being used as rubbish bins. At some point some money has been spent on making this a path. But like most things in China not maintained.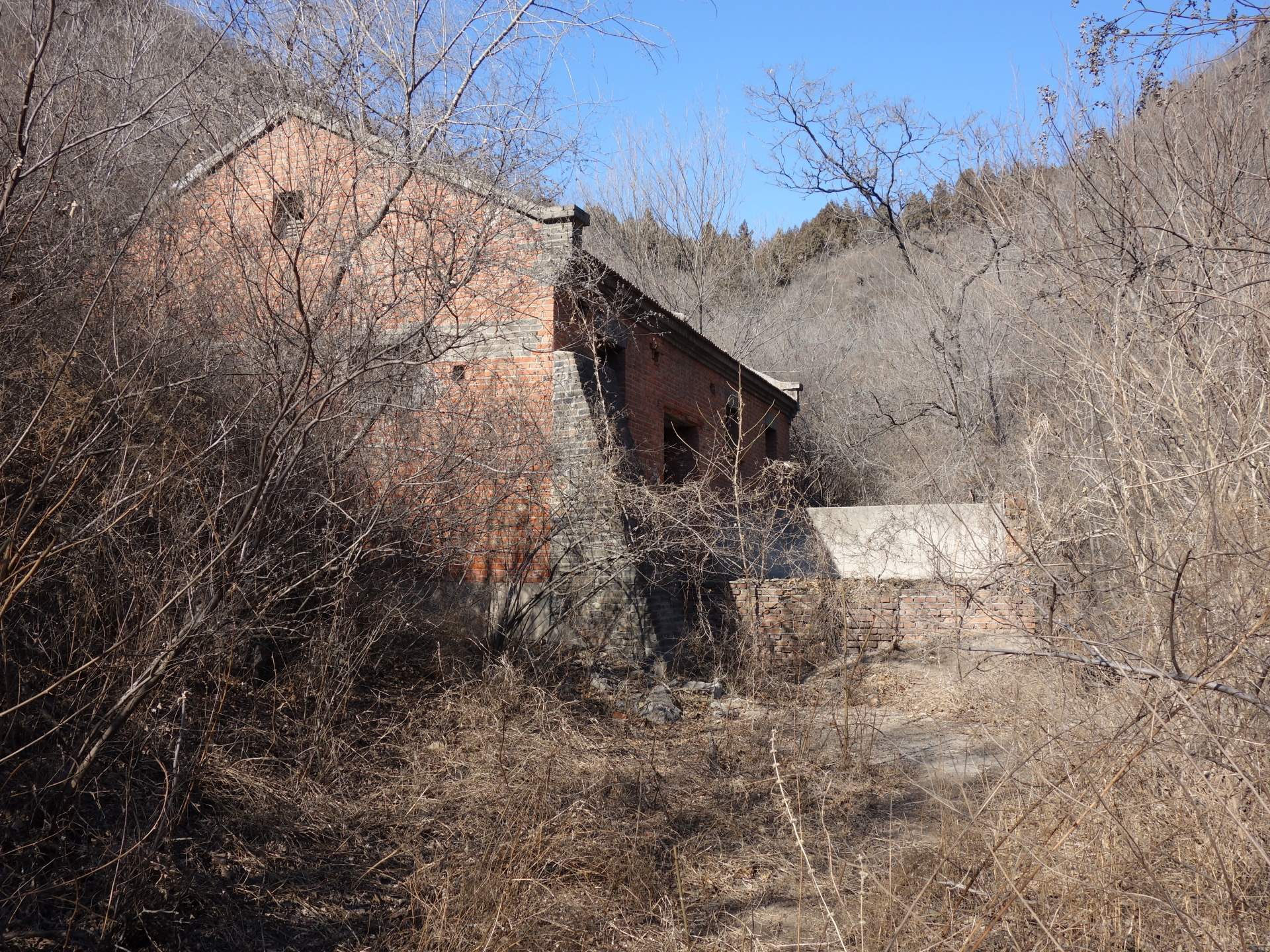 Further on, the path divides, the right fork goes to the edge of what looks like a quarry with a good view over the valley with Changping behind.
A second fork passes through some pine woods gradually becoming less distinct and increasingly steep and rocky – Easy to turn an ankle. I keep to the left, continuing along the ridge. The path become more natural, less defined and exciting. Here the sides of the ridge become steeper. Occasionally there are almost vertical drops on one side and in places overhanging rocks that look set to fall any minute. Some parts have already fallen and I have to clamber over.  At one points I am literally walking along the apex, like the roof of a house. It's not slippery and firm under foot too, but you wouldn't want to do this in a storm!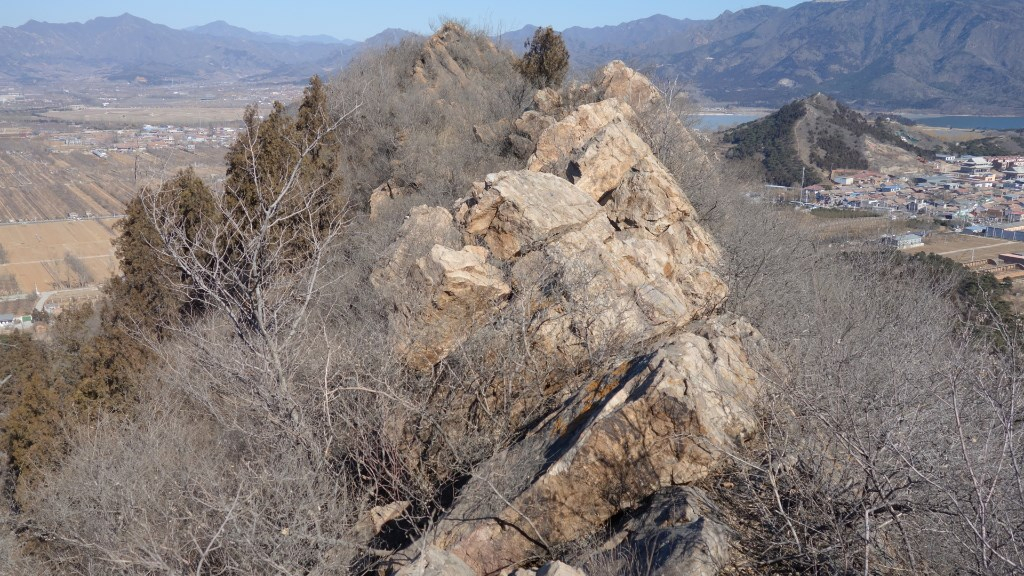 After this the path descended downwards through low shrubs coming out at some farms full of barking dogs. I follow the edge of the field to a farm track then cut back into the woods up towards the ridge. There is no defined path but the view from the top, back towards the quarry, is good.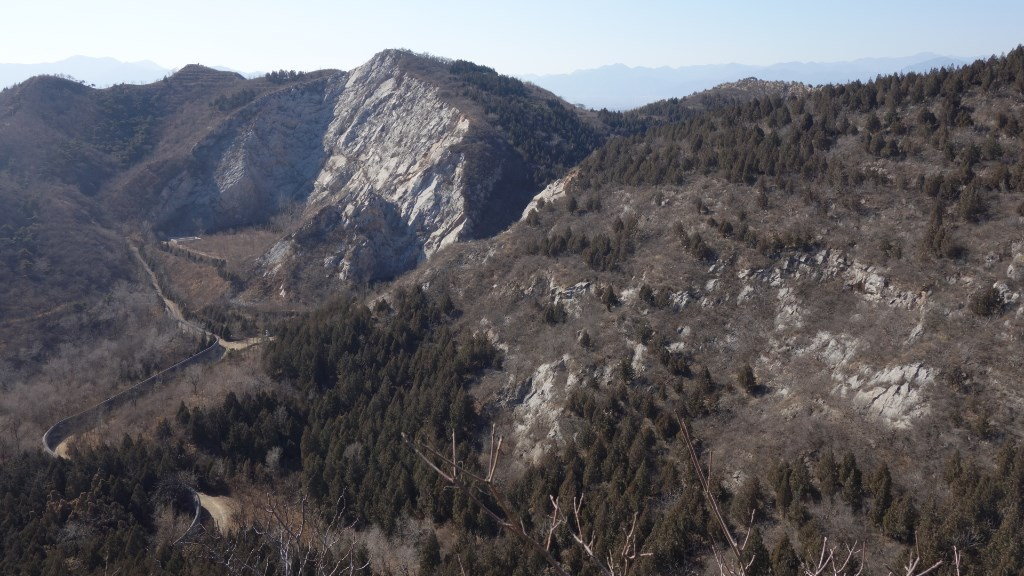 There isn't a path onwards from here and visibility among the low thorn trees is poor. Their thick thorns easily penetrate my jeans and everything is covered in dust. I stay up as high as I can where the vegetation is less dense before scrambling down to an attractive abandoned farm house and what looks like a watch tower.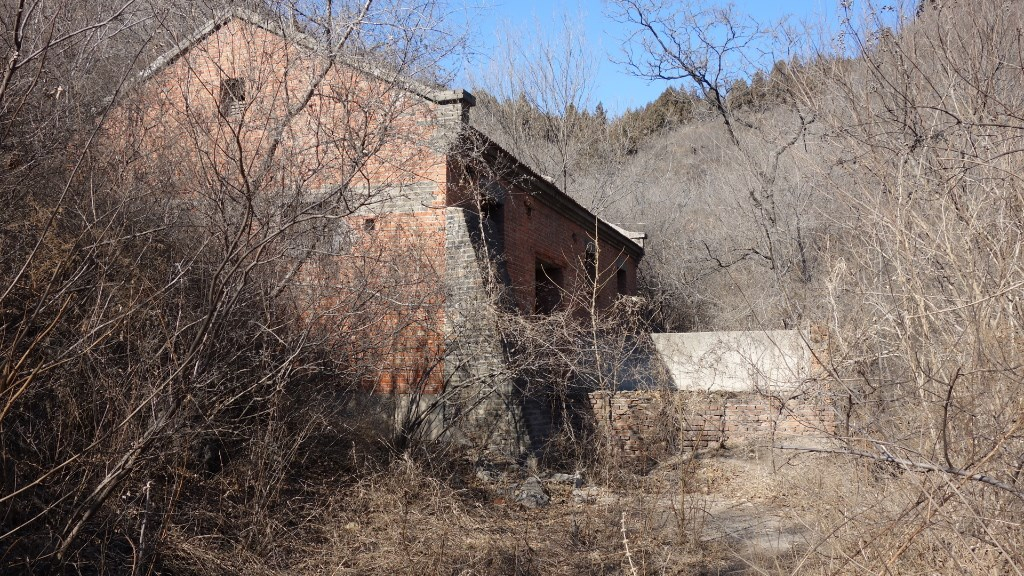 I find a track to follow which ends up in squalid dusty yard. There's a pack of small dogs yapping and slowly getting closer, threatening to nip me to death. I quickly walk out of a pair of large rotten gates, past the scariest dog I've ever seen, thankfully chained to a post.
It's not a great walk, the exploring is the best bit. Now I know where it goes I'll probably never go again.