Growing up in a small English village during the late 1960s and early 1970s I was, I believe, the last generation who witnessed an older, simpler way of life. My early years were almost the same as those experienced by my parents as children and as I later discovered through books would have been familiar to generations before them. When I returned to my village 20 years later, I was surprised by the changes that had displaced a lot of what I remembered. A cultural transformation had taken place and it had made my past, along with the rural lives described in classic books, into a foreign country.
During the May day holiday, I accompanied a Chinese work colleague back to his home, he had not been back to his village for a while and I was interested to learn about the similarities of his young life, and how much his village and his family's lives were changing as China races into the 21st century. An account of the life in village is published in Jin Magazine (June 2019)
Tong's life as a young boy would have been during the 1990s a full 30 years later than my own childhood. But China's economy didn't really get going until after it opened up in the 1980s and most early growth was in cities and large industrial areas. Rural life for him, I imagine, would be comparable to his parent's childhood although significantly poorer than my own. This was made clear when I asked him if the bedrooms in his house, now so full of storage that opening the door was difficult, had any of his childhood toys. He told me that he'd not had any toys. He told me of a game where they competed to see who could hit a seed pod with a stick the furthest.  We also invented a lot of our own games in the fields and ditches around the village, but we also had footballs, cricket bats and bicycles. Toys were mostly an indoor thing, but we all had a lot.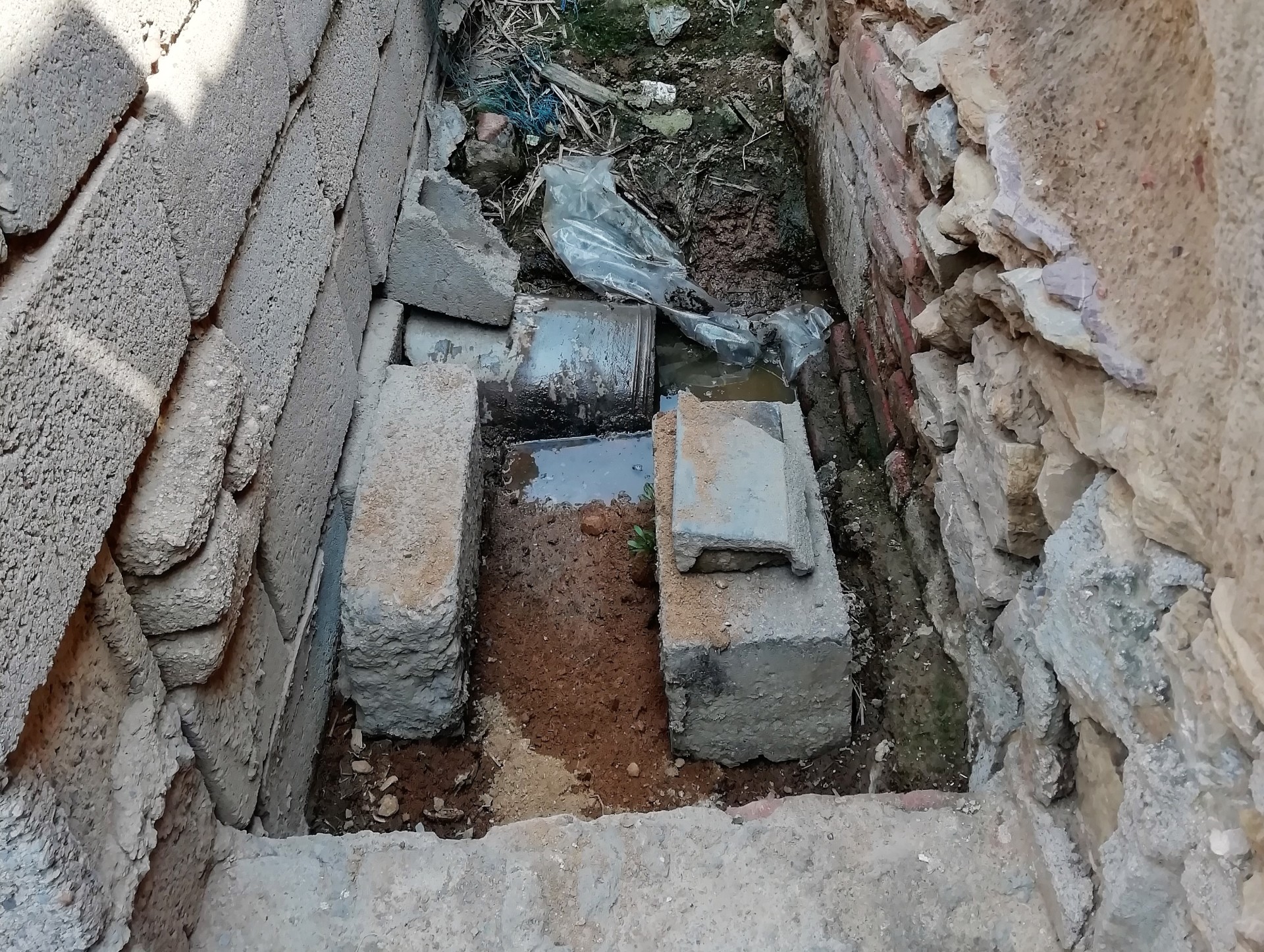 The same would be true of his house. Although built in the 1980s and was probably quite modern at the time, it lacks even the basic outdoor toilet and cooking appliances that old unimproved Victorian houses had in the UK.
I vaguely remember a communal wash house used by residents in my village by those who did not have their own bathrooms. I didn't see a communal wash area in Tongs village and I suspect they rely on strip washes by the outdoor tap. In winter when temperatures are 10 or 20 below I'll bet they use boiled water brought in from the kitchen. In my childhood home, water also had to be heated – bath nights were strictly Tuesdays and Fridays.
Open trench used as toilet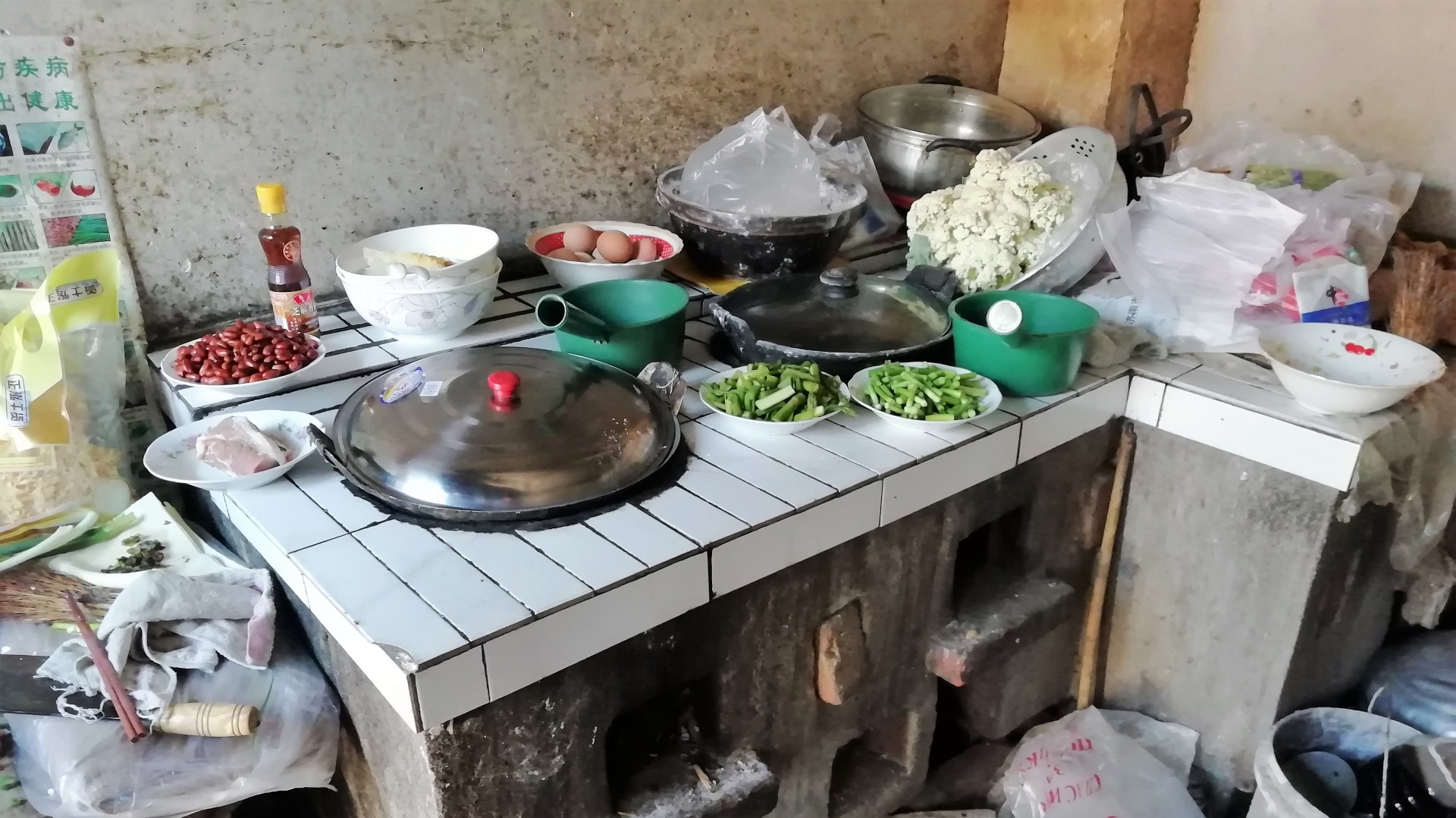 Kitchen solid fuel cooker
My village school was quite similar to Tongs with just a few classrooms, rows of desks and a blackboard. Like Tong's, my Head teacher also lived in a house attached and the main classroom was heated by a large open fire. Many of the small village schools in UK have closed since my childhood and children are ferried to other places, just like in Tongs village. My own school is still there but has been considerable renovated and expanded. An extension has brought the outdoor toilets inside. Safe central heating, computers, whiteboards and CCTV have propelled it into the little modern school that is probably in high demand.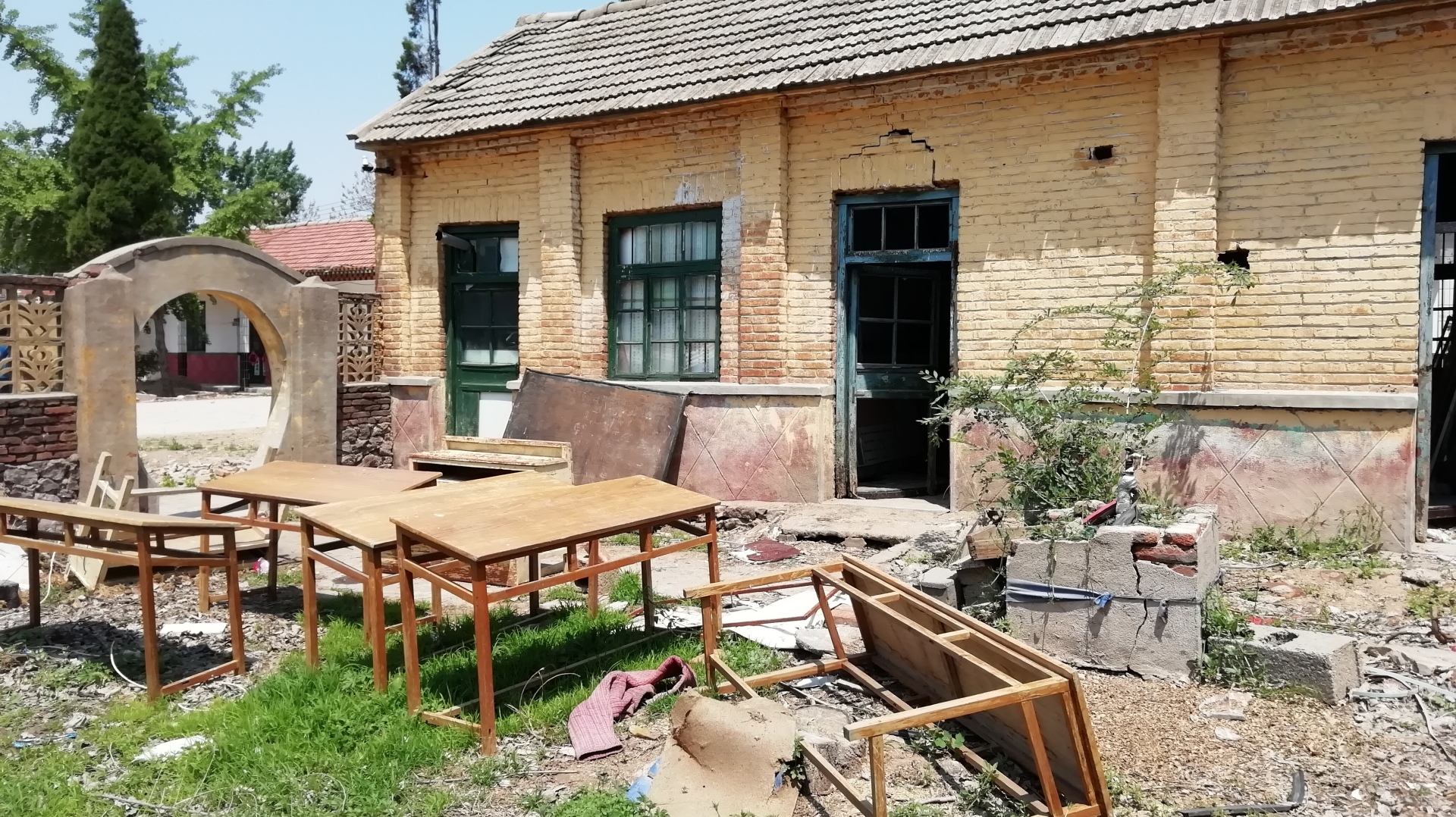 School house and yard of dry weeds and unwanted desks 
Next door to my school was an old threshing barn. It had large wooden doors that were opened to allow the wind to pass through and blow away the chaff while farmers beat the corn. Combine harvesters had long since replaced this hand threshing method, but the old buildings like this still existed, being used for other things. Tong described a process of hand threshing still being performed in his village by the farmers that grow small patches of wheat. Mechanization, if used, is still very small.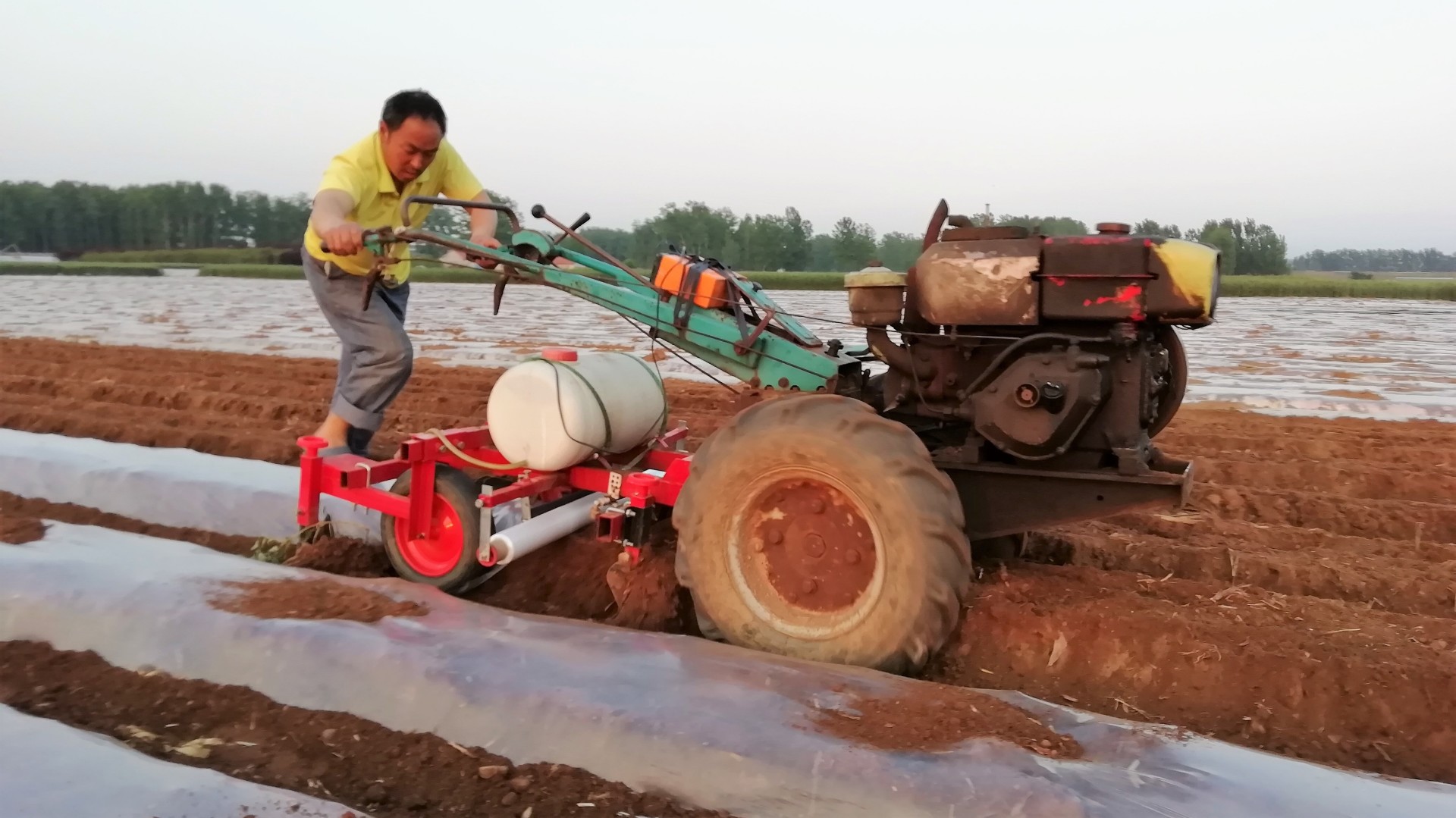 small machine used for planting peanuts
The 1980s began a boom in renovating old Victorian homes. Central heating and indoor bathrooms were added along with modern electrical circuits and fitted kitchens and appliances. Likewise, in my village the old properties like the threshing barn, numerous flint and thatch farm buildings have been converted into luxury homes and the tied cottages for farm workers, sold off to commuters who were unable to afford rocketing city properties.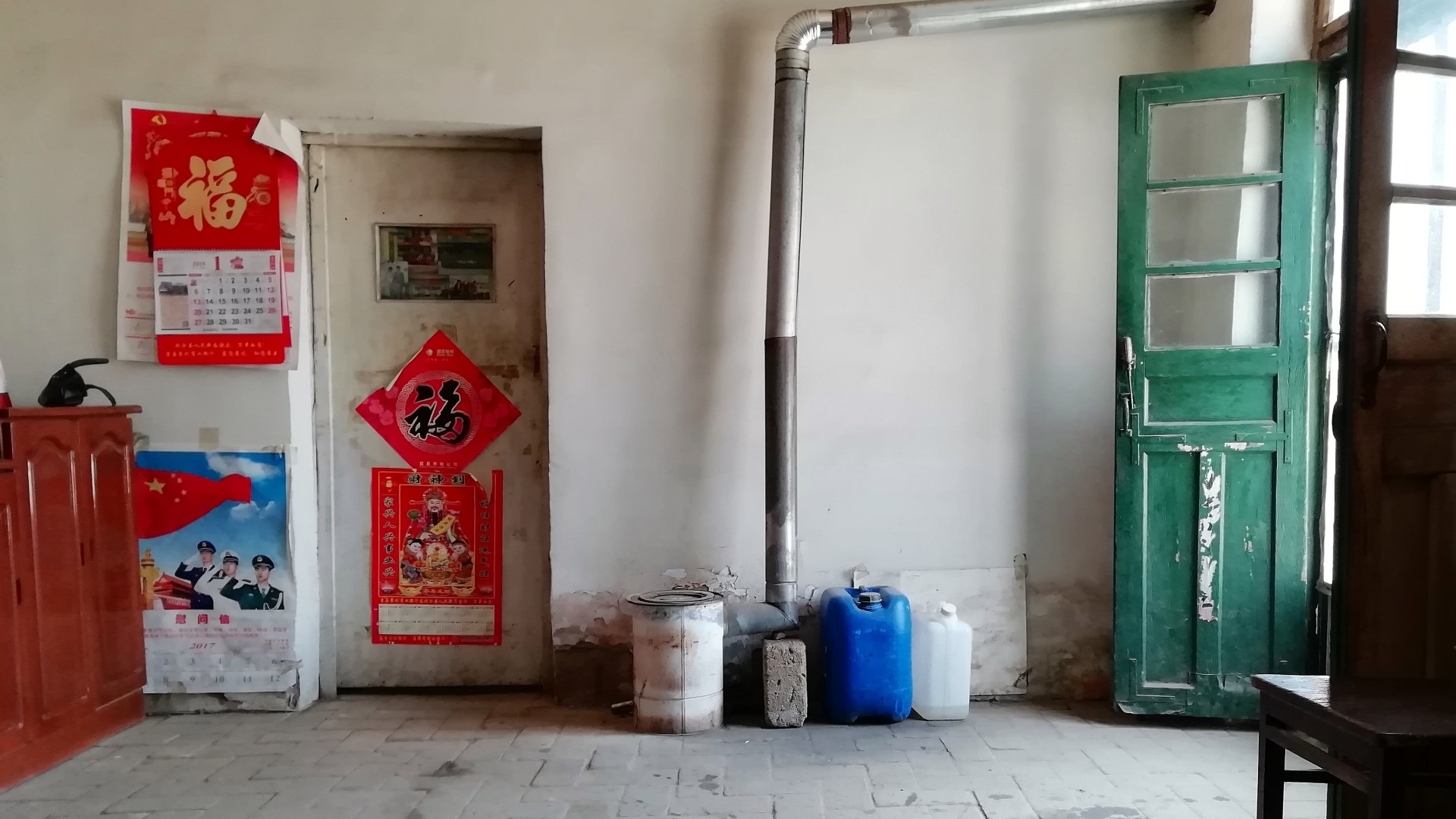 Inside village house with small stove for heating
The 1980s also saw an sudden interest in the environment and a return to Victorian values. It looked back nostalgically at simpler, more sustainable, healthier lives. The unsophisticated villiage bumpkin became honest and more virtuous than the unscrupulous city slicker. Life in the country switched to being more desired than the city. In China there is still a widespread stereotype about people from a village as being uneducated and vulgar, there's no romantic notions about a rustic life.
I can't see the old buildings in Tongs village having the same fate. The land may have value and while the main buildings are well constructed, the finishing is low quality. Tongs family home is charming, the mix of brick and mud, the brick flooring and wooden doorways are wonderful, so too is the layout of low buildings around an open courtyard. While hardly historic in age, the architectural style is ancient and traditional. Redeveloping it into something modern, but retaining this old charm is more expensive than rebuilding. At the moment there is little love for preserving features associated with poverty. Newer constructions use modern bricks, plain metal doors, ceramic tiles. They have showier exteriors, tacky, cheap quality finishes.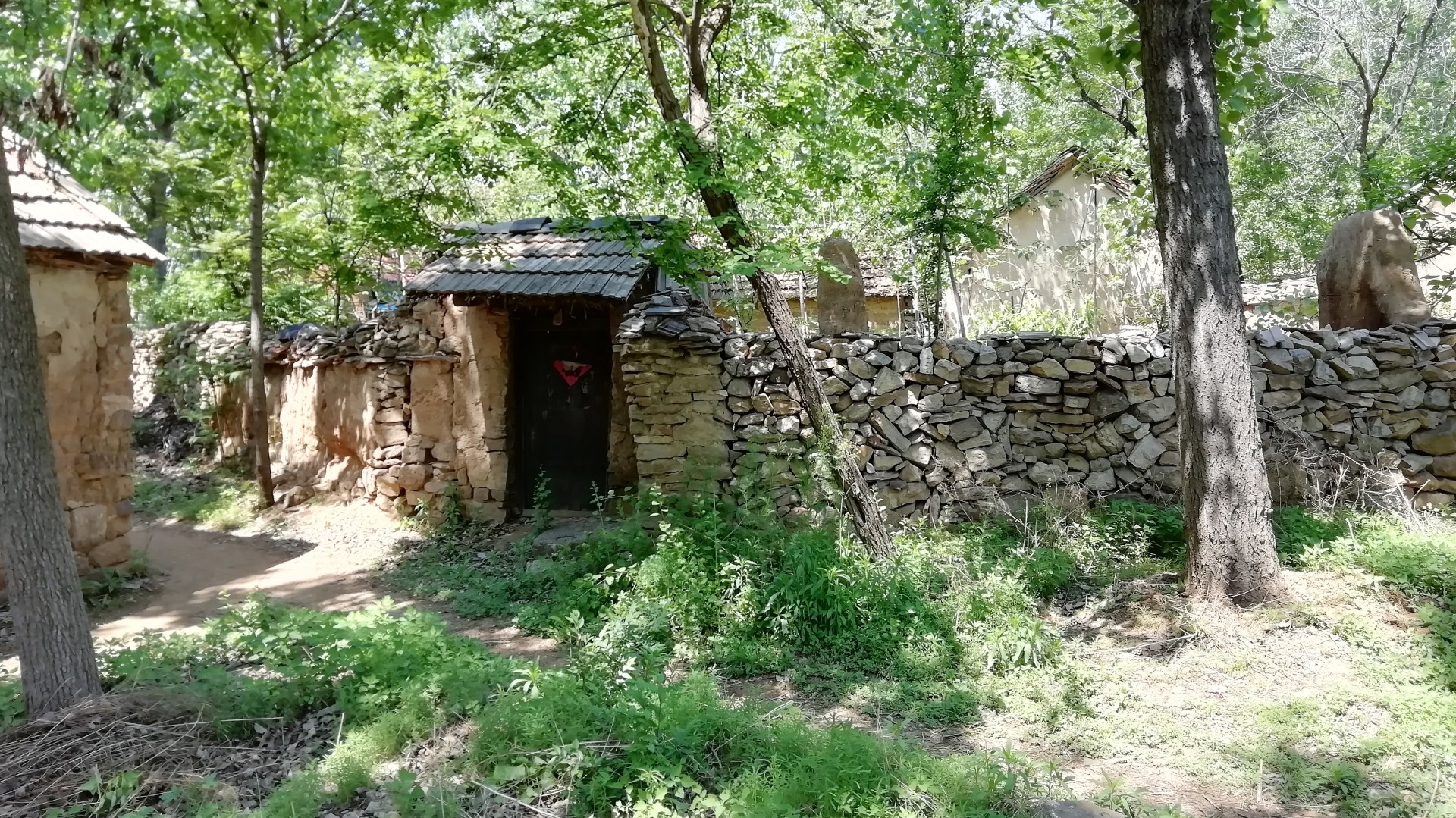 Abandoned older house overgrown with trees 
The conversion of old flint and thatch buildings into luxury homes has preserved the look of buildings in my village, but mostly they are used as holiday homes. The owners drive down from the city for a long weekend Like the commuters they don't drink in the local pub, buy food in the village shops, use local busses or the post office. As a consequence, these have slowly disappeared. The village is much prettier than it was as a boy. Properties are in better repair, roads had been resurfaced, the dark and smelly pool I passed everyday walking to school is now an idyllic village pond. It's quieter and emptier, but less alive.
Tongs village is protected from the same fate unless laws change in China. At present only those with a Hukou from the village can buy property, it keeps the prices low. Land can't be sold only rented. As farms get bigger and more productive, a life in the country may become more attractive.  Larger farms may provide enough income for farming to become a career that is an alternative to moving to the city. Likewise, the Chinese obsessive concern about food quality may change the negative attitudes towards the value of farming and the people that live there. It might create a generation that appreciates the village enough to desire to return and to preserve some of its architectural traditions by incorporating the styles and materials into better quality homes.