21st March 2020
1 full week at work and Friday lunch in a restaurant. It's a tentative step towards normality. Its certainly busier on the streets but the shops are still empty. At the restaurant we had to have our temperatures taken, hands washed and names recorded in a register before being shown to a table sitting a respectable distance from others. At the bank too temperatures were taken and our names recorded. Waiting In seats and queues a 1 meter separation was enforced, masks everywhere are mandatory, even sitting at desks.
I have written before how compliant everyone has been, how controlling the government has been and seeing the videos and news from the UK of panic buying, the fear of unemployment and poverty I am, for once, thankful for that.  Its been a tough time but I hope, as a result, a shorter duration. Two years of living this new normal isn't how I imagined seeing out my contract here.  Maybe I'll get used to it, things will change and be different to life before. Certainly, the absence of queue jumping and crowding is an improvement, spitting is no longer tolerated. I noticed a colleague at work left the room when he started sneezing. – I like this new behaviour. 
The virus has changed things, changed people, changed me, life after won't be the same again. I've been asked to write a few words about what I learned  for a magazine. It's a good way to end this diary by reflecting on the last 2 months and finding the positive from it.     
Good luck to everyone, see you in the uncharted future.     
15th March 2020
After 2 weeks of public holiday and 5 weeks working inefficiently from our homes, tomorrow, at last, we all return to work. Our lives, that have been on hold, can start becoming normal again. Outside today, the atmosphere looked more relaxed. Families were out in the suddenly warm sunshine playing on bikes and kicking balls about. The guards on the gates seemed less strict too. Maybe, like me, they all dare to think of the future once more, to imagine days out and think of summer holidays.  
I though I should get a haircut before returning to society. The normal barbers was still closed but I found one shop willing to risk it. My details were entered into an exercise book along with my temperature first. I was lucky, only one customer was allowed in the shop at a time. A second man had to wait till I had finished and presumably the place deep cleaned after I left. The price was the usual 40 RMB (about £4) .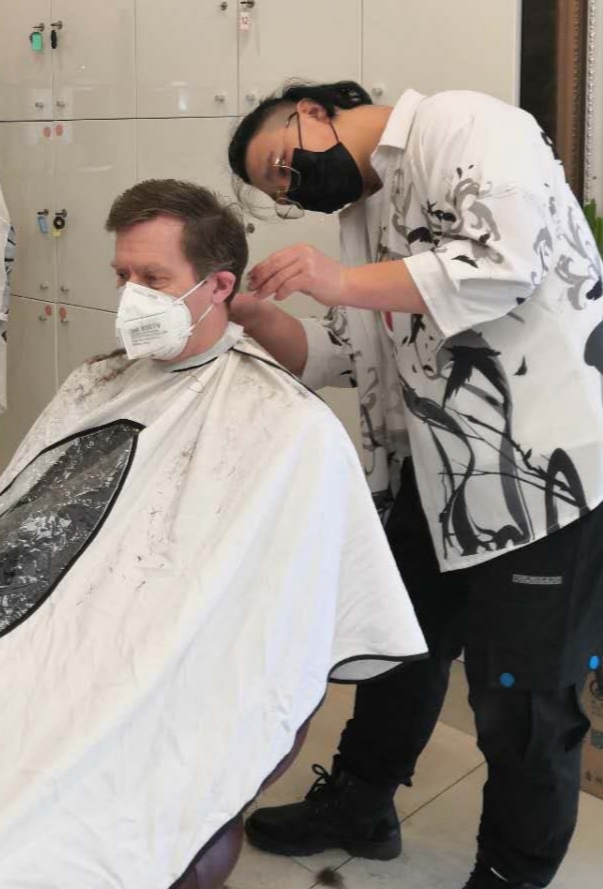 The news from abroad is filled with the growing number of cases in Europe and America and the gradual dawning of people as they realise it's serious. I am constantly asked by Chinese people about the response of foreign governments and their half-hearted lockdowns. In particular the UK admission that herd immunity may be the best protection. I try to explain that the draconian measures applied here would be impossible in countries where laws can't be changed over-night or without scrutiny or debate, where businesses need to make a profit, where people are less community minded and enforcers in fewer numbers. They struggle to understand why the UK doesn't copy what China has done because the single constant message they hear is that the virus was defeated by the heroic sacrifices of the people and the great leadership of the communist party.
The relief they feel today could be the eye of a storm. 84% of corona virus cases were restricted to 1 region of China. Elsewhere in the country including its capital less than 9 people in every million were infected. In 6- or 12-months' time, China maybe one of the few countries where the epidemic could return. Would they be so willing to do this all again?
8th March 2020
I've given up trying to guess when things will be back to normal here. I would never have guessed that a country could shut down for so long and there is no sign of returning to work next week. I'm working from home now after the heating in my office was turned off last weekend. A rather mean action that took me ages of fiddling with the room controls and enquiry to find out why only cold air was coming out. It's a final straw for me. I know it's a special time, but I was happy with the working arrangements. Working from home is just an unnecessary level of difficulty that makes my job more effort than its worth. I'll do what's requested and take the money from now on.
Italy is starting to shut down now. Too little too late I think and I can't imagine it being as effectively controlled, as enthusiastically or as enduringly applied as in China. Everyone here is pulling their weight. At the ATMs they have put sanitizer and tissues out. In the UK it would be stolen or trashed for fun.  Once we'd call this level of participation 'the Dunkirk spirit' but I feel this is normal behaviour in China.
The Italian government, I guess, have to be seen do be doing something. Back in the UK my family are as sceptical as I was a month ago. I'm not particularly worried, none of them are in the highest risk group; which is of old men and religious nuts. If there was something positive that could come from this it would be the demise of all the  ancient leaders like Putin, Trump and the Ayatollah Khomeini, and an increased proportion of more liberal voters.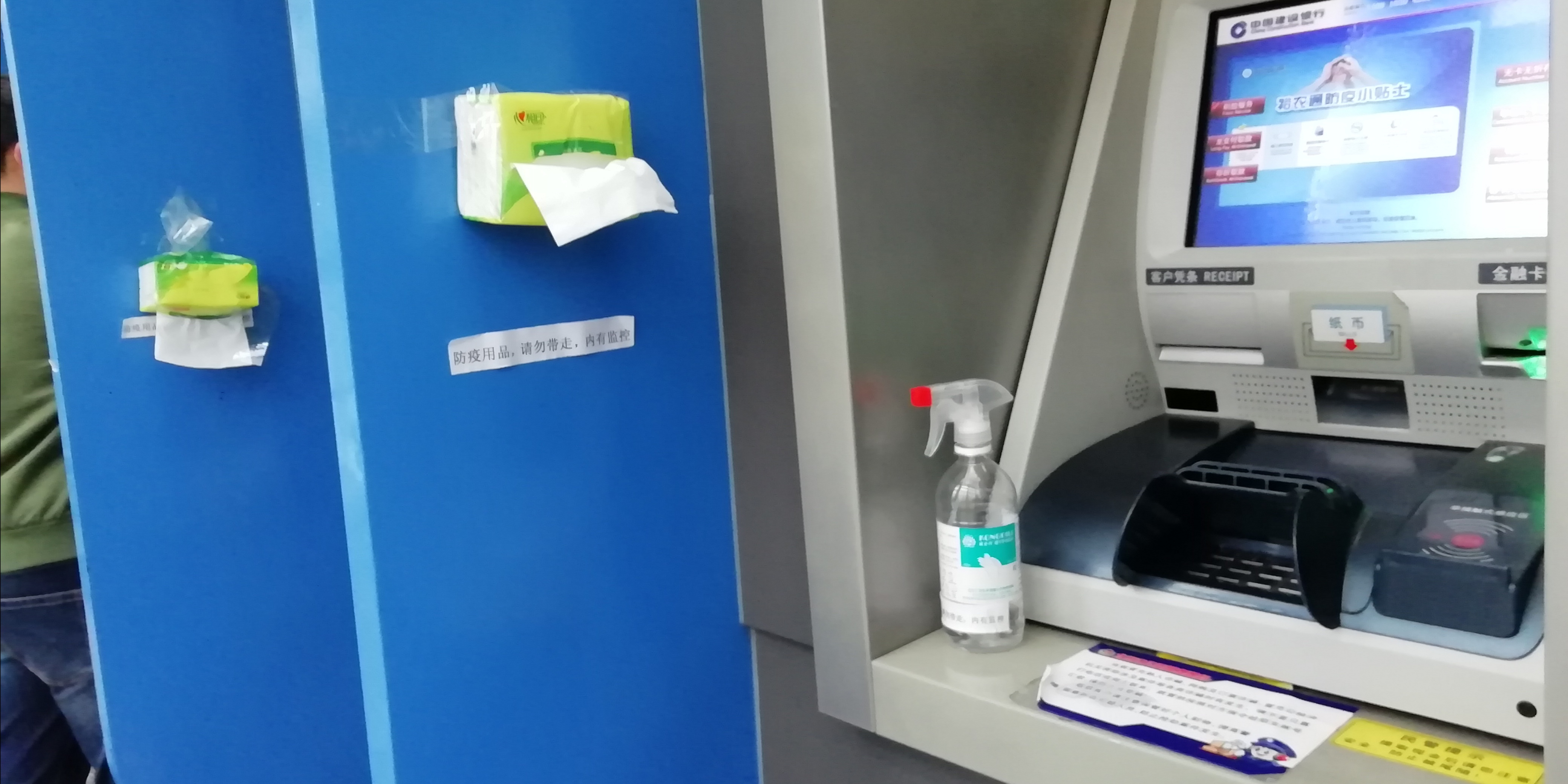 29th February 2020
Life continues here in a new pattern, a new normal. I'm still the only one going to work every morning and working from home in the afternoon. The streets remain fairly empty, those that are outside are all masked. Temperatures continue to be checked at entrances to work, to subways and supermarkets. The gate guards at the living areas check my temperature and resident card every day, the common areas of the apartment building are cleaned three times a day. No country could impose the controls that China has and no people would comply so eagerly.
As the number of new cases in China falls, infection rates in other countries rise. I suggested to my family back in the UK that they should prepare. To stock up on some food, disinfectant and face masks while they can. They said they couldn't imagine people wearing masks and I shouldn't worry.
I think they are right, western countries don't have the power, the resources or the infrastructure to copy what China has done, I don't believe they would have the discipline to self-isolate or overcome the embarrassment of wearing a mask. I can imagine that in a few weeks time China could become the safest place to be. It will be a triumph for the government if the only new cases here are linked to foreigners arriving from the west.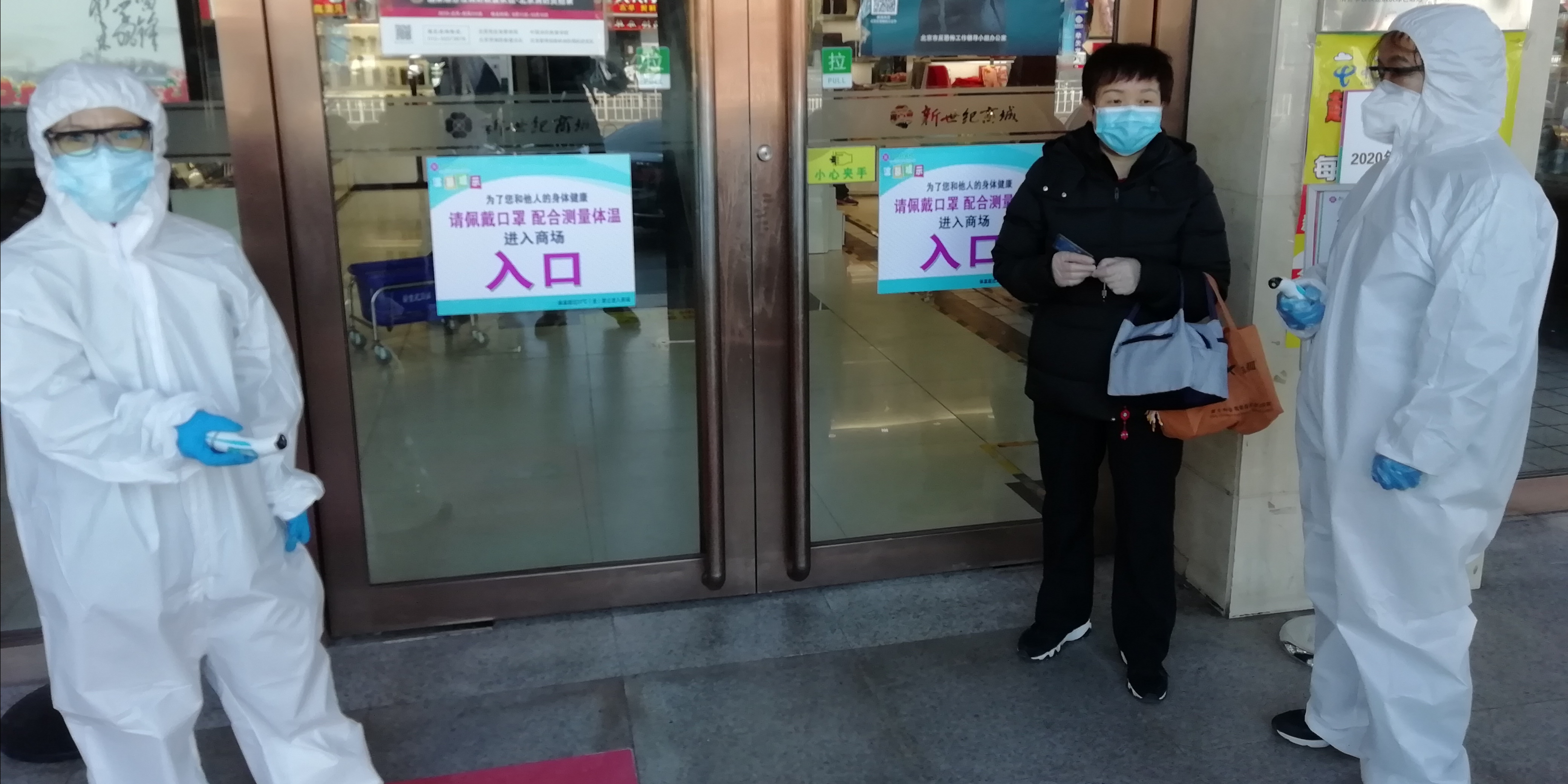 20th Feb 2020
VPNs are updated and I've rejoined the world. I immediately download a new picture of my granddaughter from Whatsapp and listened to Leon Bridges on Youtube. It's great to start the day with a few small simple pleasures and |I thank the people at the VPN company for their efforts in overcoming the severe challenges of the censors again to make that possible.
Another week has almost passed and I think I'm at the end of this diary. The weekend I hope will be the final one spent doing nothing. There is some pressure on people to return to work and I suspect once some return it will all quickly normalise. Its also nearly the end of winter with just two weeks before the grass starts to grow. It will be a while before the virus disappears but not long before attention turns towards Spring and the next news story.
Its been an experience, not life changing, but I suspect one that's changed my feelings of the country. I will look back in a few weeks and reflect on what I wrote and what I learned from this month.
17th February 2020
How quickly things can change. Security has been tightened, the normal gate guards I know have been replaced by professionals, a little tent erected by the gate. I noticed all the community blocks have them, like army check points. They are strict about letting people in to and I'm forced to get an access card. It wasn't easy they wanted a lot of information but in the end gave me a card and just wrote down 'Robert' next to my room number. The VPNs have been blocked too so that there is practically no internet access for me. No BBC News, quality foreign newspapers, Radio 6 Music Wikipedia or Netflix. Whatapp is throttled back so even a simple message takes a while to send.  Of course no access here. It really makes life hard when there is nothing to do, no contact with the world.
I thought work might return to normal, but people are insisting on working from home, the job is difficult without good communication. I go to work put the heating on and get a coffee look at the long to do list and try and think which tasks can be done over a bad line. The job shrinks as fast as my ability to care.
I get an e-mail from HR unusually its been translated into English presumably for my benefit.
'The sudden outbreak of novel coronavirus pneumonia (NCP, or COVID-19) is a severe challenge to China. While under the leadership of President Xi Jinping, the Chinese government and people have withstood the test. The 1.4 billion Chinese people are fully united, and spare no effort on the prevention and control of the epidemic in Chinese speed, in order to protect the safety and health of the Chinese people.'
I have, so far, resisted a sarcastic reply.​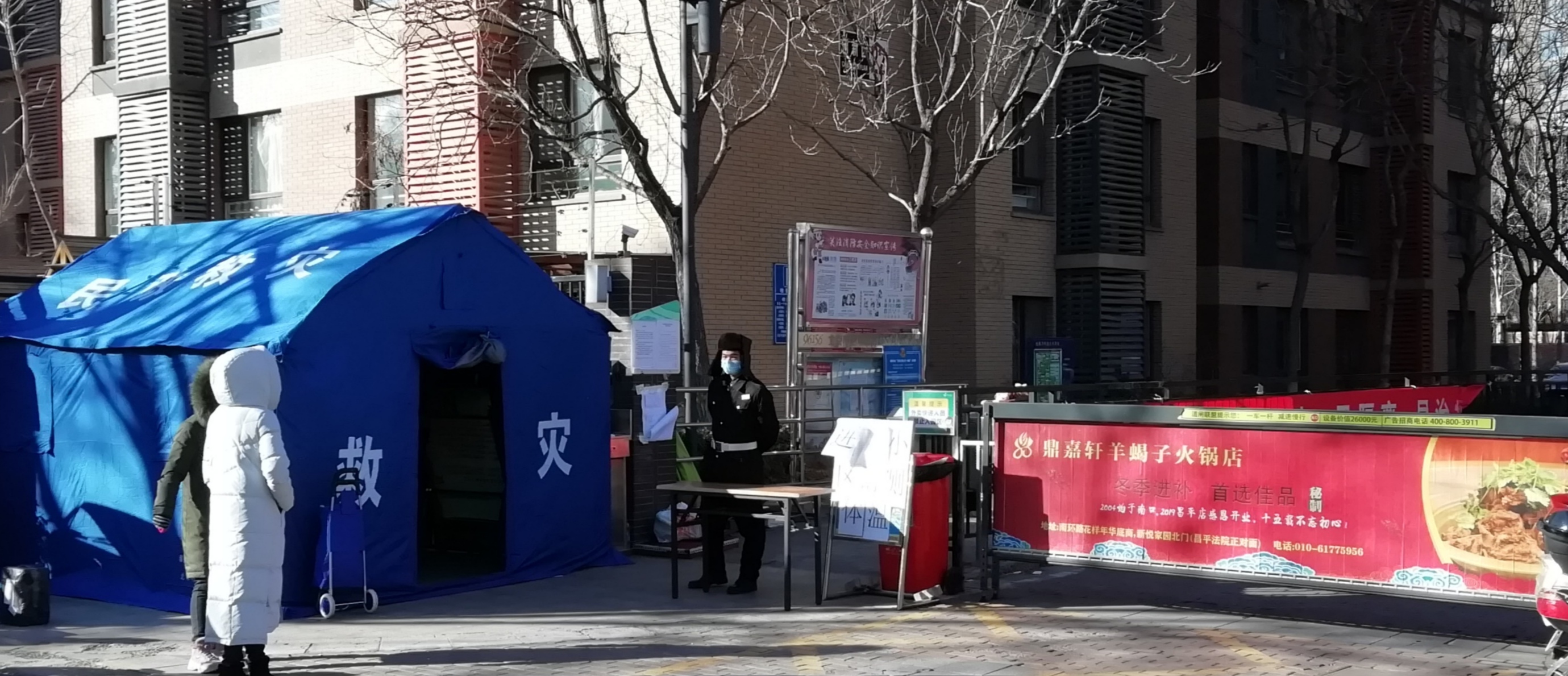 13th February 2020
Three days at work. I expected people to slowly drift back, but it's been the other way around. Even the number of guards at the company entrance, taking the temperature and handing out the new face mask have thinned down to two. I walked around the three top floors and didn't see another sole. There's a few people on the shop floor below. I haven't been down there, but I've seen them huddled in the little smoking area outside. It looks like it may be as empty next week although no policy has been announced yet. Unless people are ordered back to their desks, I think very few will come. I'm not sure anyone even knows I'm there.
I'm enjoying it though, the change of scenery from being at home is a welcome break. I managed to work out how to adjust the heating, which has been turned down to only 13 degrees. Sitting any longer than an hour and the cold soaks into the body. Today I got my office up to a comfortable 22 deg. I also installed a large monitor and put some music on while I worked. Its funny how little things make so much difference. I'm wondering about moving the coffee machine in there. It's hardly used even in normal times because the Caffeine makes most Chinese hearts race. It hasn't even been turned on this last week.
The area where my apartment block stands has a new policy too. Now I need a special paper card to get in. I already have a key card for the gate, the paper one is to show to the gate guards and the new arm banded officials that hang around there and open the gate for me. I tried to get a card from the committee members sitting behind trestle tables with books of registers. It was a chance to play the game of dumb foreigner. Unable to understand what they want. In the end they gave up and waved me away, tomorrow they'll probably have someone who can speak a few words of English waiting for me. There'll be forms to fill in, written in Chinese of course, information I don't know like the name of my landlord or hometown. I'll have to make it up to ensure there are no blank spaces, knowing they can't read or verify what I put. I like to think it makes a mockery out of their petty, inexplicable rules and the populations unquestioning compliance. Maybe I'm just being arrogant but the little rules get to me.
10th February 2020    
Back at work. Just for the morning but it really makes a difference. It was great to get back on my bike and race to work, I needed the exercise. There weren't many others there, just a handful of workers in the office and a group of security guards standing around the gate to take my temperature and hand over a free mask. Surprising how it takes 5 men to do that. I put a sign on the door and locked myself in the meeting room I'd booked. I got a few things done I wouldn't have been able to do at home but the biggest boost was the ease with which everything worked, downloaded and saved. With so little waiting for the PC I was able to get focussed and time flew past.
A colleague came to see me, it was her last day and I suppose clearing out her desk was what she had come to do rather than say goodbye. She didn't want to come into my meeting room as I wasn't wearing a mask, so we texted through the glass and waved. Three other colleagues I spoke to on Skype said they couldn't come into work because they 'had a fever.' Really? No wonder out on the streets it's still not quite normal traffic. Everyone is sick – with worry.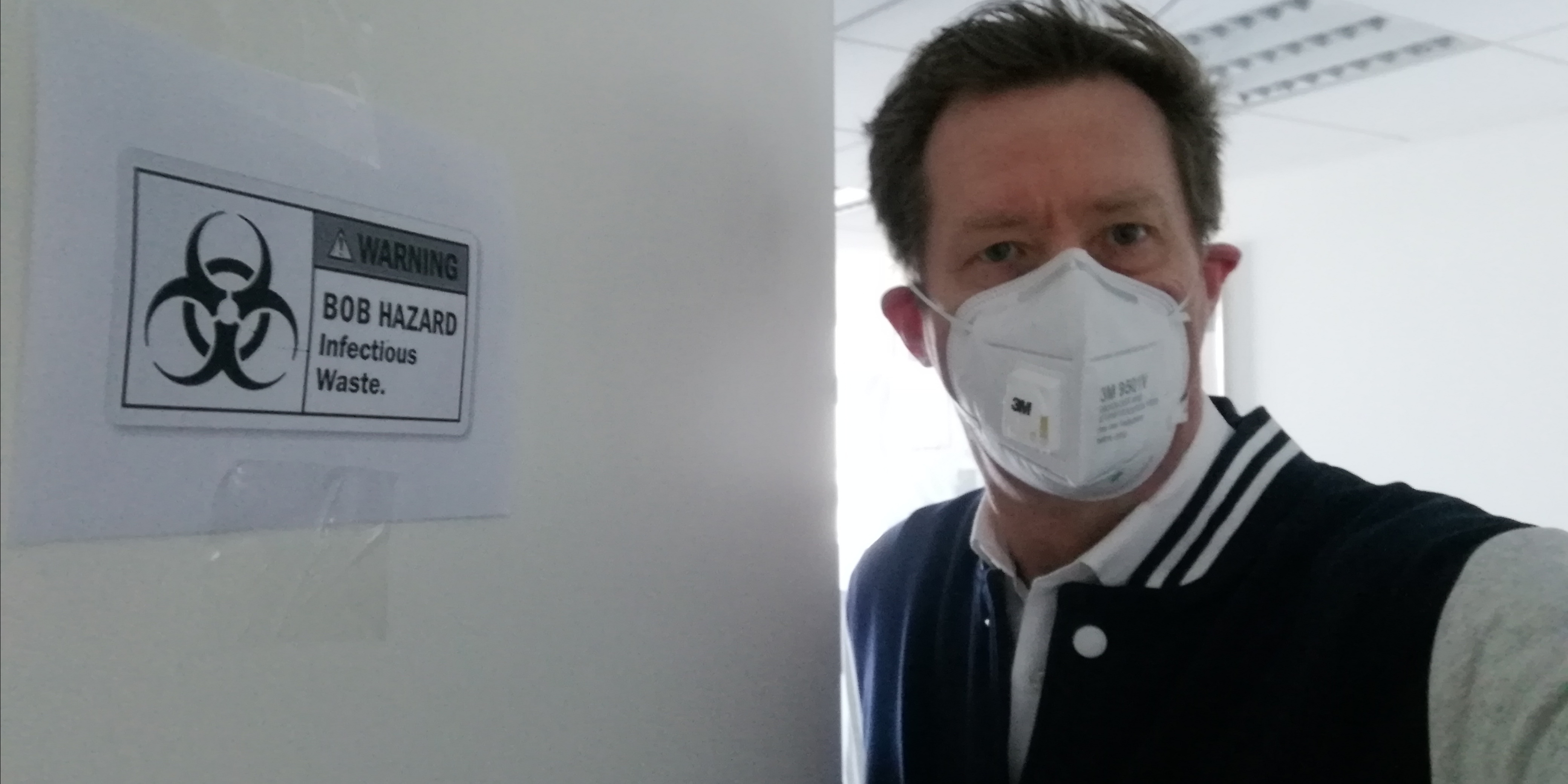 9th February 2020
I'm reminded of the saying 'if you want a job done give it to a busy man.' I have had so much time on my hands this weekend but I've done almost nothing. All those things I've been meaning to do, the cakes and puddings I wanted to cook, that long Chinese book I wanted to start, the letters and phone calls to UK banks I need to make, the spring cleaning I could have started. I've not done any. Looking back on the week I know that working from home was a supreme effort, the tardy network didn't help, but in truth, I have no motivation to do anything except read the corona news and gossip.
There has been a sudden glut of articles posted in Wechat and Facebook groups criticising western government's over-reaction to the virus and accusing media reports of 'racism' towards Chinese. It's part of a typical pattern that emerges whenever there is a disaster or crisis. They usually start as a result of someone not following the law, then the discovery of local government connivance or corruption that allowed it to occur, there is then suppression of news, criticism of foreigners and finally congratulations to the actions of central government. I wonder if the people who post these articles on group sites join just to spy on what's posted and propagate the party line. It wouldn't surprise me and it would explain the coincidence of the simultaneous appearance of their posts.    
7th Feb 2020
Friday! Even though its as identical as every other day,  just knowing it's the end of the week gives a little frisson of excitement. HR sent another notice saying no need to go into the office if working from home does not effect 'normal work.' It seems I'm the only one it effects as I'll be there every morning, on my own next week. I've block booked a meeting room to be sure of my isolation and printed a Bio Hazard warning label to put on the door. I'll send a picture to all my colleagues to make sure I'm not disturbed. I'm quite excited.
I popped out today to stock up on fruit and whisky for the weekend. Going down in the elevator felt like descending onto a different planet, but it was great to be outside in the snow. Deliveries are no longer allowed into the community so all the online deliveries had to be collected from the gate; there was quite a throng of people.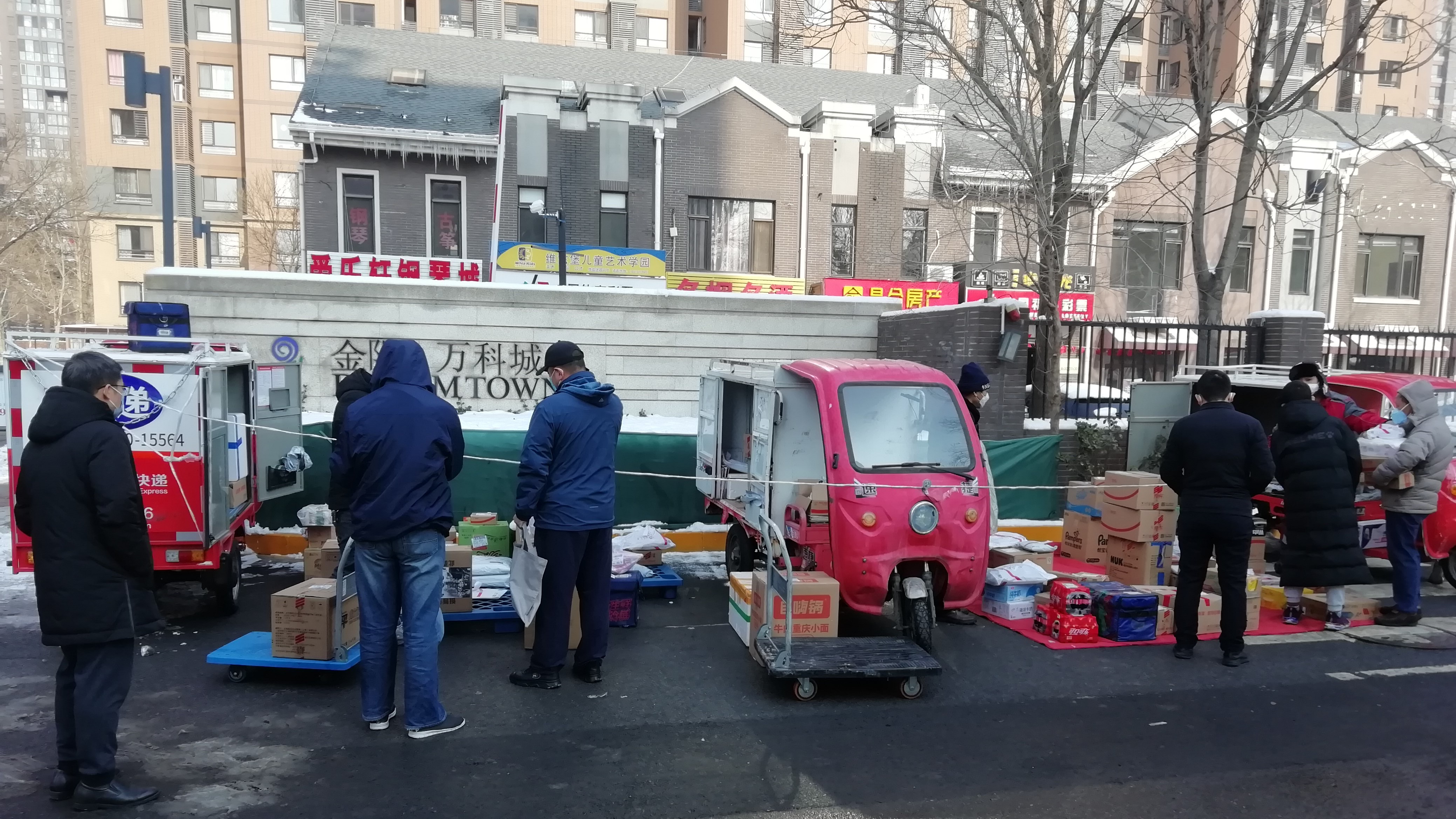 At the entrance to the shopping mall and the supermarket they measured my temperature. I assume it was normal.  On the way back into the gated community, the guard, that I say good morning to everyday, asked to see my pass. From past experience I know foreigners in China are kept an eye on and as the only foreigner in the area I would have thought I'm unmistakable. I must have had a look on my face because he opened the gate before I had time to make any reaction.  
6th February 2020
The Management team, as they called themselves in an e- mail, asked if I was worried about the virus and wanted to go back to the UK. I said would I continue to be paid and they said, 'yes.' Perhaps I should go, even if there is no reason other than getting a holiday. I'd have thought I would jump at the chance to get away from the harsh Beijing cold (it snowed quite heavily today) but now I'm a hermit, that's not really an issue. But confined another two weeks in my apartment and cabin fever could be.
My immediate reaction was that I'm more likely to go nuts from the stress of trying to use the internet for work and get a bad back sitting 8 hours a day at the dining table than get the flu. The back is a very real issue and more serious than a few days of the sniffles. My friend in Leeds (the one in bed with a cold) offered to put me up. Life is funny!
More people have been returning home here. I heard the young boy upstairs running about in his boots on the wooden floor and someone hawking out on the landing. There were several families out playing in the snow too.  I can't see everyone staying off work for two more weeks, even the Chinese economy would suffer. But then I can't see the virus disappearing either. The only solution I can think of is to calm people's inflated fears. Perhaps some clever research or statistics in the media that confirms it's not as dangerous as first thought coupled with a new clampdown on VPNs might do it. Or just order people back to work, Its never as bad as you think!
5th February/2020
A man next door has a tremendous sneeze. He had it long before the virus. We hear him explode first thing every morning like an alarm clock. I have noticed sneezing loudly is a thing in China, there's a couple at work who emphasise their sternutation with a shout, like hammy actors in a Chekhov comedy.  No one appears to notice; sneezing is very common, maybe it's the dryness of the air or a design flaw of their little noses. I have a big scots nose. It looks like a bony finger grafted onto my forehead, Chinese people often laugh at it. It runs constantly when I'm outside in winter, another side effect of the cold dry air.
I'd got used to Mr Ahchoo, as we call our neighbour, but in these days, in my shrunken world, I've grown very conscious of him again. Like the heightened awareness of one sense compensating for the loss of another. There are few other noises from the apartments around us, we may be the only occupants of this floor. If travel broadens the mind then confinement to a few rooms and a window must narrow it. The little mind I've shrunken into reacts childishly to his unself-conscious sneezing by returning bouts of equally loud and exaggerated coughing.  If anyone is listening to us, they may decide to lock the doors and seal off this building.
4th February 2020
Its my second day working from home. I dress in my normal work clothes and have the usual working day breakfast. At the same time i'm wondering ,why?. Having the same ritual seems important, I suppose that will pass and I'll start working in my underwear. There is an on-line meeting which is almost pointless as its entirely in Chinese. Usually there are visual cues that help me grasp if the topic is relevant to me, I know when to interrupt and ask questions, but today, I can't even tell if someone is talking to me. As people join the meeting, I can hear their kids crying in the background and dogs barking. some voices are chopped, distorted or echo – its a very different environment that I'm not a part of. 
Outside, the company office building is visible from my 20th floor apartment, like a picture of where people once worked. As I mail and IM and Skype in broken English, I'm conscious of life slowly shrinking behind a screen. I'm beginning to feel the meaning of isolated and confined. I could be the last man alive playing The Simms.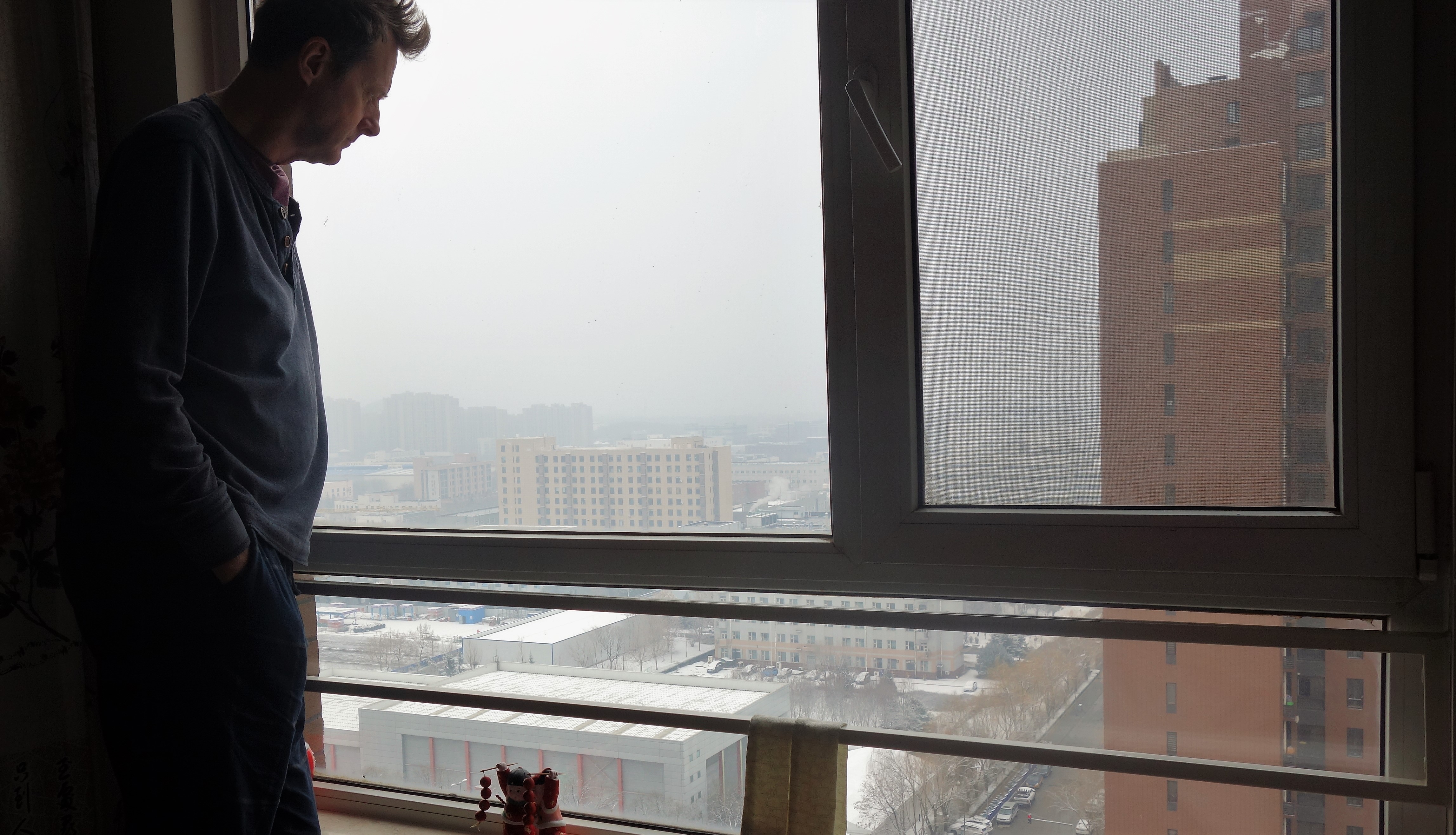 Meanwhile, the foreign secretary has advised all British nationals to leave China if they can. It's a bit of sudden escalation in seriousness. It is only flu isn't it?  I feel so long as the lights stay and the VPN keeps going, this little world is safe. Safer to be quarantined at home than in a plane of health refugees. Unless I've missed something.
1st & 2nd February 2020
Saturday, Sunday, the Weekend. These names of days have no meaning when each one is the same.  
I spent all day in the apartment, my knowledge of the world limited to the internet, my birds eye view of the communal area and the quiet crossroads from the window. This weekend hundreds of thousands are expected to return to Beijing from their distant hometowns. Many will return to work, or, like me, work from home. It's a critical time for the outbreak and a test of the effectiveness of the controls. 
Outside the window I see a team of men and women dressed in plastic suits disinfecting the play area and go outside to take a picture. The elevator button panel is streaked with dried liquid and smells of chlorine.
They pose for some pictures then I return to my cell.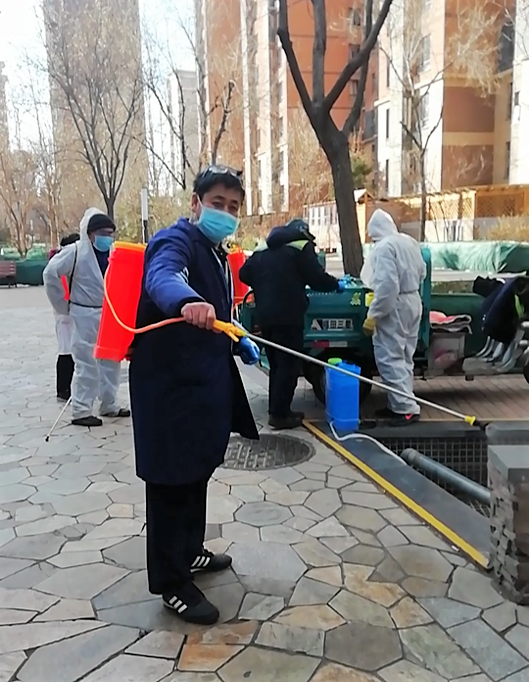 31st January 2020
Tonight, there was a Brexit party in Paddy O' Shea's. I thought it would be interesting to travel downtown and see what a Friday night, in the world's third most populous city, had become. As an added incentive, a good friend and avid Brexiteer was lying in bed, in Leeds, with a cold. The irony increased with the news that two cases of the virus had just been found in his county of Yorkshire.
Geared up with mask and mitts and after having my temperature taken by one of a pair of security guards, I rode the lonely subway into the heart of the city. Normally, the roads are gridlocked, pedestrian crossings at junctions are a chaos of people and pushbikes trying to cross as cars squeeze through to turn right on the red. Tonight the streets were clear, more like four in the morning than eight in the evening.
The large Irish pub is very popular. On an important sporting day, I've seen it so packed that TV screens and another bar have been erected on the street outside. On a Friday night, even when there is no sport of interest, at this time, it would be hard to get a seat. Tonight, that's not a problem, only a dozen people, all westerners, had dared a night out. The staff wore masks and rubber gloves and as people left, I saw them disinfecting the vacated table. I wondered if asking if they have Corona beer would be in bad taste. I went for a Guinness in my own glass I'd brought from home. If there was a bar in a hospital, I guess it would be like this.
I sent a message to my mate back home which I thought worked well for Brexit and the Plague – Keep calm and carry on.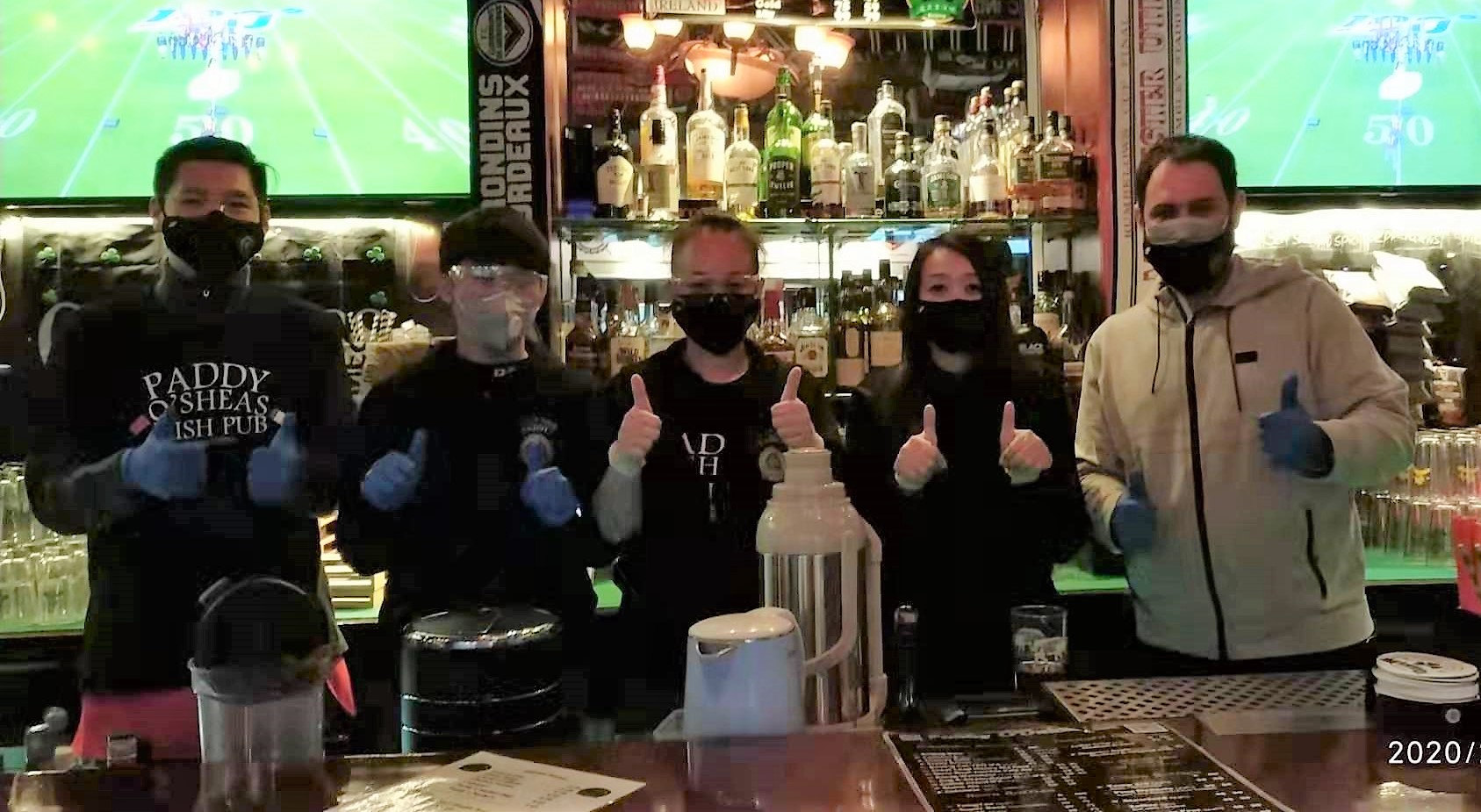 30th January 2020
I popped into work today to get my laptop so I can, as requested, work from home starting Monday. I had to sign in at the gate, I noticed several colleagues had also visited, but had since signed back out again; I was the only one there.  I sent a couple of e-mails and collected a few things I might need, then cycled back home again.
The latest advice is taxis should be cleaned inside after every passenger. The property office, in charge of the building complex, sent out some pictures to show that the elevators and doors will be regularly cleaned, I heard passenger temperatures are being taken at the entrance to each subway. These regular messages, received via WeChat,, provide a very clear picture of how serious the outbreak is being treated and the enormous efforts being taken to protect us.
I'd expect life to be very different. The streets are still very quiet, but all the local shops are open now, supplies are normal, public transport unaffected. Other than the lack of customers, it's all very normal. And like normal, there is that suspicion about what is said and what is done, what is real and what is for show. I don't expect taxis and elevators will be cleaned, nor temperature checks to be done any more thoroughly than the security checks they did in normal times. If the virus continues to spread it won't be the governments fault, they did all they could, others will be to blame. If it stops, their success will be given the highest praise.   
29th January 2020
Another day off, this must be what its like to be retired. A bit of shopping, some cooking, a game of monopoly and an afternoon nap. Its surprising how quickly the day goes.
It was a bit busier outside today. A few kids were playing in the bright sunshine, some lone adults shopping, a few young couples wandering about probably bored. There were more shops open including the local corner shop and the greengrocers. The supermarket had been restocked too, it feels like things, behind the masks, are slowly getting back towards normal. A contrast to the news of rising cases, the stopping of flights and evacuations by various countries.
I heard about the government policy of extending the holiday by WeChat from my boss, I wonder if private shopkeepers have heard it, have heard something different or are ignoring it. One of the problems is no one believes what they hear on the news and most get their information from social media. No more believable, but full of wonderful detailed stories about how the disease is spreading, like the openings of a James Herbert book. The infected stewardess walking up and down the isle of a bullet train, the sick parent attending a crowded school meeting, the family zig zagging their way across China on a 5-day driving holiday to the north. In this story however, rather than being seen as the early victims of an unfolding horror they are the targets of online anger and blame.
28th January 2020
Got an e-mail from the company today saying to work from home until 10th Feb – another 12 days off! It makes a bit of a dilemma; I could just as easily work from a warm beach in Thailand as from home. On the other hand, if this flu epidemic gets serious, if people start to panic things could quickly escalate into the first remarkable event of the decade. I could be bottling out of the chance 'to be there.'
A friend called, he's leaving for Europe tomorrow, 200 Brits from Wuhan are getting out too. Maybe later they'll repatriate me back home, but where would I stay? What would I do?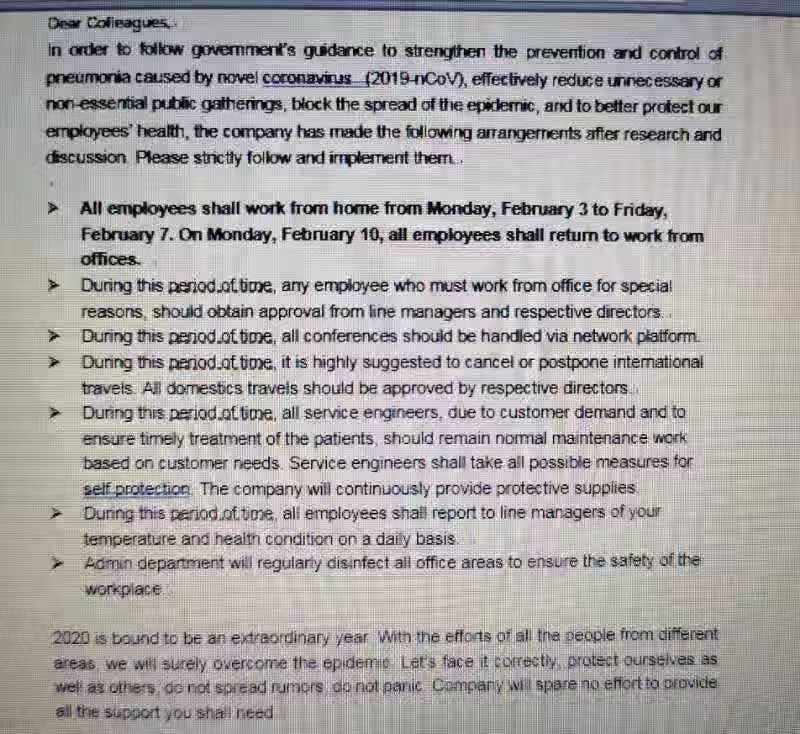 I think I'll stay here, I'll have to stock up more though, I'm down to the last bottle of wine.
27th January 2020
There is nothing to do but buy a load of food and stay indoors. The local shops are closed but the shopping mall is still open. I ventured out today masked up and gloved. The streets were empty and in the shopping mall there are just a few people visiting the supermarket. In the other shops and the restaurants it was just their bored staff hunched over their mobiles. In the supermarket, some shelves for vegetables were empty and I expected the few shoppers at the checkout to have trollies laden with food; stocking up for possible shortages, or preparing to hunker down if the virus spreads into Beijing. But they were just buying a few simple items – no signs of panic buying.
And that seems to be the current situation. Waiting patiently for the life to return to normal. If it doesn't, if food gets scarce, if the death toll rises alarmingly, if there are more road blocks and businesses don't open. then i'm sure that will change. It won't just be me checking how secure the local shop doors are.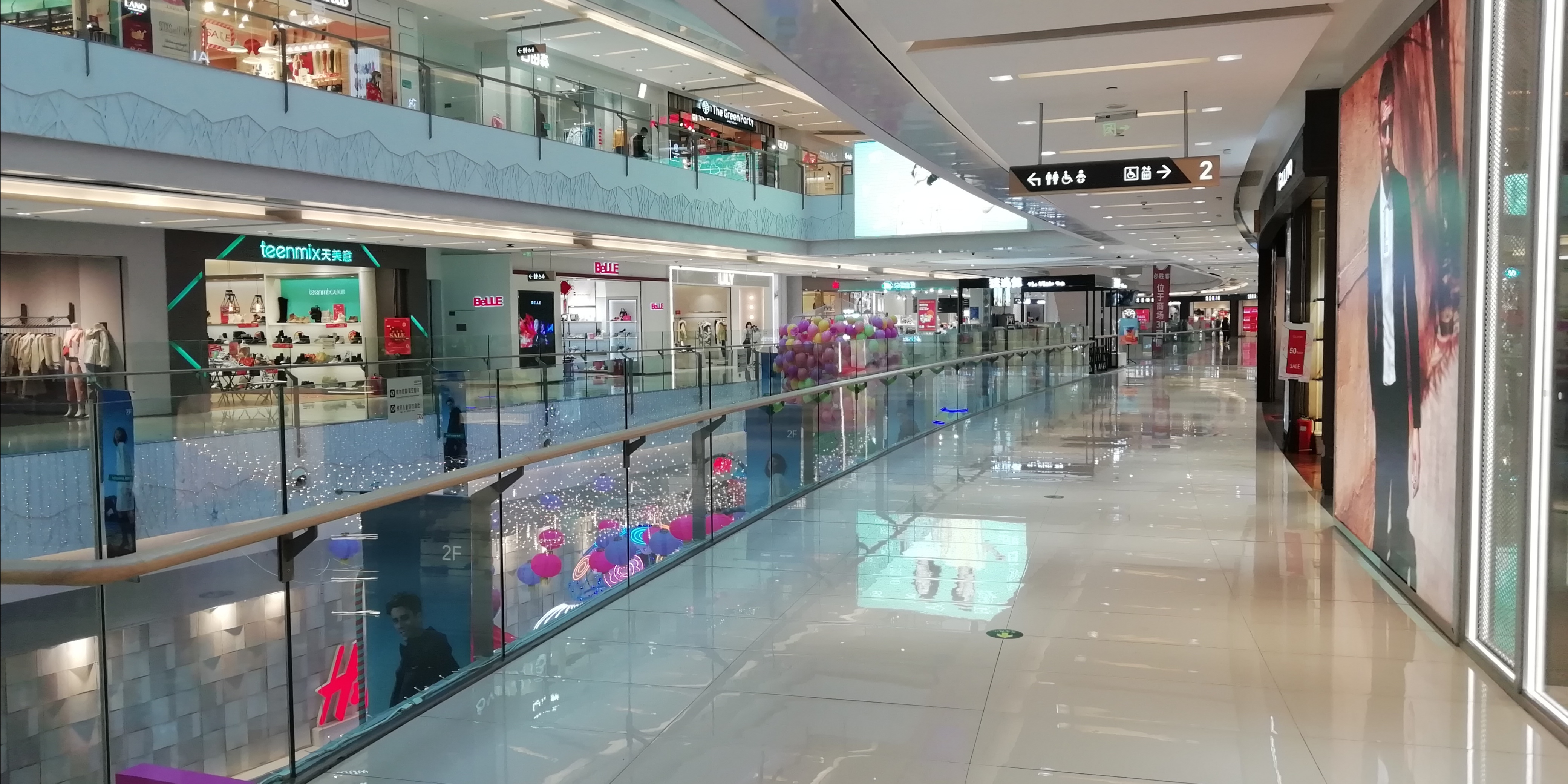 26th Jan 2020
Just a few days ago I was dreading the annual pilgrimage out of Beijing to travel with millions of others during the spring festival. Usually the railways stations and subways are packed with bodies laden with bags of gifts for their families. Out of the train windows the motorways are backed up for miles with cars. Now, a few days later, I'm returning to Beijing early as everything is closed and the large group meal put off till May Day. Cities are being sealed off and long-distance buses cancelled in an effort to contain the Corona virus. The bullet train and stations are eerily empty, so too the Beijing subway. The few travellers sit behind masks silently, slightly wary of other passengers, super sensitive to every cough and sneeze. It's like the start of a zombie movie.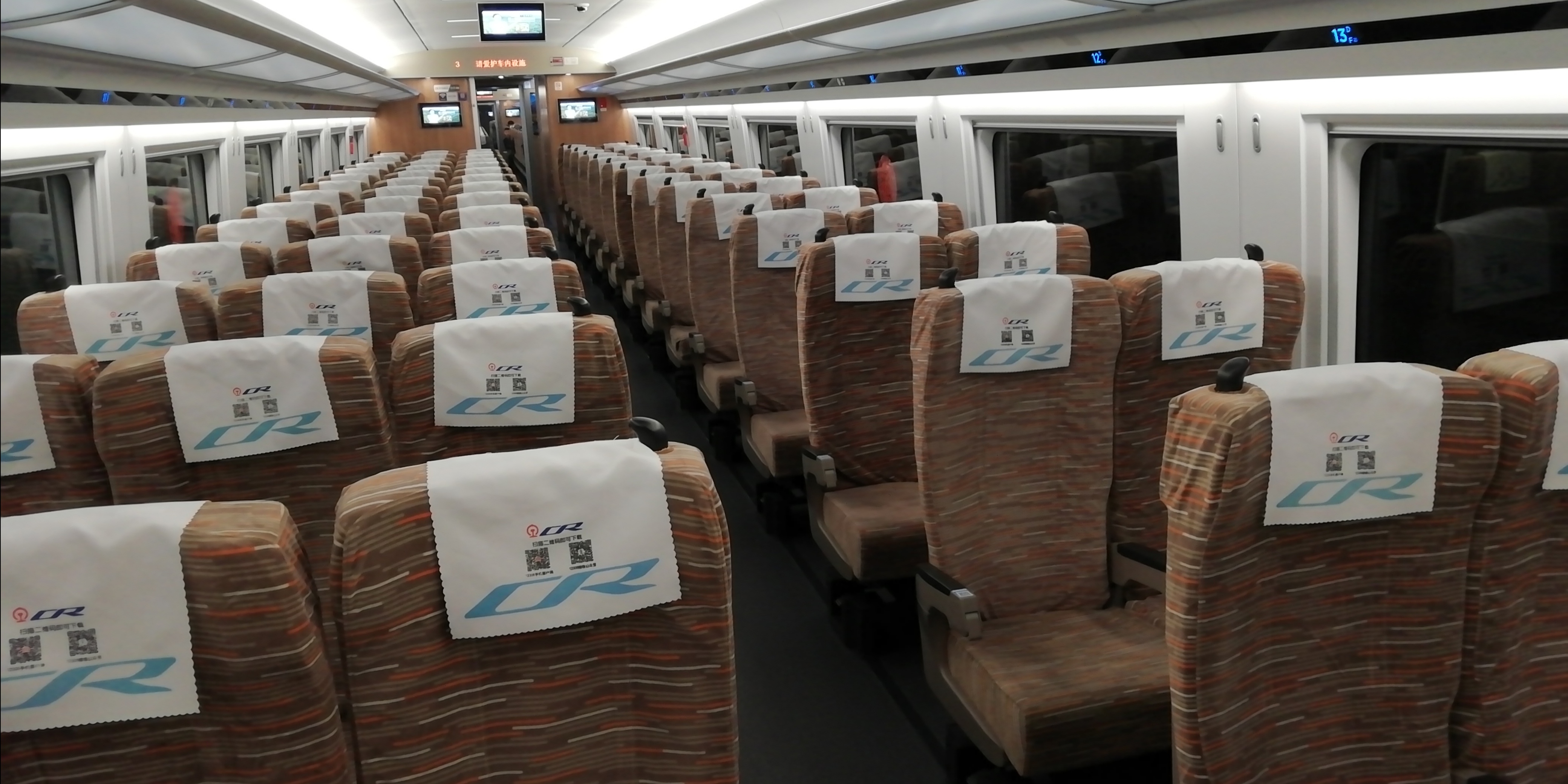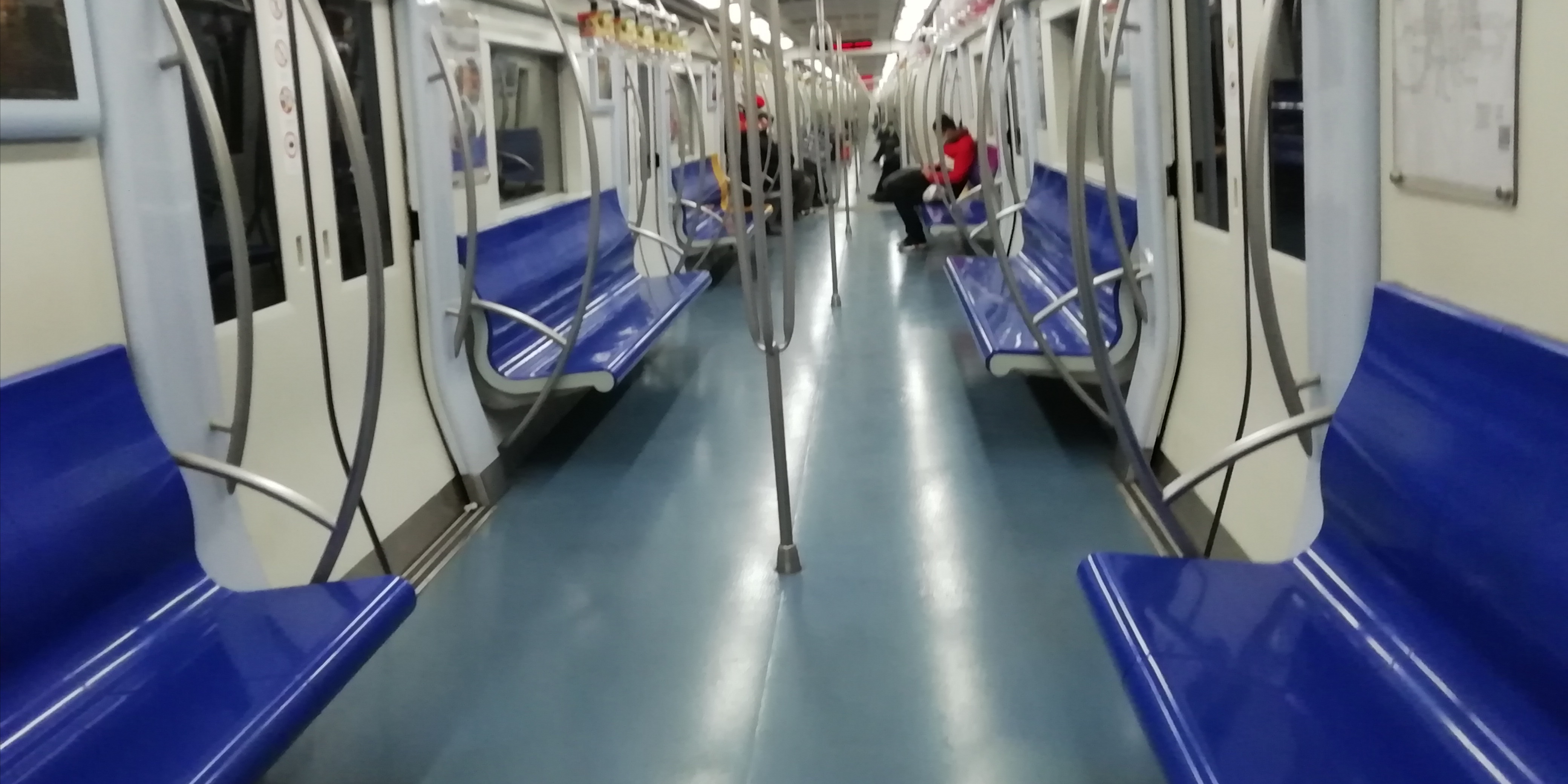 Its hard to know how serious to take the virus. The stream of announcements of measures being taken are extreme, yet the number of dead and infected is still very low. I read that every year around 600 people die from flu in the UK, The Corona virus, which is the same family as flu, has killed, as of this morning, 81 people. It is likely to climb higher, but as China has 20 times the population of the UK, to reach the same mortality rate it would have to exceed 12,000 deaths. At the moment that doesn't seem credible