The sun is already stronger than the early rays they appreciated on their arrival at the golf course. They can feel it on their shirt backs and the napes of their necks as they stride down the fairway. The early wetness has almost gone from the grass, and the sandy soil, visible where the blades grow thinly, have started to pale as they give up their moisture to the dry air. The temperature is rising quickly, the stillness that felt like peace just a short time ago now holds an edge of anxiousness. Leaves hang still, the air sits inert and the little hosts of busy sparrows gone or quiet, waiting out the coming mid-day heat.    
"I went up again the weekend after" says Leo.
'I thought you might have" replies Dan. 'Another train and taxi fare, hotel, meal for two. I hope this time you got more than a kiss that you'd get from an aunt. I know how the chase is fun, how the period of courtship, with its tensions and uncertainties elevate the excitement, but she sounds like a long project and a lot of trouble and effort. You could get someone just as pretty, less risky, cheaper and more local – with faster results.
"Like a hooker in a bar you mean?" Leo pulls out his mobile and checks for notifications. "You're forgetting that the relationship, so far, is mostly through messaging. It's not like the old days with the long periods of getting to know each other, progressing in slow steps towards intimacy. Time is compressed by the use of the mobile. We might have parted with a peck on the cheek, but later we continued chatting in our respective beds. We were not physically together, but the conversation continued as though we were. And in the safety of her house and in the privacy of our beds it was a closer, more erotic, experience than any bar or restaurant encounter. I messaged her all week, gradually revealing my growing feelings. By the next weekend we had already discussed those intimacies that lovers take several dates to discover. We'd become familiar and comfortable, at least mentally, with making love. Our bodies had to catch up physically with what had already been performed in our minds – at least in my mind. So, when I travelled to Wuqing the next Friday it wasn't like a second date."
"I've done some sexting myself" admits Dan. "So, I know what you mean. It is surprising how open people are when there's no physical presence and no one watching or judging. And how erotic it can be. I guess it's more immersive and personal than TV or magazines but it's still a fantasy, and you're on your own. There's a big difference between a few lines of text and being with someone."
"I think the difference is not so large. When those fantasies are written it makes them almost real, like a false memory. The mind knows what was written or read is fantasy, but when something has already been imagined and shared its half done and if something's been described and not objected to then it's half agreed. It's not real, but the authority of the written word is very convincing."
They get to Leo's ball and throw the golf bags onto the grass nearby. The club's rattle loudly. The two guys ahead have already potted their balls, one is replacing the flag pole in the hole while the other marks the strokes on his score card.
"Described and not objected to makes it agreed" Dan quotes. "Would that stand up in a court of law? Not sure it's the same as consent."
"I didn't mean it as consent.  I just meant that the written word is more authoritative than what you both think was said after a few Mojitos. But if it came to it, I'm sure the evidence of phone records showing the lack of objection would carry more weight than your drunken word against hers."
"I think your phone records would be viewed as grooming"
Leo looks at the distance to the green. It's a nice distance not so far that he'd need to whack at the ball and loose accuracy, but not so near that he's likely to badly overshoot. The green looks flat and the heavy watering will impede the ball rolling too far.  He selects a six iron.
"So after a bit of bonking banter from you," continues Dan. "The traditional Chinese woman, 12 years the faithful, dutiful wife suddenly jumps into the sack.  I'm not criticising your skill, but it's hard to believe your verbal foreplay can be that persuasive especially if, as she claims, she's a traditional girl.
"No, but a week of messaging certainly moves things along. It's probably not that many words if you counted them, less than you'd say in an evening in a bar but they're better chosen. And the time between messages counts too. If she's constantly checking the phone, hoping every vibration is another message from you she's thinking of you. It's like you're always present; it's addictive."
I'll stick to traditional methods, a few drinks and I'm as funny, as clever and romantic as anyone. Plus, I'm actually there. She can see how tall, or fat, or old I am. Writing has its place but the spontaneity and physical presence of reality has to be better not to mention more honest. The emoji can't compete with actual body language. The reason on line dating works is because they're easier. Girls that go to bars tend to be more confident of their English, they are accompanied by supportive friends and are a bit more knowledgeable about what's happening. Often, they have some experience of foreigners. Women on line are a more naïve bunch, they're knowledge of the west is drawn from Hollywood movies, they believe the sites romantic hype and trust in the authenticity of those they meet, even though their own profiles are largely fake. Have you noticed there isn't a woman on that website that's over weight or wears glasses? It's all as much a fiction as your sexting.
Leo addresses the ball, looking to where he wants to place it on the green. He takes a couple of practice swings, whipping the grass blades in front of his ball. The approach shot is his favourite part of the game, it can still go wrong sliced to the side, over or under hit, but when it goes right and you loft the ball into a high arc and it lands on the green it feels great, like a professional.
Dan has a point, many of the women he's chatted with have never met a foreigner. Their profiles have lists of hobbies that they've never tried and favourite foods they've never tasted. He had thought they were trying to sound appealing, showing they have things in common with their idea of a westerner. You can't blame them for trying to stand out among the hundreds of other women whose heights, eye colour and hobbies are as uniform as their statements of 'looking for a serious relationship leading to marriage.' He's right, they are naïve. They think westerners are honourable, that the British are gentlemen, they state their intentions clearly and expect that if you contact them, then you're serious too.
Dating Jing was worse. Dan had said it was convenient for him and it was. She couldn't meet too often, or arrive at his home unexpectedly, even calling his mobile was difficult for her. It made it easy for him to see other girls. He was aware that her confiding to him the personal details of her married life and the extent of her unhappiness, unknown to her family, colleagues and friends had created a trust and a closeness with him. He had little to lose, at worse perhaps a black eye from the cuckold husband. But she could lose it all; her marriage, home and children. She was at a severe disadvantage and hugely vulnerable. Even though it was a position she had placed herself in, it was his choice to exploit it. It was unfair maybe immoral.
He gently swings at the ball and he feels it slice underneath and lift it cleanly into the pale blue sky. It seemed to hang in the air, barely moving before dropping onto the green. It rolls slightly and stops to the left and slightly beyond the hole.
Nice shot. Dan picks up his bag and Leo stands his bag upright and slides the club into a space.  They walk the few yards to Dans ball together and he selects the pitching wedge. He has a stronger swing than Leo and he's a bit nearer.  Leo gets a bottle of sun cream out of the bags pocket squeezes a blob on his hands and rubs it into his face and neck that is already feeling the glow of sunburn.
"So, second date, but not like a second date," Dan says getting a pitching wedge from his bag.
"Yeah, it's strange. We should have gone to a movie, bowling, the theatre; I should have taken her flowers and stuff. Other women want to cook, introduce you to your friends, show you the local area but none of these options were open to her. She doesn't want to be seen or discovered or explain the sudden gifts.  We went for another meal and then there was little choice over what to do. It's too hot to hang around outside, there is nowhere to go but the cool air-conditioned room of my hotel. 
Dan turns away to address his ball. "Right, course there wasn't." he says and they both snigger. He settles himself into position then takes an effortless swing. There's barely a sound as it connects with the ball and sends it in a low arc towards the green
Leo watches it progress, a dark speck against the brightness of sky. It looks like a good line, but until it lands it's difficult to judge its distance, or to be certain of where it will come to rest. A tuft of grass, a stone or a small rut can nudge the ball to the side or impede its path, there's an element of luck especially on this random course.
The hotel room had been deliciously cool, and they had drunk tea and talked, sitting on the edge of the bed. Now he could sit close, smell her perfume and the scent of her hair, put his arm behind her, or place a hand on her knee and look at her scarlet mouth as she divulged more secrets of her loveless life. Between the suggestive messages that she had not challenged and her own replies, possibly the lines she thinks this westerner expects, there's not much room to deflect his amorous advances.
The ball lands in front of the hole and runs on straight, right of the pin, faster than Leo's more lofted shot. It edges past his ball seemingly unwilling to stop before coming to a rest a bit further from the flag than Leo's.  It's hard to judge how close either of them is from where they stand, but it looks as though the hole is within reach of a single putt.
"It's anybody's game," says Dan.
---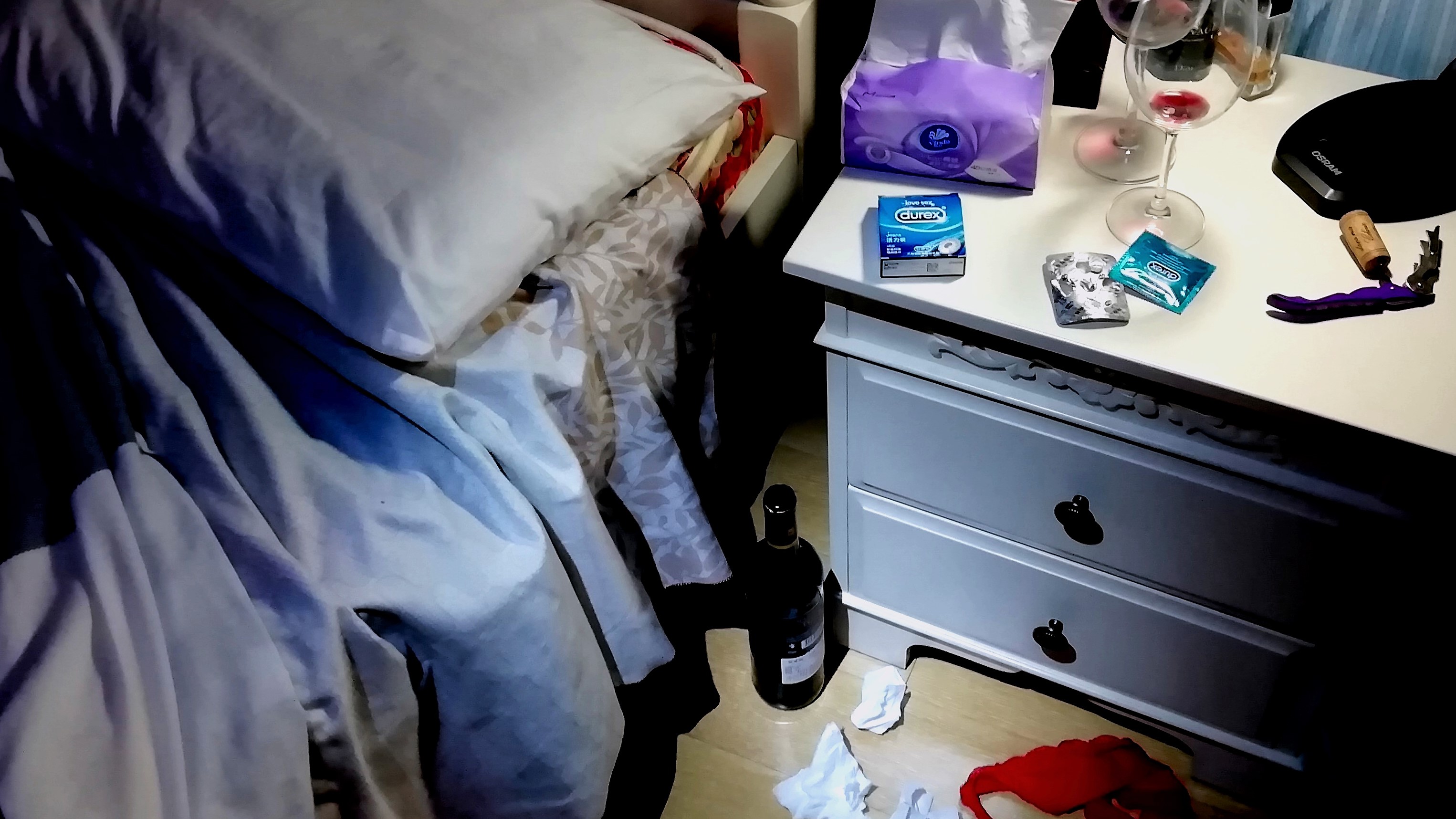 Next: