Fantastic morning," said Dan pulling his golf clubs out from the boot of the taxi.
It was a beautiful morning, not a hint of the usual haze obscuring the cloudless sky. Not a breath of wind either. The air is warm and out of the shade of the tall buildings that flank the golf course entrance and standing in the low sun, you could already feel the threat of later heat.
Leo walks over and shakes his hand warmly "Great to see you again Dan. Sorry about the early start, I tried to get a later time, but early bird was all they had"
"Early bird is perfect," says Dan smiling and heaving his bag onto his shoulder. "We'll be finished by opening time and can enjoy some cold beers instead of being burnt alive by the sun."
They sign in at the club house, collecting their score cards and putting on their shoes before heading off to the first tee. As they walk, they catch up on news about their families back home, about work and the last time they'd played. The spikes of their golf shoes crunch on the gravel path, a few sparrows twitter, the clubs rattle in their bags and the traffic rumbles in the distance; the only sounds of the early day.
They arrive at the first tee, just as two young Chinese players in front of them are walking off down the fairway. Their footsteps make silver prints in the grass as the sun glistens on the bent blades, wet from the overnight dowsing of the sprinklers. To the right, a lake sits shrunken from its hardened mud slopes, the water is pale, grey and flat like polished steel. Left is the pale yellow of the parched grasses that line the narrow fairway and lead towards the distant green, bright and lush before the dark clump of dusty pines beyond.
Dan wins the toss to tee off. "The start of a winning streak," he jokes.
They lean their bags up against a bench at the side of the Tee. The bare sand around its legs are strewn with cigarette ends. They select their clubs from the shining set of heads poking out from the top of their bags and take some practice swings. Leo hasn't played for a while and his movements feel wooden and robotic.
Dan whacks a pine cone away to the side. "Are you still doing that internet dating?" He asks,
Leo tees up against a discarded fag packet and swings at it with his wood, more power than he'd dare if trying to strike a ball. The box spins away in a cloud of dust leaving a scut in the dry soil behind. "Yeah, it's going pretty well. I've been chatting with a few women and I've been seeing a girl in Wuqing."
"That's quite a journey, says Dan."
"About 2 hours, but that's ok. Getting away early from work Friday afternoon, riding the high-speed train, checking into a nice hotel, it's a little exciting, a bit different, a break from getting wasted in Sanlitun."
"You don't stay at her place then?" Asks Dan curiously. "How old is she?"
Leo laughs realising Dan must think she's living with her parents. "It's not like that" he explains, "She's nearly 40. Funny story though."
They check the progress of the lads ahead. They've left their trolleys in the centre of the fairway and are at the edge on the left, searching for one of their balls in the short, dry, straw-like grass of the rough.
"It was about a month back" Leo continues. "We went for a meal in a small Hot Pot restaurant.  We weren't sitting there long when she suddenly asks me. 'Did I tell you that I'm married?'
"You mean, she forgot to mention it" Dan scoffs.
"Maybe. We'd spent a few days emailing then messaging, I would have expected her to have mentioned him several times, but I had no recollection of it. Looking at her across the table she didn't appear embarrassed, guilty or concerned about my reaction to this news. It seemed quite possible she might have mentioned it and I'd forgotten, or I'd just overlooked it."  
"It's not something I'd overlook", Dan replied confidently, "Especially if you've got to go all that way; the subway, train tickets, pay for a hotel, and I'm guessing you payed for dinner".
"You wouldn't imagine forgetting it, but when your chatting with several women on line it's difficult to remember who's got children, how old they are, what their jobs and hobbies are. You know how the Chinese are, outwardly they are all so alike.  Anyway, I thought it's not that important, maybe she just wanted a night of fun with a westerner, probably not that many foreigners in Wuqing. I could have acted angry, but she believed she'd told me before. And even if she hadn't, well, we all lie on line, hide things, exaggerate things; it's the beauty of internet dating – you can reinvent yourself. I had my secrets and lies too. I'd told her I was only 46!"
Dan laughed "Yeah, you have no idea who people are on-line. She could be a front to some elaborate scam. Even if she's genuine, she could just be using you for proof of adultery to speed up the divorce. Her husband could be a local thug with connections with the police.
"I'm not sure China has the same divorce laws. She started telling me about him, how mean he is, how controlling, how he treats her like a servant, that they hadn't slept together since her daughter was born 12 years ago, and how she puts up with it all for her children and to save face with her family. I didn't get the impression that having sex that night was a high priority for her."
He'd sat there not sure what reaction he should present while she had explained her circumstances. If she'd mentioned her husband before, she certainly hadn't said why she was looking for a date, going for a romantic dinner and potentially cheating. But he also hadn't asked; did he know she had children? It was too late to remember the past conversations, next time he'd bring briefing notes. She was explaining how she was looking for a lasting and loving relationship. Disappointingly, she just wanted a replacement for her loveless marriage not a bit of excitement on the side. But then they all say that. Walking hand and hand into the sunset, getting old and grey together etc. Stock phrases they'd learned somewhere. It's largely all this age group wanted, love and security. They were desperate for husbands, terrified of being alone and old.
"She hadn't had sex for 12 years?" Dan asked incredulously.
"That's exactly what I said. She had spent a good 10 minutes telling me about her sad, unhappy life, her faithfulness, her devotion and that she hadn't done anything like this before. And, like you, I picked up on her lack of sex. She might have noticed I was a bit absent of empathy, but she just said she'd not even had a kiss."
The golfers ahead were still looking in the long dry grass, sweeping the scruffy edges with half-hearted swings of their clubs, they should give up soon or wave them through.  
"I wouldn't believe it anywhere else," says Dan. "But Chinese relationships are odd. Of course, it could just be the usual pretence of being a traditional girl."
"I didn't think so, her behaviour and clothes were very sober, she didn't drink wore pressed slacks and a smart high buttoned blouse that didn't give a peep of cleavage. It was a loose fit too, no clues of what treasures might lie beneath."
"She doesn't sound much fun, not worth going all that way for. If it's true and she's maintained a faithful and chaste marriage it makes a passionate affair with you unlikely. She might even want to save herself until you're married. What does she look like, do you have a photo?"
Leo gets his mobile out and opens the gallery of pictures. He scrolls down to a photo of a middle-aged Chinese woman with a wide round pale cream face. She has beautiful dark eyes, a cute nose and a wide smiling mouth made bright red from lipstick. Her hair is up showing some sparkling earrings and making her appear slightly glamorous.
"Did she actually look like that when you met her," says Dan. Noticing the web site name across a corner of the picture. "What's her name?
"Quite similar, perhaps even prettier in real life. Her name's Jing"
Didn't you date a Jing before? Dan looks at the photo thoughtfully as though wondering if it's the same girl.
No that was "Ping"
The screen fades and Dan hands the phone back "I dated Ping" he says. "Remember? The one with the blind dog"
They both chuckle.
"Yeah, maybe. Anyway, this one is definitely Jing."
"She's pretty," admitted Dan. He thinks for a moment than adds "Her husband must be getting it somewhere. Otherwise it's not possible to live together and never do it. He'd see her emerging from the shower in a towel, or find her dirty underwear in the wash pile, he'd succumb after a drink too many."
"I thought the same, it is an unimaginably long time." There had been periods lately, where he had not had any body contact. A few weeks where no hand had been held, or arm placed around a woman's waist, but the days had been filled with memories of past love, of hopeful flirting and of imagined moments – like this romantic weekend away and where it might lead. Twelve years of nothing would wear out old memories and starve the imagination of fresh ideas. The co-incidence of her last copulation and the conception of her daughter stripped away even the passion from her past relations by the function of breeding. "Yeah, he must be cheating on her, unless he's really cold, or gay. Either way I think she has a right to look elsewhere."
"That's convenient for you. Have you thought that maybe she's the one. Uninterested in the act except to reproduce, repeatedly spurning his advances, unresponsive to his exertions, turning him off with her constant displeasure. Maybe he got tired of the effort needed to get less pleasure from her, than what he can easily give himself."
"I never thought of that, " Leo replies. "But even if your right, she's still looking for love, or a better life through me. Sex has to be part of the deal."
"And a get out later, a reason to dump her. If any of its true. I still wouldn't be surprised if you later say she needs to borrow some money for an aging relative that he's too mean to pay for, or for a lawyer.  But go on, what did you say?"
"I suggested she should get a divorce first, then look for someone on line after. I think I sounded slightly miffed, as if I cared. But she didn't notice. She said it was complex. she hinted at domestic violence, her low salary, the opinion of her family in her hometown."
Dan nods understanding the importance that family has to the Chinese. He looks down the fairway shielding his eyes with his hand from the sun that's now shining like a mirror off the lake surface. One of the players was playing a drop ball, the first given up as lost or badly placed. The other walks off to his ball lying in the centre of the fairway. They should be out of range soon and safe for them to tee off.
"It's actually good advice." He says walking onto the tee. It's a narrow strip of astro-turf slightly raised above the sand and gravel that surrounds it. He plants his tee in a flat part and balances a ball on the top. They watch the guys ahead take their second shots then walk off towards the green.
"That was a great recovery shot from the guy in the rough" says Dan, "I thought it was going in the hole."  He turns towards Leo suddenly serious. "I don't know where this story is going" he says. "But If he finds out she is cheating, and he will eventually, it could turn nasty. Angry Chinese men rounding on the foreigner. You could be responsible for the breakup of the marriage and her loss of children and her home. You would feel morally obliged to support her financially and emotionally; you know how clingy and persistent Chinese women can be. It will be all tears and stories about what he said and what he did. Her family might pitch in too. Unless she turns out to be wild in bed, I'd get out quick. There's plenty of desperate single women around"
He squares up to the ball, Leo keeps quiet while Dan takes a good swing at it. There's a satisfying ting as the club connects with the ball and it sails away down the fairway. They watch it bounce on the grass then roll towards a pair of magpies who look up then hop a few feet away as it stops. A good first shot, a bit of pressure on Leo.
Leo walks onto the tee with his wood. The astro turf mat is worn and curled up at the edges. patched and torn between the markers and dotted with the stems of tees sheared off level with the surface. The edge slopes down and disappears into a strip of sand before the fairways starts in tufts of thin and too long grass, missed by the mower. The first stroke is always the hardest, the one most likely to go wrong. The whole game is dependent on the outcome of the first swing. The hope from a ball hit well, the feel and sound of the club as it strikes, and the energy passed into sending the ball on its way. If it goes well for them both its a great game, otherwise as the saying goes – it's a long walk spoiled by a game of golf. And as the evidence of the ragged tee shows, it often doesn't go as hoped. Then you're forced to watch as it slowly arcs away, hooked into the rough, or sliced into the lake; suddenly lost.
Dan is right, however much fun it might be at first, it could quickly turn nasty and he'd be in the middle of a crazy Chinese family, dealing with domestic violence and threats, she could be moving in with him if thrown out, or if home life became intolerable. Suddenly dependent on him. "You're right of course, he replies.  "But I'd travelled all that way, already invested time and money on the night, I wasn't going to give up so early. I wanted to enjoy the night. Whatever her motivation, she had hopes of something. Sure, it could be terrible later, but why not play along and both enjoy that one night and see where it might go."
"I bet I know where it went," says Dan. "And it wasn't to your hotel room like you hoped."
Leo grins but doesn't reply. They had gone back to the hotel, but just for coffee in the lobby There had been no settee where he could sit close, lean in and talk in confidence, turn the conversation to more quiet confessions that would draw them closer. Just separate chairs, emphasising their separate spaces. Too distant to hold hands or even place his hand on her leg. It would have been an unnatural and forced intimacy. He had known there'd be no progression to his room that night.
She had asked him about his plans, and he'd painted a picture of something she could imagine being part of. A re-imagining, perhaps, of the young dreams she once had of love and a simple family life. He hadn't needed to lie, his Chinese contract would end sometime, he didn't want to return to his little UK flat, or live in the damp and darkness of English winters and he wanted love too. Not the endless type she sought that slowly fades into the dull dryness of age. He had come to China to start a new life and her vision of walking into the sunset hand in hand felt more like giving up on life. He's not ready to surrender it to contentment yet, he wants more. He wants that feeling of excitement that comes with fresh new love and the yearning desire of lust. Those moments where the body wakens and youthful vigour returns to give a last-minute effort at passing on the genes. The sun is setting on his life, but for a while he wants to stay away from the light.
As he talked of the future and of his desire for love he felt her translating his vision into hers, imagining a world where they would live together, share holidays in her home country. Where she will seamlessly swap from her current husband to him, her family life continuing unchanged except for the romantic love she'd gain. In return she sold him her home town, her cooking and the exciting parts of China she'd introduce. He feigned interest, remembered to look into her eyes and at her mouth as she talked, but he was sitting too far away for her to notice his trick that hints he wanted to kiss her.
Later, when she stood and put on her coat to go. As she threaded her arms inside the sleeves and pulled her shoulder length hair over the collar, her blouse had stretched across her chest and he had got a first glimpse at the outline of her breasts. It was a vision that he would picture over the following week, motivating his eagerness for more. Her dreams were weeks and maybe months away but his were tantalisingly close, within arm's reach. Not that night but soon. There would be another night.
"Your right, he says. but it was just the first night."
He put a tee in a clean patch of matting, placed the ball on top, then adjusted his legs and angled his shoulders towards the hole. He swung at the ball and it flew away in a long straight arc, bouncing, rolling and stopping a few yards short of Dan's. The distance between them isn't significant, easily recoverable.
"I'm happy with that." He says, collecting his tee. They return their clubs into their bags and follow their balls down the fairway.
---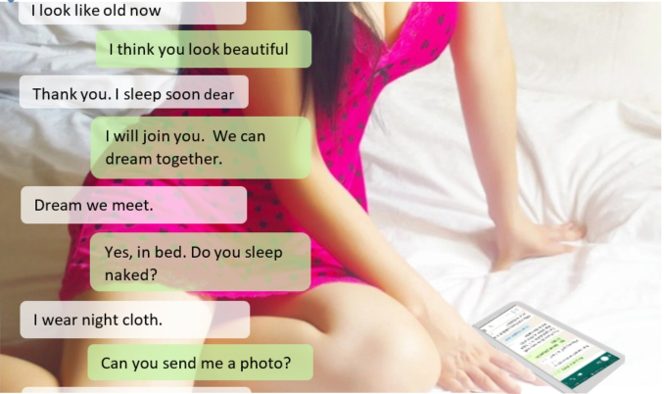 Next