2020 is my 6th year of living in China – depending on how you count it. Not an auspicious number in Chinese or western traditions, but in a year where there has been little to celebrate why not mark this anniversary with a celebration? Part of why I came to live here was the cheap lifestyle and opportunities that being a foreigner in China provides, so its fitting that the best of those experiences are compacted into a week of excess. Six days of decadence to mark 6 years of my life here.
Day 1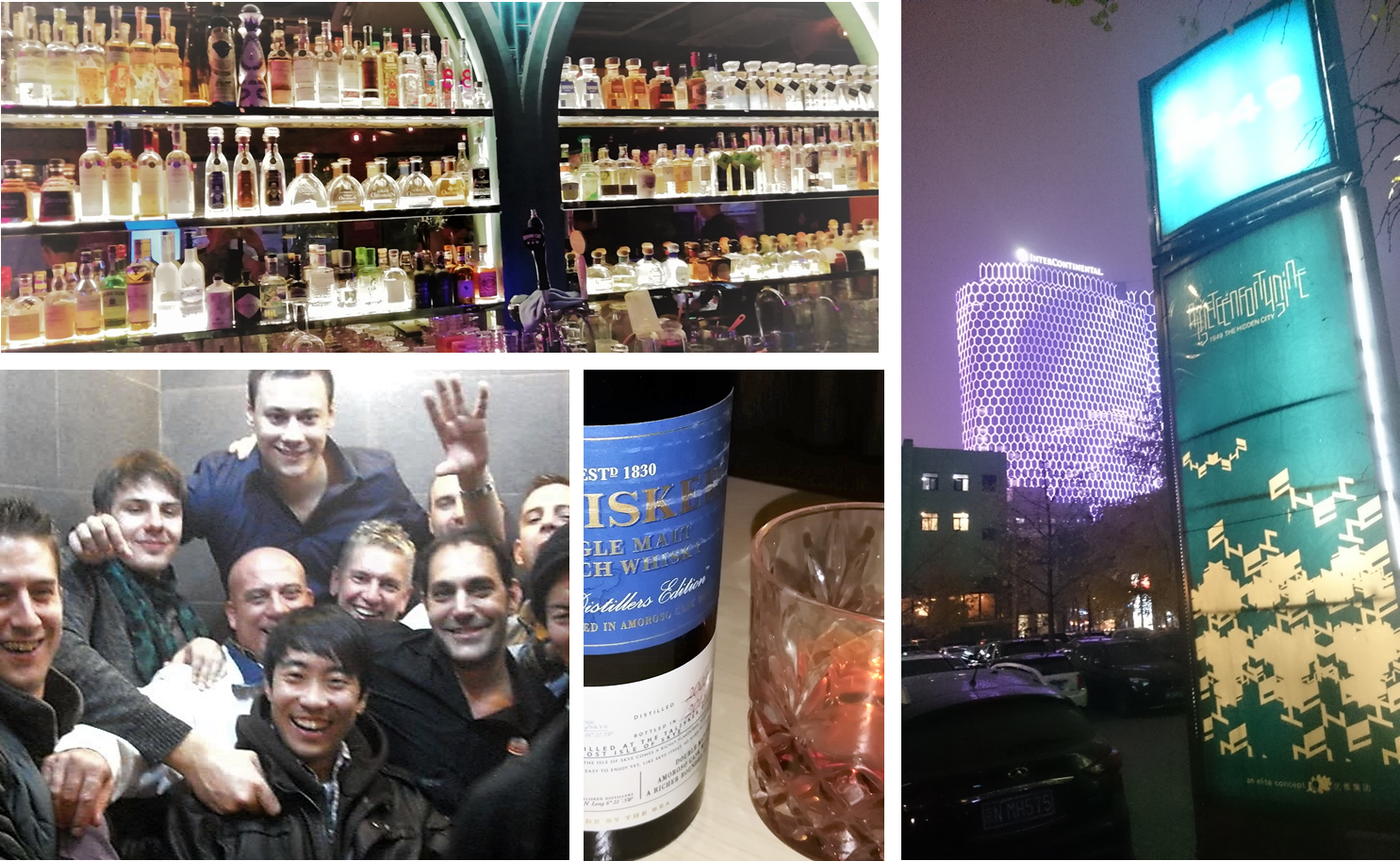 A liquid lunch lubricates the taxi wheels downtown. Two glasses of wine, enough for the dry hour's ride without straining the bladder. I wanted an early start, an afternoon quietly ramping up the blood alcohol, so when friends later join me to hit the bars, I would be already running. Early afternoon is quiet, two hours before the happy hour binge drinkers finish work, or the bar flies start, and at least six before the working girls.
I start with a Guinness at Paddy's, getting the stomach full to slow me down. Round the corner there's two whisky bars and I treat myself to a Caol Ile at the first before switching back to favoured Talisker in the other. I avoid the cavernous German bar, its ranks of tables uninvitingly empty and make my way to the American diner for a plate of nachos and a glass of red. I'm feeling the rosy glow of the drinks now, warm and comforting like a favourite jumper. I'm relaxed and at home. I'm in China's capital and I still have the whole night ahead.
I'm back to Paddy's at six, the two Dave's have already arrived and we order a bottle of red between the three of us. It's an hour before anyone else is due, but the time passes in an instant, the second bottle barely started. We get a cork to take it away take a taxi to the Indian Kitchen for a curry washed down with Cobra lagers; it could be a boy's night out in England.
The sight of the international hotel's flashing neon skin at Beijing's night life centre always excites me, like a pavlovian reaction to past wild nights. The drinks have made me expansive. I feel energised, adventurous and brave as we march through the warm night from the Indian. We stop for a quick round of Talisker in a tiny open fronted box shaped bar. It's popular with Africans and they spill out with the hip hop music into the street. The measures are large and cheap, probably fake. Then its around the corner to the main drag of Chinese bars where young groups sing K-pop songs, or pole dance on stage. As we pass, we're called in for beers and girls. One guy knows someone in our group.  'You want lady bar?' He asks, calling him by his name. We stop surprised and his unrecalled connection persuades us to follow him to a bar he knows. 'Cheap beer and beautiful girls' he tells us. It's a good 5 minutes' walk to an barely marked door behind the designer shops. It opens into a plush hall of thick red carpets and guilt settees arranged around low ornate tables. We order some cheap local beers from a menu where everything else is crazy expensive. A line of girls come out for us to choose.
The lady bar is full of hidden prices. Within an hour we've racked up a bill for the girls drinks, tips and a table charge. It makes the one beer the most expensive drink of the night. We leave laughing at our rip off stories and make our way to the plaza, a 5 story, white, Arabic styled building of expensive restaurants and bars built around a courtyard. We head up to roof top garden and chill over Mojitos.  Beijing is lit up behind us in a lake of lights, the international hotel pulsing in time with the dance music. As the bar fills with Beijing's brightest the seats around us fill and we drift into conversation with two friendly Chinese girls. Cold drinks make me shit, so I switch back to the wine. I've reached that plateau state where steady drinking takes you. A normalness of endless energy and free-thinking creativity; the mind as loose and active as the body. The music grows in volume, the crowd swells loud and dense. The hours pass in easy banter, bouts of dancing and rounds of drinks then the bar slowly thins, unnoticed outside our timeless bubble. The girls invite us back to a hotel for a price and their friendliness turns suddenly to anger at wasting their time. The two Dave's head back home and us out- of- towners head across the street for a final snifter for the road; perhaps the last bar open. I have a Black Russian at an outside table – no ice. Spring, a fun regular of this bar joins us. She's dressed in a cheap low-necked top and short skirt. 'I no lucky tonight,' she tells us. We chat for a while then all go for some BBQ and beer, slowly coming down from the high of the night. We sleep in the taxi home and arrive to find we've missed the dawn. 18 more hours in China passed.
Day 2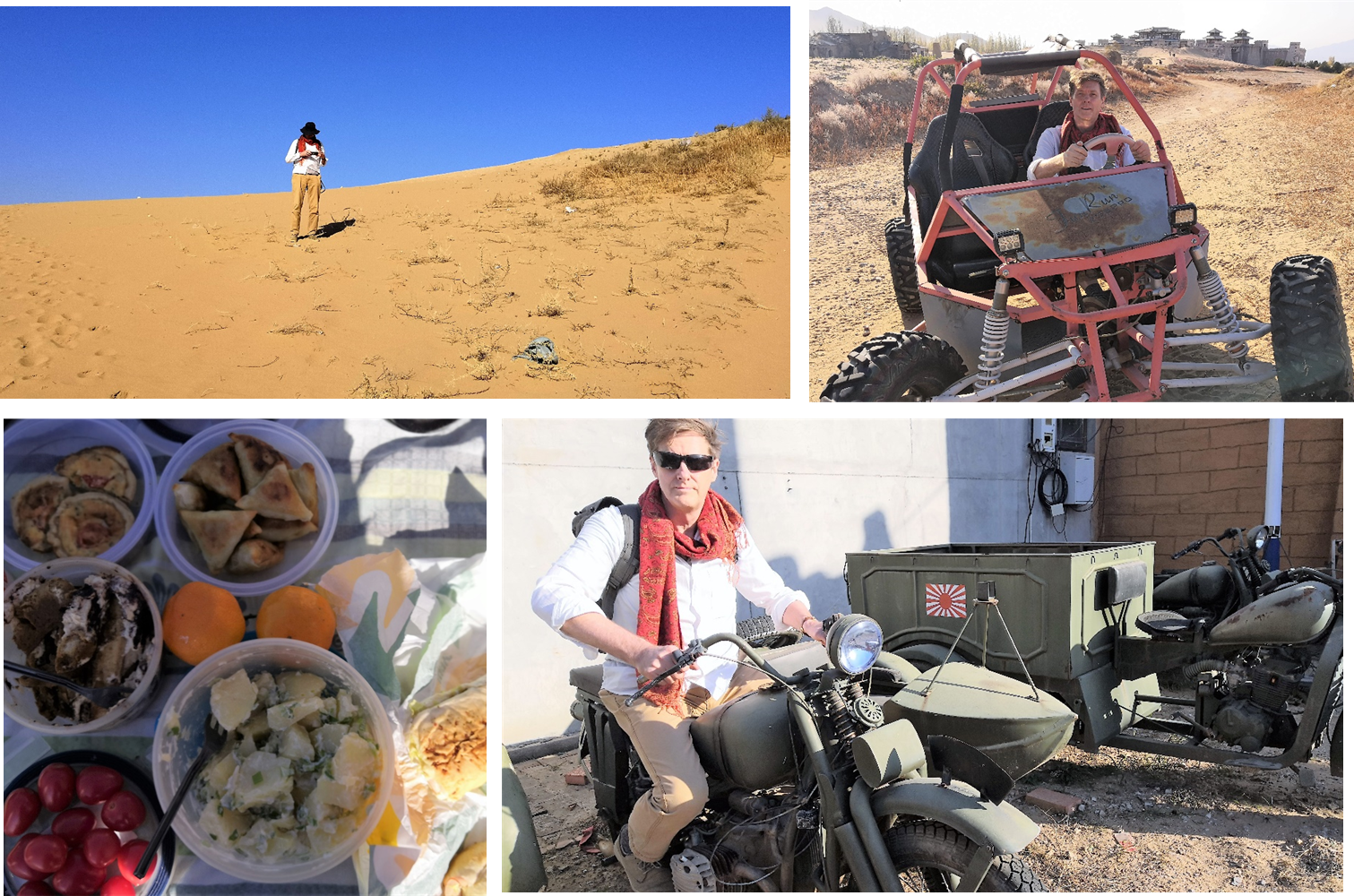 Chinese philosophy seeks Harmony and balance in life, so it's fitting that the harshest and most difficult of environments is chosen as the location for a frivolous and indulgent day of play.
Not far north of Beijing is the Tianmo desert, an area where through some geographic phenomenon the dry land has amassed dunes of white sand. It's used for filming and team building events. Packed with a picnic we take a slow bus journey there and hire beach buggies to race along a worn sand track. It circles towards a large ancient fort and a rundown village built as scenic backdrops. From the distance it looks as if we've been transported back to another dynasty, but up-close broken patches in the plywood wall show the rusting scaffolding behind. The skin of its sand-coloured plaster is falling away revealing the reality behind the surface . We pose for pictures on the dunes, around the veteran cars and motorbikes feeling like Indiana Jones and Marco Polo.
After sledging down one of the larger dunes we find a sheltered spot, stretch out a cloth for our prepared picnic of home-made quiche, sandwiches, and samosas. A bottle of slightly warn champagne is popped and poured into our carefully wrapped glasses – Paper cups just wouldn't do it.  We wine and dine then stretch out beneath the hard bright sun, gently napping under the shade of our hats.
Day 3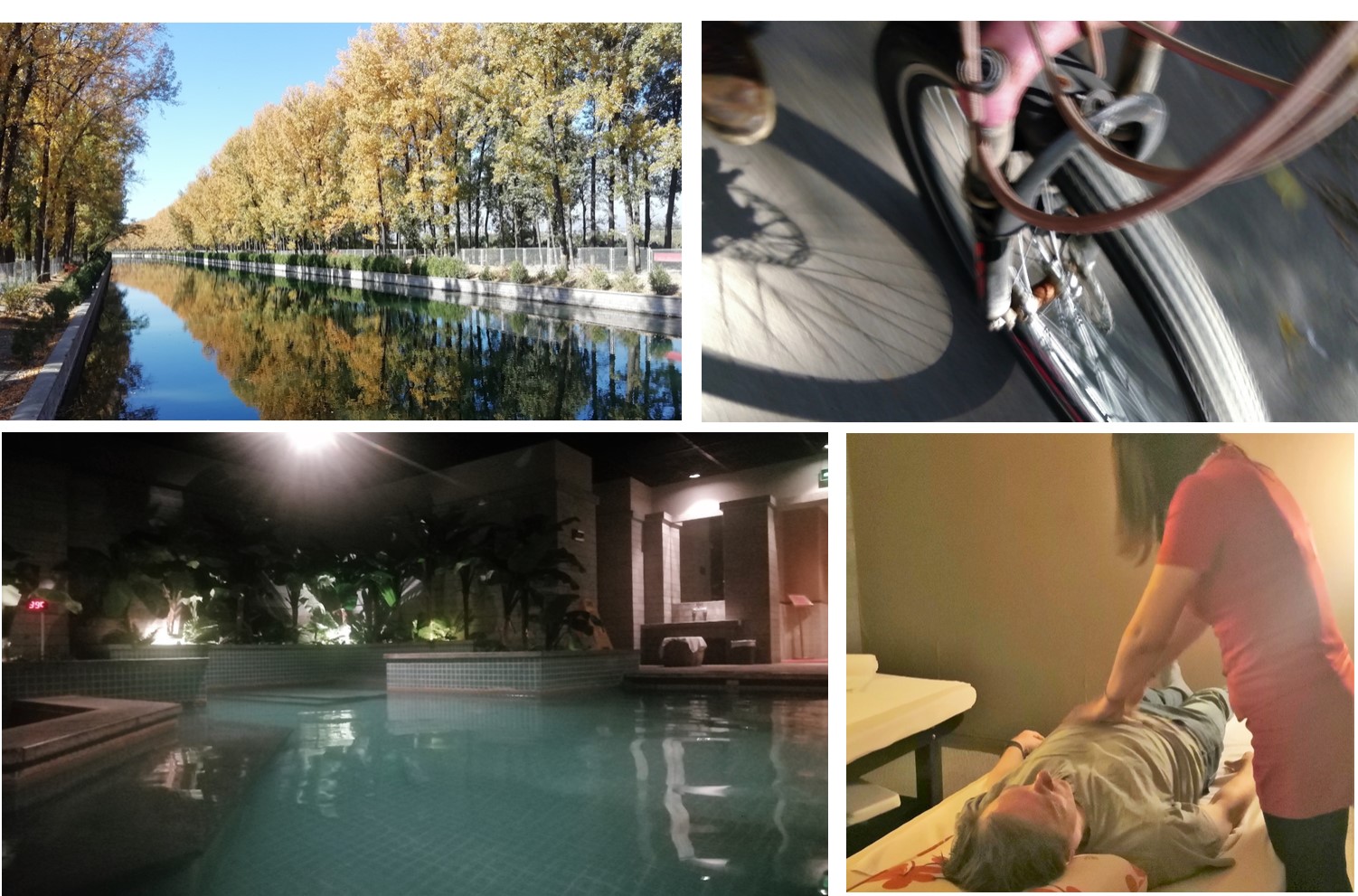 Chinese philosophy of life is governed by a cosmic duality in two opposing principles or cosmic energies known as Yin-Yang. So, the celebration should include both the joy of relaxation and the torment of gruelling exercise.
I ride out towards the mountains along the nearby water course. My legs tramp down steady on the pedals. In top gear, along the wide flat paths, distance is made fast. It's a beautiful day for riding; clear air and not too hot. Although the channel of water is man made for flood control, sections overhung with autumn trees are still attractive. The water dries up as the mountains get near, suddenly rising out of the ground in hard, bare, grey rock. I stop for a brief lunch next to a military camp whose signs uncharacteristically warn in English to keep away.  I have no map, so just follow the roads towards anywhere that looks scenic, interesting and doesn't look into the intimidating base. Sometimes paths suddenly end. other parts are still blocked off because of the virus controls. The result is a lot of tiring backtracking. My fitbit keeps track of the distance covered.
At 40kms I head back home, taking a more direct route. At one point I see a restaurant with an outside area and stop for an ice-cold beer. It's wonderful, the drink disappearing before I've fully enjoyed it. I have a second, then climb onto my bike feeling very stiff and a bit lightheaded. Its the last 10kms, time to pump the pedals in a  final push of effort.  I arrive back in the late afternoon, the 60kms target done, muscles aching, skin sticky with a film of sweat and dust and go to the local spa. I take a gentle swim, have a long soak in the hot pool before having a regenerative full body massage.  I eat dinner feeling like jelly before retiring to the club room for a celebratory whisky.
Day 4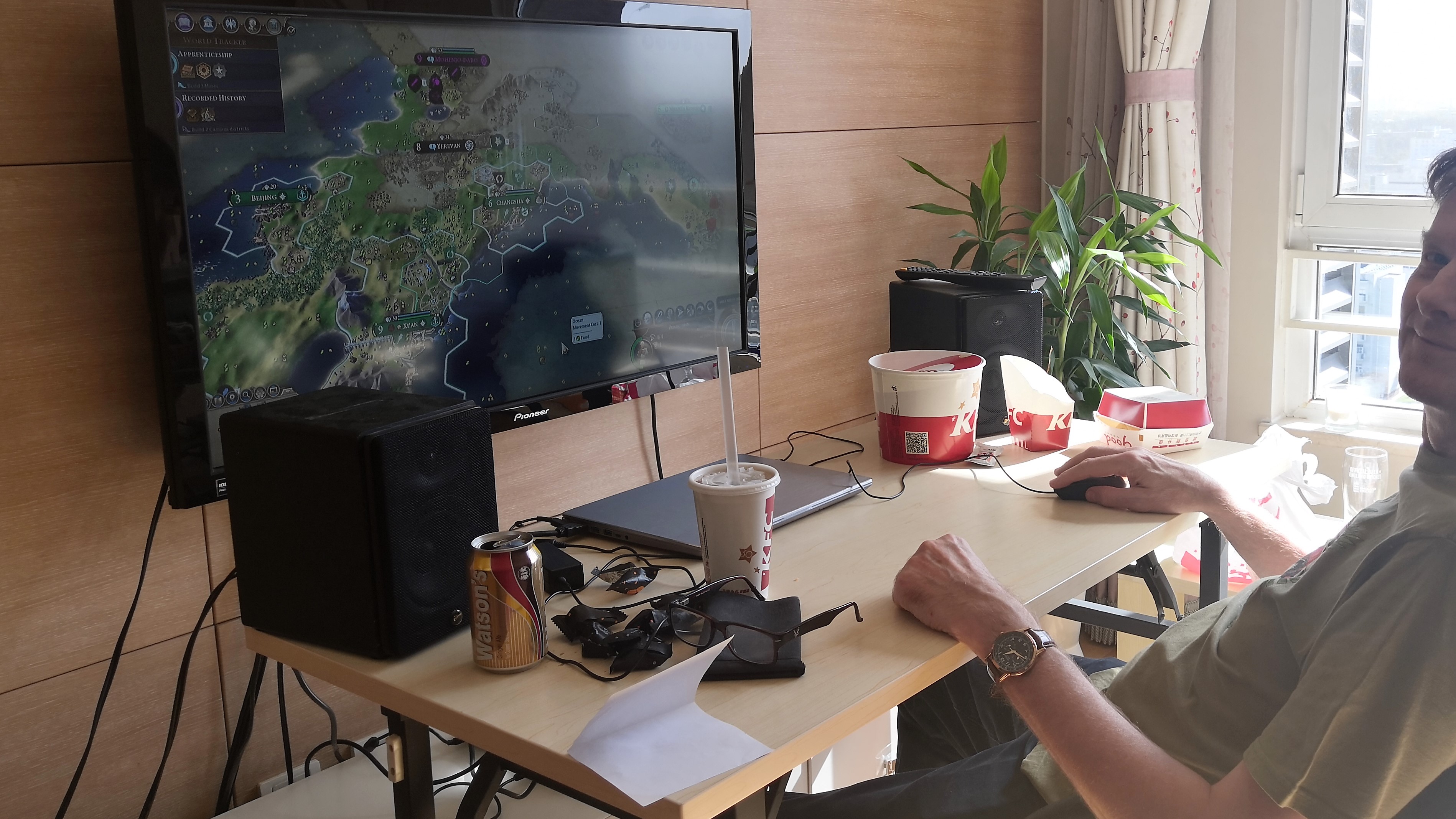 I'm not much into gaming, so taking a day's holiday just to play on the computer seems like the waste of time that only the most degenerate would indulge in.
I've downloaded the latest Civilization strategy game, Civ VI, and connect the computer to the lounge TV screen and sound system. I play as the Emperor of the China and only pause when the KFC arrives. I eat it from the bucket like a stereotypical gamer, washing it down with fizzy pop. In the late afternoon as I realise, I'm slowly losing, I develop a drinking game which allows me a finger of Talisker to celebrate every failed campaign or new technology advance. It maintains my interest until, by the early hours of the morning, my Chinese culture is vilified by the world for its aggressive attacks and wolf warrior diplomacy. I drift off to sleep, with the grand theme tune and Sean Bean's solemn voice in my head, thinking about art imitating life.
Day 5

Chinese place great importance on eating and every occasion is marked by a banquet, so its only right that I throw myself into the gluttonous trough of a multi course western meal.
A day preparing in the kitchen the dishes that can only be made from rare ingredients sourced from the far flung corners of an internet search and the market in the embassy area. We start with a Delia recipe of roasted figs with Stilton and a honey vinegar sauce. This is followed by a main course of Australian steak with mushroom sauce and salad and finally my famous Kahlua Tiramisu. We wash it down with a bottle of Rioja. There is a cheese board later; Stilton, a smelly goat and a ripe brie accompanied by a bottle of ten-year tawney port. An Irish coffee night cap concludes another day.
Day 6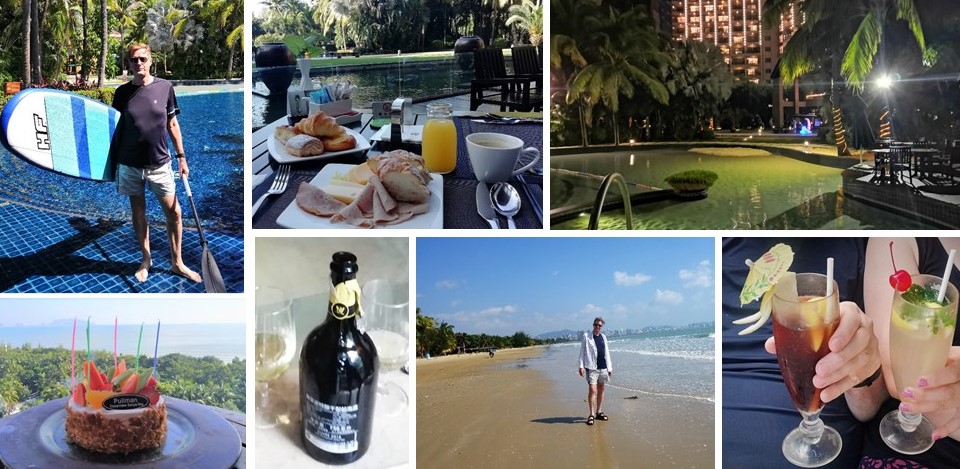 Having apparently unlimited funds and time to Globe trot the world is the pinnacle of decadence. So, flying to a resort on a sub-tropical island in the South China sea is an appropriate Grand Finale. Sanya (the Hawaii of the East) is not Martinique, but in the middle of a pandemic it's so far from lockdown that it's like partying at the end the world.
Cocktails by the pool, meals of eat-and-drink-as-much-as-you-like buffet, cream cake and bubbles on the room balcony watching the sunset, live entertainment under the stars by a Philippine band and palm fringed, white sand, almost empty beaches. A day spent here can only be surpassed by a further two.
The three days are ample time to reflect on the highs of the last 6 years and identify the analogies that the celebration reveals. To think what meaning it has, what achievement it has worked towards. Socrates said, 'the important thing is not to live, but to live well.' My efforts to live well have culminated in the aim to do as little as possible to an endless soundtrack of Bob Marley. I think I need to try a lot harder